It's no secret that customers are more demanding than ever. Advances in technology have certainly made shopping more convenient, but have also led to a consumer that's more impatient and less forgiving of a poor purchasing experience. That's why customer service, whether it's in-store, online, or over the phone, is exploding in value.[quote]
Carlos Alberini is the CEO for Lucky Brands these days. But at the Custora Carma conference in New York, he related a customer service experience from when he served as CEO at Restoration Hardware, the home furnishings retailer. The company was considering where it could shave costs, and its customer service call center seemed like an easy mark.
"We were choosing where to put a call center based on labor rates," he recalled at the conference. "Just think about that. This is the front line. The Restoration customer is a luxury customer and they're expecting an incredible service, response and sophistication from that whole experience. And here we were just trying to minimize how much an hour we were going to pay to the person taking that call. Call centers have been the last thing. But now, we're saying customer centricity is key to that experience. How valuable is that if you do it well? This is a big opportunity."
Google data shows consumers expect instant customer service more than ever. The company found "24/7 + customer service" mobile searches have grown more than 400 percent in the last two years. But 24/7 service is of no use if customers aren't getting the satisfaction they're seeking. A Google Consumer Survey conducted by Arise Virtual Solutions found that nearly two-thirds of respondents said they are willing to wait just two minutes or less before hanging up. And more than 13 percent said no hold time is acceptable. Arise points out that these results stand in stark contrast to a 2014 American Express survey that found customers were willing to wait a maximum of 13 minutes on hold.
This change in consumer attitudes hasn't gone unnoticed. A Deloitte survey found contact center executives found the number who rate customer experience/satisfaction most important rose from 34 percent to 46 percent from 2015 to 2017. Those who rated revenue most important declined from 13 percent to 3 percent.
In addition to call centers, 2 in 3 consumers (66 percent) think apparel brands and retailers should focus more on improving customer service in stores and online, according to the Cotton Incorporated Lifestyle Monitor™ Survey. Female shoppers are significantly more likely than men to feel this way (69 percent versus 61 percent).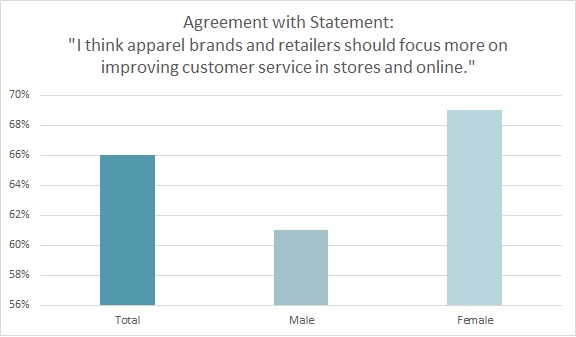 "There is one common goal for those in the know; to center our businesses, objectives, internal teams, and measures of success around delivering for the end customer, and ultimately, the experience they have with our brands," states Clicktale's Sara Richter, vice president, global marketing. She cites an Adobe statistic that states customers who have had an unpleasant ecommerce experience are 88 percent less likely to return to that website.
The apparel industry is different from others in that the majority of clothes shoppers (61 percent) prefer to research clothing option online, yet most (72 percent) still prefer to buy their apparel in a physical store, according to the Monitor™. And brick and mortar stores should be prepared because when it comes to questions before purchasing about the clothes, 66 percent of consumers prefer to ask questions in physical locations, as do 55 percent who have post-purchase inquiries.
On top of that, Millennials and Gen Z customers (15 percent) say they plan to do more live chats this year with online sales associates or stylists if they have questions, according to Monitor™ research. That compares to 7 percent of Gen X shoppers and 2 percent of Boomers.
Some companies are figuring out how to service customers across all points of their shopping journeys. In fact, the American Express 2017 Customer Service Barometer found 40 percent of consumers say businesses have increased their focus and attention on service, which is a significant increase from 29 percent in 2014.
The American Customer Satisfaction Index interviewed 180,000 consumers and determined the top department and discount stores include Costco, Nordstrom, and BJ's Wholesale Club. The key specialty stores include L Brands and Cabela's. And the online retailers that are leading in customer satisfaction include Amazon, eBay, and Overstock.
As heartening as it may be that some companies are indeed putting customer service at the forefront, the American Express barometer finds poor service is hurting other stores and brands. "More than half of Americans have scrapped a planned purchase or transaction because of bad service, and 33 percent say they'll consider switching companies after just a single instance of poor service. The stakes remain high for getting service right."
Google's Sara Kleinberg, head of ads research and insights, states there are important ways that companies can get in step with impatient customers. First, be immediately available from product pages to local inventory feeds with real-time information about product availability. Second, she says, brands and stores need to ensure they're showing up in critical moments of intent throughout the purchase journey. This could be running ads only for product that's actually available or pulling ads for products that aren't. Finally, brands need to be immediately transparent regarding shipping times, customer service availability, and live tracking of packages.
"For impatient consumers, these practical steps lead to payoffs for marketers," Kleinberg states. "Eighty-eight percent of people are more favorable to brands that provide information along every stage of their journey. And the risk for those brands who don't provide immediate assistance every step of the way is that impatient consumers will hurry over to a brand that does give them the help they need."