This year's long, hard winter has been blamed for everything from slow housing starts to sluggish retail sales.  Now that the warmer spring temps have supplanted sub-zero readings, numerous businesses anticipate fulfilling pent-up consumer demand.
[quote]RetailSails' Marc Heller, president of the New York-based research and consulting firm, says East Coast apparel stores are poised to see an increase, since disappointing sales from January through March were definitely weather related.
"You can draw a line from that to the economy," Heller says.  "The consumer that shops in the mid-tier and lower level stores buys on a need basis. If she doesn't need something today or next week or the very near future, she's not buying it at all.  In California, the apparel business has been more resilient because it's been more consistent there. But even Florida has not been as resilient because of the weather."
Heavy snow and ice storms forced consumers to hold back on spending, even though they are generally more optimistic about the economy.  Nearly four out of 10 (38%) are "very or somewhat optimistic" about the U.S. economy, according to the Cotton Incorporated Lifestyle Monitor™ Survey, which is flat from last year but up significantly from 31% in 2011.  Men are more upbeat than women (43% versus 34%).  And those making $75,000 or more per year are significantly more likely than their counterparts to be optimistic (43% versus 36%).
This uptick in consumer optimism is expected to continue as the U.S. Labor Department reported recent jobless benefits dropped to a three-month low, the Philadelphia Federal Reserve Bank saw an increase in factory activity in the Mid-Atlantic region and the dollar has gained in strength against numerous rivals, including the euro and yen.
This optimism is invariably behind an increase in home building permits.  While housing starts were down due to winter's incessant snow and ice storms, building permits increased 7.7%, indicating an expectation for increased future home building activity.  Meanwhile, LIRA — the Leading Indicator of Remodeling Activity — expects double-digit gains in spending will continue through the first half of the year to reach $147.6 billion, before moderating to just under 10% by the third quarter.
Sageworks, a North Carolina-based financial information firm, has found home furnishings stores "appear to be growing sales at a fairly consistent rate (7.9% in 2012) and maintaining solid margins over the past two years," says Jack Ochs, manager, data and research.
Kantar Retail's Mary Brett Whitfield, senior vice president, says her firm monitors 80 areas of consumer spending and the categories that have held steady are home improvement, home furnishings and home electronics.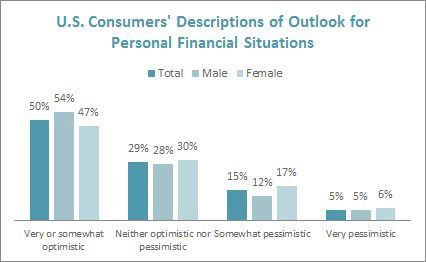 While the outlook for the U.S. economy has shown slow progress, consumers feel significantly more optimistic about their own financial situations. The Monitor survey shows 50% overall (54% of men and 47% of women) are "very or somewhat optimistic," up from 48% in 2012 and 46% in 2011. Among those making $75,000 or more, the number jumps to 61%, while it drops to 40% among those earning $25,000 or less.
This difference in outlook and spending ability explains why the luxury market has experienced a strong return since the recession, while lower-tier stores have struggled.  Sears, once one of the strongest retailers in the nation, is closing hundreds of units, including its Chicago flagship in April.  Meanwhile, Westfield's Garden State Plaza mall recently opened a $160 million Premium Fashion District wing, with 22 new shops that include Robin's Jean, Scotch & Soda and Tory Burch.
While apparel is still a top item to shop for among all age groups (28%), electronics follow close behind at 26%, according to the Monitor.
Whitfield says the increase in smartphones might explain why teen retailers have experienced declines in the last couple of years.
"When you look at the increased penetration of smartphones, 52% of household shoppers have them, which means there's a monthly data plan," she says.  "Teens switched from regular phones to smartphones.  Now, either parents have to pay $30-to-$50 extra for the data plan each month, which eats away at the apparel budget, or they tell their child to pay for the data plan.  That will challenge teen spending, especially when the job market has been tough for young people."
If consumers are spending added money for smartphones and home products, they are likely looking to cut back elsewhere.  While the apparel category has seen tremendous improvement since the Great Recession, consumers are still very careful with their spending.
Ochs says apparel stores are growing sales at the slowest rate since the recession (3.3% in 2013, well below pre-recession levels of 9.6% in '06 and 6.8% in '07).  "The silver lining is that their profit margins are relatively strong; despite being below average (in terms of all industries), their margins are significantly stronger than in years past."
Shoppers list "price" as a top factor in an apparel purchasing decision (59%), right behind fit (78%) and comfort (68%), according to the Monitor.  Nearly seven out of 10 consumers (69%) shop for clothes online to compare prices at different retailers, up significantly from 63% in November 2010.  And when shopping online, 82% look to the price in general to tell them about an apparel product, followed by information on sizing (70%), color (60%) and style (55%).
Heller says that since 2008, consumers have pulled back and traded down where they shop. "And they haven't gone back to pre-'08 levels because there are way too many choices out there now that weren't in play before.  In the early 2000s, we were talking about how everyone still needed to buy a computer.  Now the choices for getting online are endless.  There is a lot of competition for discretionary dollars."