From endorsement deals and lines bearing a celeb's name, to stars answering the question of "who" they're wearing on the red carpet, the apparel and footwear industry is not only comfortable working with bold-faced names, but it relies on it.
[quote]"If you go through any grocery store, there is a celebrity attached to some product as you walk down every aisle and the same can be said in apparel," says Evan Morgenstein, CEO of CelebExperts, a corporate consulting agency for celebrity acquisition.  "That's because people want to live like Tom Brady and the Kardashians.  Regular people aspire to have the celebrity lifestyle.  Or they believe a celebrity endorsement gives a product value.  And from a brand's perspective, the celebrity helps execute a message that much faster."
There are always new apparel lines, and one of the latest is the Adidas Originals x Pharrell Williams collection.  It will incorporate superstar Williams' Bionic Yarn, which is made of recycled plastic ocean debris that is then wrapped with natural fibers. For instance, Bionic Yarn denim is wrapped in cotton.  The Adidas line will launch this summer.
Come mid-April, Macy's will be playing host to one of the latest celeb style programs: To Tommy, From Zooey.  It's a capsule collection between Tommy Hilfiger and "New Girl" star Zooey Deschanel, who formerly lent her wattage to Cotton Incorporated's The Fabric of Our Lives® campaign.
Ironically, many consumers claim not to buy into star power; the majority (53%) say friends are most likely to influence them to buy new clothes, followed by relatives (21%) and magazines (20%), according to the Cotton Incorporated Lifestyle Monitor™ Survey.
Consumers say they give colleagues as much credit as celebrities (3%).  However, slightly more than one-fifth (22%) say clothes worn by celebrities are "very or somewhat influential" to their own apparel choices. Women (24%) are significantly more likely than men (17%) to admit to the celebrity influence, according to the Monitor, and that percentage jumps to 34% among woman age 25-to-34 (34%).
Creating a successful celebrity pairing certainly involves finesse.  There are plenty of lines that have come and gone over the years — Outkast Clothing from Outkast, Malibu Dave by David Hasselhoff, Bitten by Sarah Jessica Parker.  But there are lines that do remarkably well, like Jessica Simpson, Victoria Beckham Collection, Sean John from Puff Daddy and Justin Timberlake's William Rast.
Ryan Beshel, Chicago-based fashion and media professional, says using celebrities can absolutely produce sales. "And if selling clothes is your sole desire, then it's a win-win," he says.  "On the flip side, we need to remain aware that celebrities come with their own built-in branding. Often this branding is not properly aligned with the brand of your company. In essence, this could do more harm than good."
Morgenstein adds that a celebrity collaboration is doomed if it is underfunded and ill-conceived from the get-go. "You could put God Almighty in the program and it would fail if it's not executed correctly," he says.  "Sometimes, people spend a lot of money on talent that just doesn't match.  And that turns out to be money wasted."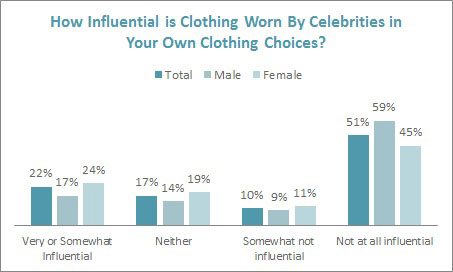 Of course, Beshel points out, things can go south if a celebrity "decides to do something less than classy, so to say."  And there's no shortage of that.  Lance Armstrong lost tens of millions in endorsements and when he admitted to steroid usage, after years of denying it.  But Tiger Woods, while losing Accenture and TAG Heuer among others after his marital infidelity scandal, managed to keep Nike.
Last year, Woods signed his fourth endorsement contract with Nike, this time for a seven-year stint reportedly worth $20 million per year. "In business, big and small, you take risks," Morgenstein says.  "There is risk with working with a celebrity, but there's risk hiring your CMO.  Business is all about risk.  There are the Puritans out there who will always believe celebrity is bad no matter what.  But if you want to be successful, you'll have to take risks.  Endorsements are just another type."
While just 14% of consumers say it's "very or somewhat important" that new apparel purchases are recommended or endorsed by someone, 43% of people use store displays as a source of wardrobe ideas, followed by people they see regularly (35%), the Monitor shows.
Following that thinking, if Macy's highlights Zooey Deschanel's new line in its Hilfiger in-store shops, consumers will notice.  Further, if shoppers watch Deschanel's weekly show, she could be considered a person they "see regularly."
That's the type of collaboration that stands to do well, Beshel says. "As a company, the focus should be on developing your own individualistic branding that can stand on its own.  After all, when all is said and done, will your company be able to sustain the sales produced by a celebrity endorsement after the hype settles? That should be your first focus — positioning a celebrity endorsement as a sweet spot that complements your excellent quality, customer service and commitment to evolving with the times."