Earth Day is this Saturday and the campaign's focus is environmental and climate literacy. Organizers posit that education on these fronts will not only advance eco-related laws, but it will accelerate green technologies and jobs. To find proof that such idealistic convictions can meet with success, one need look no further than the Blue Jeans Go Green™ program, a denim recycling program in its eleventh year.[quote]
The initiative, launched by Cotton Incorporated in 2006, gives new life to old denim — a fabric made of cotton — by recycling and converting it into UltraTouch™ Denim Insulation. While the product sells nationwide at stores like Home Depot and Lowe's, a portion is distributed each year to organizations like Habitat for Humanity to help communities in need. So far, more than 250,000 square feet of the natural fiber insulation has been distributed to such programs.
Cotton Incorporated teamed with Bonded Logic, Inc., a Chandler, AZ -based insulation company to manufacture the product, which contains 80 percent post-consumer recycled content. Bonded Logic has more than 35 years experience designing and creating natural fiber insulation products. To date, the company has produced 2.7 million square feet of insulation from recycled denim — enough to line 46 football fields.
Bonded Logic maintains its product is good both for the environment as well as the homeowners that use it.
"Traditional insulation manufacturers consume considerably more energy while creating additional unwanted pollution and landfill waste," the company states. "UltraTouch™ contains zero VOCs (volatile organic compounds), has no off-gassing concerns and lacks the formaldehyde of traditional insulation products. When you choose UltraTouch™ for your commercial or residential project, you make a commitment to the environment. Your structure will not only be well insulated, maximizing HVAC efficiency, but will also be a healthy space in which to live and work."
The natural cotton allows the insulation to provide maximum thermal performance as well as sound absorption. The insulation is also fire-retardant and mold resistant.
The insulation is made from denim that has already served its purpose and would normally be thrown out. But through the program, Cotton Incorporated has helped collect more than 1.5 million pieces of denim — enough to make a denim path the length of California. Collecting this denim has diverted from landfills approximately 750 tons of textile waste, akin to the weight of almost 400 cars.
Cotton Incorporated is not alone in its effort to reduce, reuse, and recycle denim. The non-profit firm has worked with a number of partners over the years to make it easy for consumers who want to donate their worn denim pieces. Partners have included colleges — including the University of Kentucky, James Madison, and Quinnipiac –NASCAR and multiple retailers.
Madewell began partnering with the program in 2014 and has since collected over 155,000 pieces of denim. The retailer is participating again this year, allowing shoppers to recycle their "pre-loved" jeans, and handing them $20 discounts for a new pair. Shoppers can bring their old jeans into any of Madewell's stores year round, and the retailer sends them all to the Blue Jeans Go Green™ program. By the end of 2017, Madewell is dedicated to collecting 200,000 pairs of denim to be recycled through the program.
The store has also helped consumers make donations via mail, appealing to its online shoppers. For a limited time, Madewell enclosed a postage-paid package envelope with purchases from its website. Shoppers could easily grab an old pair from their closet, put it in the envelope, and drop it in the mail. The company looks at it as giving the shoppers a chance to "do well" through Madewell.
Last year, Saks Fifth Avenue Off 5th also joined the program at the end of the summer, just as customers were thinking about their fall wardrobes. Shoppers were invited to bring old pairs of jeans to their local Off 5th stores, and received $10 off on a new pair. The retailer saw it as a win-win endeavor.
"Together with our customers, Saks Fifth Avenue OFF 5TH is proud to be part of such a worthwhile campaign," stated Jonathan Greller, president, Saks OFF 5TH and Gilt.
Nearly 13 million tons of textile waste was discarded in 2013, which equates to about 81 pounds for each person in the U.S. The Environmental Protection Agency estimates textile waste accounts for 6 percent of all landfill space.
Now consider that the average American owns 7 pairs of jeans and 7 pieces of denim, according to the Cotton Incorporated Lifestyle Monitor™ Survey. That could translate into a lot of disposed denim. And 1,600 pieces of recycled denim diverts roughly one ton of waste from a landfill.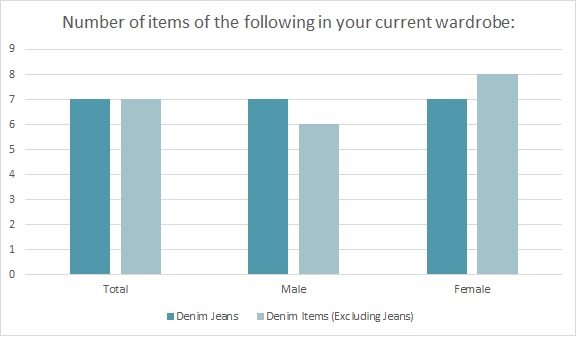 The Council for Textile Recycling says charities sell just 10-to-20 percent of the clothes donated to their locations. They're left with billions of pounds of unsold clothes that they can sell for salvage to professional recycling firms. These firms separate the wearable pieces that can be exported to other countries as secondhand apparel. Another portion is converted into reclaimed wiping rags. And the rest is recycled for home insulation, carpet padding and raw material for the automotive industry. Still, the council says the rate of textile recycling is just 15 percent.
In 2009, the Blue Jeans Go Green™ program earned the record for the "Most Items of Clothing Collected for Recycling," with 33,088 pieces of denim. The next year, a grant program was established to give architects, builders and project developers the opportunity to apply for contributions of insulation for civic-minded buildings.  Just four years later, the program celebrated recycling the one-millionth piece of denim.
"This partnership was a natural fit for us," said Saks Off 5th's Greller, "allowing us to give back to the community and, at the same time, deliver a service to our customers that rewards them as well."