This year on Earth Day, there will be more than the usual rallies and musical acts celebrating the event. There will be a March for Science in Washington, D.C., in an effort to "support knowledge sharing… and stewardship" of the planet. There should be no controversy in the apparel industry, though, as consumers have an expectation that clothes will be made in a sustainable way. That's leading smart apparel makers to respond to their desires.[quote]
A Neilsen survey shows consumers do care about the environment. And shoppers are willing to put their money where their mouth is — especially if brands promote their sustainability efforts.
"It's no longer a question if consumers care about social impact. Consumers do care and show they do through their actions," says Neilsen's Amy Fenton, global leader of public development and sustainability. "Now the focus is on determining how your brand can effectively create shared value by marrying the appropriate social cause and consumer segments."
Nearly one third of consumers (30 percent) who shop or browse clothing online say that knowing environmental footprint information would influence their ultimate decision to purchase a clothing item online, according to the Cotton Incorporated Lifestyle Monitor™ Survey.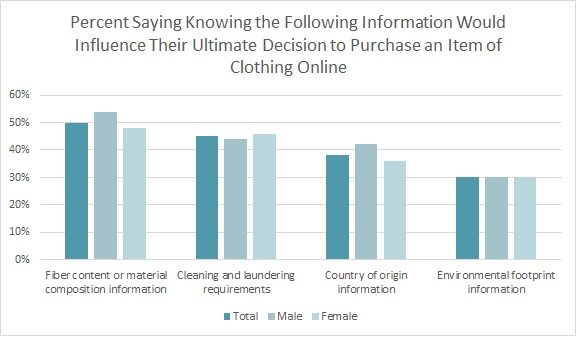 Neilsen's research bears that out, as it found that brands that promote their sustainability efforts stand to gain.
To see if consumers actually followed through on their green leanings, Nielsen also reviewed retail sales data for a cross-section of both consumable and non-consumable categories across 20 brands in nine countries. The firm found sales increases are two-to-five times better when the brands either included sustainability claims on packaging or actively promoted their sustainability actions in their marketing. The results from a March 2014 year-over-year analysis showed an average annual sales increase of 2 percent for products with sustainability claims on the packaging, and a 5 percent bump for products whose marketing promoted sustainability. A review of 14 other brands with neither sustainability claims nor marketing showed a sales rise of just 1 percent.
While environmental efforts have been made across the industry, consumers might be surprised to find that fast-fashion and mass market retailers are among the leaders. Fast fashion is taking steps, but these retailers — with their emphasis on low-priced goods that change out as often as twice a week on the sales floor — have been fingered as the main culprits in the rising tonnage that pours into landfills. Newsweek reported the volume of clothes Americans dispose of each year has doubled in less than 20 years, from 7 million to 14 million tons. The magazine cited the Environmental Protection Agency as saying "diverting all of those often-toxic trashed textiles into a recycling program would be the environmental equivalent of taking 7.3 million cars and their carbon dioxide emissions off the road."
H&M recently upped its environmental initiatives when it pledged to use only recycled or sustainable materials in its products by 2030. It also plans to reduce more greenhouse gas emissions than it emits, so it becomes more climate positive by 2040. These moves follow the fast-fashion giant's previous efforts, including its Conscious Collection, which uses sustainable materials, and an in-store used-clothing collection program.
In an interview with WWD, H&M's Anna Gedda, head of sustainability, said "It's great to see that the interest in sustainability is increasing all over, from customers to shareholders to other brands and other actors within the industry."
Zara unveiled its Join Life sustainability program last fall, with criteria that includes using products made from sustainable raw material, such as Better Cotton Initiative (BCI) cotton. The not-for-profit BCI, of which Cotton Incorporated is a member, brings together cotton's complex supply chain, from the farmers to the retailers.
Also last fall, Target announced its own pledge to use more sustainable resources, such as responsibly grown and harvested cotton, improve workers' well-being and achieve net-positive manufacturing (removing unwanted chemical, optimizing water usage and driving clean energy) by 2020.
The majority of consumers (57 percent) say that if they purchased a piece of apparel and then found out it was produced in a non-environmentally friendly way, they would blame the industry in general, according to the Monitor™ data. Specifically, consumers would hold responsible the company that manufactured it (37 percent), the brand (13 percent), and the store where it was purchased (8 percent). Just 15 percent would blame themselves.
On the other hand, more than one-third of all consumers (36 percent) say they are "very or somewhat likely" to pay full price for an item of apparel that is made in a sustainable or environmentally friendly manner. And 65 percent of consumers are willing to pay more for natural fibers such as cotton.
Mainstream labels and retailers are also interested in sustainability. Companies like Timberland and Puma will be at the upcoming Planet Textiles show, a week-long series of events in India on sustainability and social compliance in the textiles sector. It's organized in part by the Sustainable Apparel Coalition. The SAC is a trade group comprised of more than 200 member organizations — Cotton Incorporated among them — including brands, retailers, manufacturers, government and non-government organizations and academic experts representing more than a third of the global apparel and footwear market. It's working to reduce the environmental and social impacts of apparel and footwear products around the world.
The companies that take part in sustainability initiatives appeal to the average shopper, as they clearly care about the environment: 64 percent of all consumers recycle, 55 percent use a refillable bottle for drinks rather than disposable cups or bottles, and 53 percent purchase appliances that conserve energy, according to the Monitor™.
This year's Earth Day comes after President Donald Trump signed an executive order aimed at rolling back a number of Obama-era climate policies aimed at curbing climate change and regulating carbon emissions. However, American are taking global warming more seriously than at any time in the past eight years, according to Gallup's annual environment poll: 64 percent of U.S. adults say they are worried "a great deal" or "fair amount" about global warming, up from 55 percent in 2016 and the highest reading since 2008.
Brands that are in sync with consumer sentiment through their own sustainable practices — such as reducing textile waste, greenhouse gases and toxic emissions — stand to benefit.
"Consumers around the world are saying loud and clear that a brand's social purpose is among the factors that influence purchase decisions," Nielsen's Fenton says. "This behavior is on the rise and it provides opportunities for meaningful impact in our communities, in addition to helping to grow share for brands."