"Fashion is the armor to survive the reality of everyday life." — Bill Cunningham
There are people who think it would be great to climb Mt. Everest. And there are people — actually a lot of people — who say, "Life is hard enough, I don't need to be doing that." See, for most people, there are challenges every day. And whether major or minor, when life seems hard enough, people often don't want to be challenged by something like their wardrobe. They want something that is comfortable and expresses who they are, yet leaves them with the energy and clarity to meet their challenges — and perhaps step out of their comfort zone.[quote]
That's the idea behind Cotton Incorporated's new "Leave Comfort to Clothes" advertising campaign.
"Here at Cotton, we're celebrating those life-changing moments, whether they're big or small," says Lisa Lo Paro, web editor and content strategist for Cotton Incorporated, in a blog post about the campaign. "We believe that self-expression is the key to confidence, and confidence is the key to making your dreams a reality."
Bjorn Nasett, a Milwaukee-based stylist and photographer, says it's important that today's consumers can express themselves in comfortable clothes that allow them to speak their inner truth.
"Because of what's happening in the world, I think people are saying, 'I'm just living my life, and living it the way I want,'" Nasett says. "That brings out fearlessness, when people are like, 'What have I got to lose?' They go for it. And as far as expressing themselves, they're like, 'What the hell, why not?'"
The first installation of the "Leave Comfort to Clothes" campaign portrays three young women at a music festival. They come upon some revelers that are mud sliding. Rather than walk on by with her group, one of the young women hands her hat to her friend and pitches herself into the mud. The spot's tagline: "Taking a chance is tough. Washing cotton is easy."
The importance placed on the ease of garment laundering shouldn't be lost on brands and retailers. Most consumers (78 percent) say cotton is the easiest fabric to wash, followed by polyester (72 percent) and rayon (50 percent), according to the Cotton Incorporated Lifestyle Monitor™ Survey.
Beyond laundering preferences, an overwhelming majority of consumers (77 percent) say cotton is their favorite fabric to wear, according to Monitor™ data. That's trailed significantly by all other fabrics: polyester (3 percent), silk (2 percent), and "anything comfortable (unspecified), Spandex, other blends, wool, rayon, stretch fabric (unspecified) and linen — all of which garnered 1 percent.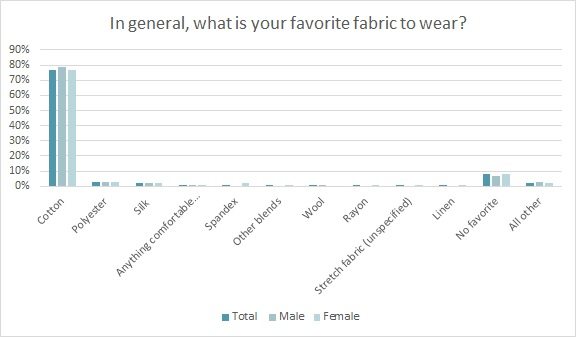 When it comes to the top attributes of cotton, the Monitor™ research shows 91 percent describe it as comfortable. In fact, 65 percent of consumers are willing to pay more for natural fibers such as cotton, according to Monitor™data.
In "The Complete Guide to Understanding Consumer Psychology," marketing experts Neil Patel and Ritika Puri write that company's should be doing all they can to remove barriers — or, points of friction — that prevent consumers from progressing through the company's conversion funnel. The pair states that companies can reduce such friction by building trust.
"It's a brand's burden of responsibility to communicate trust signals to their audiences," they state. "Build trust through testimonials, trust seals and customer reviews."
Nasett says that as a stylist, he tells his clients they can always trust cotton.
"You may not be able to trust everything else in the world, but 100% pure cotton, you know what that is," he says. "You don't need to have it explained. You can buy everything from the latest fashion to that comfy T-shirt. Right now, people don't know what they're getting politically or anything else. But people will always respond to the familiar and things they can put their trust in, like 100% cotton."
The numbers back that up as — compared to clothes made of synthetics — more than 7 in 10 consumers (79 percent) say cotton apparel is the most trustworthy, according to Monitor™ data. Consumers also cite it as the most sustainable (84 percent), soft (81 percent), comfortable (80 percent), authentic (80 percent), appropriate for casualwear (77 percent), and reliable (73 percent).
The psychology of fashion has long extolled the virtues of wearing clothes that give wearers confidence — the power suit, the little black dress. Last autumn, Wrangler focused its national TV advertising on how its clothes could inspire consumers to embrace life's everyday adventures.
At the same time, there's no shortage of successful people who have preferred to wear the same thing every day: Apple's Steve Jobs, Facebook's Mark Zuckerberg, and former art director Matilda Kahl, who became famous after writing an article in Harper's Bazaar detailing her adopted work uniform of black pants and short-sleeved white top. Even fashion designers aren't immune to the practice: Giorgio Armani has his dark T-shirt and jeans, Michael Kors is known for his black tee and jacket, and Karl Lagerfeld is always seen in his black suit, white shirt, and sunglasses. The reason for these self-imposed uniforms stems from a desire to save creativity and ingenuity for work.
"When we're comfortable in our clothes, we're comfortable with ourselves," says Cotton Incorporated's Lo Paro. "We have confidence. We feel powerful. So put on that dress that makes you feel invincible. Straighten your tie, and adjust your sleeves. Run for one more mile. Step on stage. Tell them how you really feel. Ask for that promotion. Change your career. Jump into the mud. Do what scares you."