Today's intimates are so varied in color, style, sexiness and fun they bear almost no resemblance to underthings of even the recent past.  But one thing has not changed: how much consumers appreciate the comfort of cotton in their underthings, which presents a growth opportunity for makers who incorporate it into their collections.
[quote]Aerie has already recognized the draw of the natural fiber, says Jennifer Foyle, chief merchandising officer.
"Our customer responds well to our cotton category," Folye says. "It's one of the core staples in our undie selection.  We love to add excitement to this category with prints that our girl can have fun with. It really brings enjoyment to an everyday basic."
On average, consumers purchased approximately nine pairs of underwear in the past 12 months, according to the Cotton Incorporated Lifestyle Monitor™ Survey.  And 90% prefer their underwear to be made from cotton and cotton blends.  Further, 62% — up significantly from 57% last year — are willing to pay more for underwear made of natural fibers like cotton.
In the U.S., girls and women's intimates generate more than $11.1 billion in annual sales, according to the NPD Group, while the men's market accounts for $2.4 billion.
Top styles for men continue to be boxer briefs, briefs, boxers and trunk styles. Colors range from basic white and black to orange and lime green, as well as animal prints.  At Freshpair, cotton and cotton blends are among the men's top sellers, including cotton Calvin Klein's body boost briefs, C-IN2′s cotton-blend low-rise brief, Private Structure's stretch cotton mini brief and trunk, and Diesel's stretch cotton printed brief.
At Jockey, top-rated men's styles include its cotton-blended Euro-style bold striped brief, California boxer brief and no-fly trunk.  Briefs are its most popular style, followed by boxer briefs, midway briefs, boxers and trunks.
More than half of men say they own boxer-briefs (52%), followed by boxers (38%) and briefs (38%), according to Monitor data.  Men ages 18-to-34 are significantly more likely than older men to own boxer-briefs and boxers (64% versus 35%). Those ages 35-to-70 are far likelier than their younger counterparts to own briefs (48% versus 21%).
Triumph International is entering the U.S. intimates market later this month without its men's collections, instead focusing on women's to start.  The Munich-based innerwear company, which generates $2.1 billion internationally, will launch here with two stores in New York.
Triumph's cotton offering includes its Body Make Up Cotton-Feel collection, which was introduced with the fall/winter '13 collections.
"Our consumers like that it is a natural fiber against the skin," says Triumph's Mario Pace, vice president of brand and marketing. The cotton-rich material is blended with stretch, "which over time maintains the durability and fit. The cotton has a very compact texture with a shine to it, which adds to the glamour of it. In other words, we made cotton glamorous."
When it comes to intimates, fully 78% say fit is very important to their underwear purchase decisions, followed closely by comfort (77%), softness (58%), quality (55%), price (54%) and durability (53%), according to the Monitor.
More glamorous intimates will be on view at this week's Lingerie Fashion Week™  in New York.  Lauren Rich, the event's founder, says the participating designers in the spring/summer '14 shows have cotton styles that range from basic to organic cotton prints to lace details.
Also as part of Lingerie Fashion Week™, Cotton Incorporated is sponsoring The Cotton Lounge, a relaxing environment for attendees that includes an exhibition of cotton-rich intimate apparel from a variety of well-known innerwear brands.
Anita Unique Bodywear, the Brannenburg, Germany-based company that concentrates on post-surgery lingerie, maternity products and other specialty-fit items, found pregnant and new mothers prefer organic and natural materials, leading it to expand the cotton options in its maternity collection.
"Consumers who prefer our cotton options enjoy the comfort aspect — cotton has great breathability and flexibility," says Theresa Antretter, Anita's U.S. division manager. "It is also about the cotton's durability, since it can be washed at high temperatures and will outlast other materials."
Meanwhile, Pace says Triumph's Body Make Up bra is the perfect for every day.  It was customer preference that persuaded the company to add more natural fibers and fabrications.
"The logical next step was to incorporate cotton into the offering of everyday ranges," Pace says.  "The Cotton-Feel collection has the same benefits and features of the best-selling Body Make Up line. It takes natural fibers and the latest technology in terms of material and workmanship to create everyday garments with a luxury feel."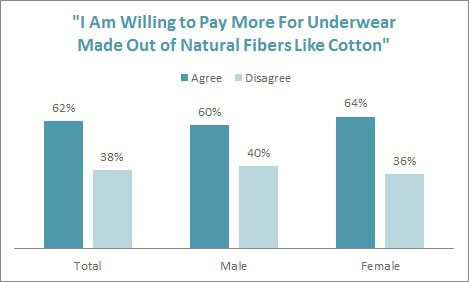 Indeed, the Monitor finds 66% of shoppers would in fact be bothered if stores and brands substituted synthetic fibers for cotton in their underwear, and (62%) say they are willing to pay a premium to keep cotton from being substituted with synthetic.
Aerie's customers value the brand's range of cotton, which features everyday basics that have flirty details such as soft laces and bows, as well as prints and patterns.
"Our customers also appreciate how fashionable our cotton undies are but never lose sight of comfort," Foyle says.  "Our girl loves the assortment we carry.  But we will always focus on our core — cotton undies and bras she can wear again and again."