In an interesting interaction at a recent New York women's apparel trade show, a vendor was asked if she considers Gen Z part of her customer reach, and if so, does her marketing to them differ from Millennials. To which she replied, "Are you saying there's a generation younger than Millennials I have to think about?" That's right, it's time to buckle up and prepare to go after the next young batch of consumers. Already, they differ from the much-vaunted Millennials. And one of their big standout areas is their concern for transparency and authenticity.[quote]
Gen Z is the generation (for industry purposes — consumers) who were born after Millennials. The Center for Generational Kinetics defines their birth years as being 1996 to present. But other groups put their start year later. Fung Global Retail & Technology considers this generation to be born after 2000 and points out that Gen Z "is the first generation not to have known life without technologies and services such as smartphones, iPads, Facebook, Instagram, and WhatsApp." The Cotton Incorporated Lifestyle Monitor™ Survey also defines Millennials as those born after the year 2000.
For apparel retailers, the good news is just over half (51 percent) of all Gen Z consumers love or enjoy shopping, according to the Monitor™ survey. Unfortunately, that's significantly less than Millennials (66 percent). However, since Millennials are older and more established, it's possible that Gen Z's views toward shopping may change once they have regular income and lines of credit.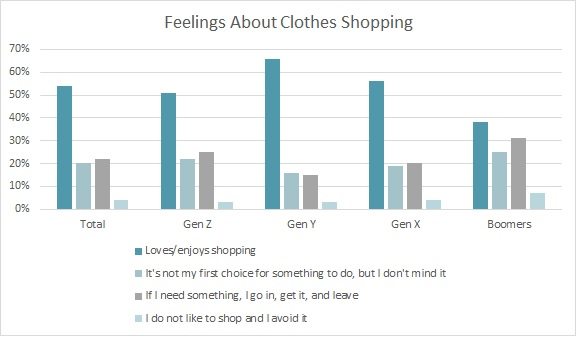 As for where they shop, Gen Z is most likely drawn to mass merchants (19 percent, which nearly mirrors the 20 percent for Millennials), followed closely by fast fashion (17 percent, higher than the 11 percent for Millennials). Those retailers are followed by chain stores (15 percent versus 17 percent for Millennials) and specialty stores (13 percent versus 14 percent for Millennials), according to Monitor™ data.
Interestingly, 53 percent of Gen Z consumers would rather buy clothing that is higher in quality versus 47 percent who prefer clothes that are more fashionable, according to the Monitor™. And 59 percent believe better quality garments are made from all natural fibers such as cotton.
This all gibes with the offerings from fast fashion giant H&M, which offers both "premium quality" natural fibers styles, as well as "conscious/sustainable styles" on its website.
"We know our customer base is very interested in sustainable materials. And we have research out that they are seeking this product from us," said Marlo Tablante — H&M sustainability manager, last week at the Editions NYC event curated by Edited, a fashion retail analytics firm.
It should also be noted that retailers have seriously stepped up their game when it comes to delivering what consumers want, when they want it. As hard as it has been to change the entire industry, retailers recognized they needed to adapt or die. That has made them faster, more responsive and able to offer more targeted product than before. Data mining has a lot to do with that.
At the NRF Big Show 2017, the Neiman Marcus Group's Jeff Rosenfeld, vice president of customer insight and analytics, pointed out that the better a retailer can predict what customers' needs are, the better they can help them. But despite all the change the industry has undergone, to his mind, it's a process that's still in its early stages.
"That relationship-driven strategy is almost the next frontier, where we say 'How do we not just manage for what we think she's going to do now — even if we can customize that message — but really what's the optimal mix of things to send her over a length of time?'" he stated. "There's not a lot of folks out there that I'm aware of that are doing that very well. We're starting on that journey — and I think a number of folks are as well. And it's really exciting as I see some of the technologies develop and some of the abilities to optimize this. It's a very difficult and complex thing."
So if retailers can better pinpoint what Gen Z wants, they'll likely further increase their appreciation for shopping — be in on a smartphone or in an experiential type of store.
But even though — or perhaps because — Gen Z consumers were born with a digital spoon in their mouths, they're difficult to peg when it comes to marketing.
One would think that since they spend so much time glued to their devices that their wardrobes would be primarily influenced by a YouTuber or Instagram influencer. But 68 percent get their clothing ideas from what they already own and like, and more than 4 in 10 Gen Z consumers (43%) say they get ideas from the people they see regularly, significantly more than any other generation, according to Monitor™ data. Another 32 percent find idea inspiration online, while 26 percent look to store windows and displays.
But when it comes to their online influences, Instagram has the biggest impact among shoppers younger than 33 years old. And more than half (55 percent) of Gen Z shoppers get their apparel ideas from Instagram, significantly more than Millennials (44 percent). That was followed by Pinterest (36 percent versus 42 percent for Millennials), retailer or brand websites (29 percent versus 34 percent), and Facebook (29 percent versus 42 percent for Millennials).
At last week's UBM Fashion, NY Women's show at the Jacob Javits Center, Evan Neufeld said he sees reaching the Gen Z consumer as a continuation of the way retailers have pursued Millennials — only they're savvier and more particular.
"Perfect example of this, by the way, is email. Email is like direct mail without stamps. It doesn't cost you anything, it's super effective, and it really works. Except for my [teen] daughter, who's never read an email in her life," he quipped. "That generation just doesn't read email. So there's a lot of communication to do there, but I think the first step is understanding what percentage of your audience is in those different markets and trying to adjust your tactics accordingly."