Though Fashion's Night Out isn't being held in the U.S. this year, retailers are still adopting its tenets: music, celebrities, catwalks and designer appearances all designed to creating a more engaging shopping experience.  And with Mercedes Benz Fashion Week about to roar into New York, stores may well tie in to this glamorous event to create a seasonal shopping buzz.
[quote]Although Dillard's never participated in official Fashion's Night Out events, various events have proven successful in building sales, says Jerry Talamantes, communications and events manager for corporate brands.  The department store chain has scheduled numerous happenings this season — like personal appearances with Nicole Miller and an Eileen Fisher "tipster" event.   And the power of Fashion Week can't be overlooked, especially in the chain's bigger regions.
"Buzz from New York Fashion Week always enlivens the conversation in larger markets where consumers have more access to shopping and are accustomed to more fashion chatter," Talamantes says.  "In smaller areas, including many midsize cities, while still relevant, giving it more value is much more challenging because of the mind set of casual living."
Sixty two percent of shoppers say their main source for apparel ideas is what they already own and like, but 11% do say celebrities are "very or somewhat influential," according to the Cotton Incorporated Lifestyle Monitor™ Survey. As such, bold-faced celebrity names at the Mercedes Benz Fashion Week runway shows may ensure the general public will give the event more attention.
Stylesight's Sharon Graubard, senior vice president of creative services, says while Fashion's Night Out created a party atmosphere with deejays and cocktails, Fashion Week tie-ins could also bring excitement to shopping — while providing significant direction for consumers.
"Retailers have to be creative to generate interest, maybe by using a big screen that streams the runway shows," she says.  "They could have a slide show going and then pull out the trends to merchandise them accordingly. Fashion Week is in advance of the current season.  So if consumers see something on the screen and stores merchandise similar items on their floors, it will give shoppers confidence that the look will still be happening in six months."
That kind of assurance is valuable, as 64% of consumers say they're "slow to change/rarely change styles," according to the Monitor.  Knowing a trend will still have legs a few months down the road could help make a sale today.
And store displays that echo the runway looks could be very effective, as 42% of shoppers already cite displays as a source of apparel ideas, the Monitor shows.  Consumers also cite "online" as another source (32%).  And these days, Fashion Week collections are online almost as soon as the runway shows conclude.  Smartphones and tablets capture videos and photos that are uploaded within minutes to international newspaper and retail sites, blogs and all manner of social media.
Although shoppers get a lot of apparel ideas from the Internet, they still shop for clothes twice as much in-store (twice per month) as online (once per month), the Monitor shows.  More than six out of 10 consumers (62%) say they shop at mass merchants for clothing, followed by chain (57%), department (41%), off-price (35%) and specialty stores (33%).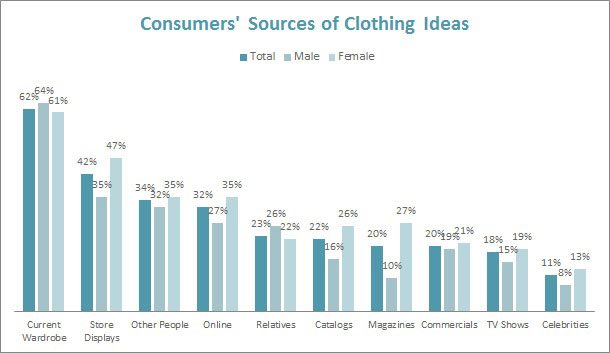 The continued popularity of in-store shopping amongst all channels makes crowd-drawing events a favorite marketing tool for retailers.
Caruso Affiliated's Liz Jaeger, spokesperson, says at properties like The Grove and The Americana at Brand, guests are greeted with year-long experiential elements ranging from in-store events, kids club events, yoga in the park, summer concert series and Food Festivals. The holidays bring such programming as nightly snow falls, star-studded tree lighting shows, Santa experiences and more.  But first, Caruso is planning its fall events.
"This year we're proud to be partnering with the Los Angeles Fashion Council to produce Los Angeles Fashion Week at The Grove on Oct. 9 and 10," Jaeger says.  "Ultimately, it is the experience that is paramount with today's consumer, and our primary goal is to continually enhance that. Great service drives customers to stores, and then that's coupled with experiential elements that transform the shopping experience into something that engages, excites and entertains."
Fashion's Night Out was meant to remind consumers that shopping could be that kind of fun experience.  In Oregon, the Portland Business Alliance is rolling out a new tradition: Fall Into Fashion.  Members started planning the event after they heard FNO was being cancelled.  The group participated in FNO for three years, and wanted to continue the momentum, showcasing downtown Portland as a shopping and fashion destination, explains Liza Dossick, spokesperson.
"Our participating retailers were on board with updating the event to make it our own," Dossick says.
Fall into Fashion will include free fashion shows in a public park in the retail district, in-store events with more than 25 retailers and a fundraising raffle to win a $1,500 downtown shopping spree with proceeds benefitting the event's nonprofit partner Dress for Success Oregon.
Says Graubard, "The whole thing behind Fashion Night Out was shopping is supposed to be fun.  So, can we keep that message and apply it everyday?"