Perhaps door-to-door salesmen were the first experiential marketers, holding out brushes and vacuums for potential buyers to try on the spot.  Today's experiential marketing incorporates gigantic, attention-grabbing product displays, interactive billboards and participation contests, among other things.  They are about marketing the brand and getting people talking.
[quote]EventNetUSA's Joel Benson, president and CEO of the Ft. Lauderdale, FL-based experiential marketing firm, says when a consumer truly engages with a product or service, not only are they more likely to purchase it, they can also clearly articulate attributes or differentiators.
"This leads to word of mouth referrals which, more often than not, happen via social media," Benson says.  "We believe that word of mouth is the most efficient and credible marketing campaign because consumers make recommendations based on their personal experience."
In fact, the majority of consumers (53%) say friends are most likely to influence them to buy new clothes, followed by relatives (21%) and magazines (20%), according to the Cotton Incorporated Lifestyle Monitor™ Survey.  Additionally, when they are looking for apparel ideas, 34% of consumers turn to people they see regularly as a source.
Experiential marketing depends on that circular kind of connection, with brands appealing to consumers, consumers talking to each other, and then circling back to the brand.
TideSmart Global's Steve Woods, president and CEO of the Falmouth, ME-based experiential marketing company, says people are the one constant in an increasingly fragmented consumer universe.
"Despite leaps and bounds in technology, it's never been more difficult to grab the attention of consumers," Woods says, adding that consumers increasingly ignore the "we talk, you listen" messaging approach.  On the other hand, live people and interactions can break through all the noise.
"Experiential marketing links consumers directly to the brand through a unique experience.  Whether it's a sampling campaign, a PR event or mobile marketing tour, experiential marketing is the perfect backdrop for brands seeking a deeper, more meaningful connection with consumers."
The look and feel of cotton has been successfully promoted two years in a row at Cotton's 24 Hour Runway Show in South Beach, Miami.  This year's show, in March, incorporated 1,440 different looks from numerous designers, showcasing cotton's versatility as casual, work, nighttime, or active wear.   The live-streamed event, which incorporated bloggers, contests and celebrity appearances, was viewed by more than a half-million people online.
Cotton Incorporated recently conducted another experiential marketing campaign when it staged a "mannequin protest" during Mercedes-Benz Fashion Week in New York.  The multi-day event was staged to draw attention to apparel that is substituting cotton with synthetics that feel like it. The mannequins, holding signs that read "Cotton or Nothing" and "Don't Get Duped, Check the Labels" among others, "went on strike" against wearing the synthetic garments in display windows.
While the approach was meant to be tongue-in-cheek, 84% of all consumers actually prefer their apparel to be made of cotton and cotton blends, according to the Monitor.  And nearly 8 of 10 consumers (79%) say cotton and cotton blends are the fibers best suited for today's fashions.  In fact, almost all consumers (96%) prefer it for their denim jeans, followed by their T-shirts (95%), socks (94%), underwear (90%), casual shirts (86%) and activewear (71%).
Not only did the Monitor find consumers think better quality garments are made from all natural fibers such as cotton (75%), it found more than half (52%) are willing to pay more for it.
So the mannequins "took to the streets" of Manhattan to highlight the Monitor finding that consumers are bothered when retailers and brands substitute synthetic fibers for cotton in their underwear and jeans 61%, followed by their tees 59%, socks 53%, sweatshirts 51%, and dress shirts 50%.
When stores use such dramatic techniques, it's referred to as "retail theater," Benson says.
"But in practice, it's about creating something that drives interest, but still brings the message full circle to the brand.  For clients, we continuously quote Confucius who said: 'I hear and I forget. I see and I remember. I do and I understand.'"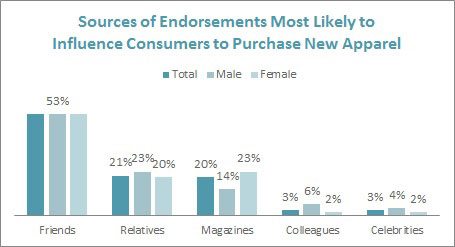 Since consumers have so many apparel shopping choices today, Benson says it's important for retailers to give people an added reason to take notice. An experience can make the act of visiting a shop as rewarding as acquiring the product itself.
Woods says that as a tactic, experiential marketing allows a retailer or store to shape a brand in a way that is unlike any other marketing medium.
"There is the opportunity to connect consumers directly to a brand, whether through sampling, mobile marketing tours, grassroots events, a product launch or exclusive event," Woods relates.
A recent TideSmart experience showed men how to take the guesswork out of shopping for Levi Strauss Signature jeans.  A 53-foot, double slide-out vehicle that was set up alongside major NASCAR events housed the centerpiece of the experience, the Intellifit™ System.  When a fully clothed person stepped into the scanning booth, the system executed a full body scan and generated a print out of recommended sizes and styles of Levi Strauss Signature apparel.
Says Woods, "Experiential marketing can increase awareness, build brand loyalty and significantly influence consumer-purchasing behavior."