Despite a slight economic slowdown in China, Western retailers and brands are still very much interested in expanding business there. After all, its population is four times the size of the U.S. But China's developing markets are not homogenous, and substantial variations can be seen in consumer shopping habits and spending ability based on tier. Due to the sheer size of potential business at stake though, experts say it's worthwhile to learn how to navigate each market.
[quote]ProsperChina's Roger Saunders, managing director of the Ohio-based business intelligence and analytics firm, says it's important to recognize that of the 1.3 billion people in China, 350 million-to-400 million would fall into the "consumption society" segment.
"U.S. businesses can learn these markets by listening, watching, and monitoring consumer insights, which can shift within six months," Saunders says. "It's critical that these merchants customize their approach to meet different tier level cities. For example, in some cities, European, Korean and Japanese brands stand above U.S. brands. But U.S. brands, once established, are highly regarded."
Currently, seven out of 10 Chinese consumers prefer to buy Chinese branded apparel over international clothes, according to the CCI and Cotton Incorporated Chinese Consumer & Global Lifestyle Monitor Surveys. The preference is less in Tier 1 cities (61%), but it jumps to 83% in Tier 4 cities. Tiers are generally based on population, development of services and infrastructure, and the cosmopolitan nature of the city.
In Shanghai, consumers own an average of 81 apparel items, about 10 more items than shoppers in other mega-cities like Beijing (71 items) or Guangzhou (73 items), according to the Consumer Survey. This makes Shanghai residents ideal shoppers.
On average, Chinese consumers spend about 2,392 RMB ($383) on clothes each year, up 7% from 2,244 RMB ($359) in 2012, the Consumer Survey shows. Among women, the figure increases to 2,556 RMB ($409), and among Tier 1 consumers, it grows to 2628 RMB ($421). Meanwhile, in Tier 4 cities, consumers spend on average 2,209 RMB ($354).
A McKinsey report reveals Chinese consumer behavior shows a larger emphasis on emotional considerations even than just a few years ago. The report, titled "From Mass to Mainstream: Keeping Pace With China's Rapidly Changing Consumer," explains how until rather recently, the Chinese were novices in the world of consumption and thus sought basic functional benefits from their purchases.
"In apparel, for instance, [Chinese consumers] wanted comfort; in food and beverage, they craved taste; in consumer electronics, they prized durability," the report states. "More recently, their discernment has grown."
For example, some consumers are showing a preference for eco-sensitive apparel. The Consumer Survey shows 83% of shoppers in Beijing say environmental friendliness is important in their apparel purchase decisions, nearly double the average Chinese shopper (48%) and highest when compared to any other province. Environmental conditions in Beijing continue to worsen, and these issues are top of mind for consumers. Offering customers a way to help the environment or make sustainable choices may bode well for apparel sales in this market.
Meanwhile, shoppers in Hunan are interested in fashionable styles. The Consumer Survey shows 44% purchased new clothes in the past year to be on trend, double the average shopper (21%). Staying on or ahead of fashion currents is essential in this market.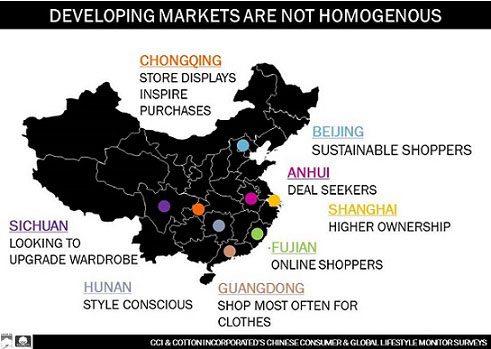 Of course, the styles of clothes vary based on the retailer. The Consumer Survey shows the majority of Chinese consumers shop for clothes at specialty (57%) or department (54%) stores, followed by independent stores (46% — up significantly from 40% in 2012). Another 29% shop at hypermarkets, which are similar to mass merchants in the U.S. Specialty shops are most preferred by Tier 1 shoppers (71%), though that preference drops to 63% in Tier 2, 60% in Tier 3 and 50% among those in Tier 4. Tier 4 shoppers are more likely than their counterparts to shop at independent stores (48% versus 42%) and street markets (22% versus 14%).
As important as the in-store experience is in China, there's no denying the proliferation of online shopping. The internet is used to shop for apparel by 11% of consumers. But in Fujian, 22% of shoppers buy clothes online, which would indicate that a strong omni-channel retail experience there would set a brand apart from its competitors.
"There are over one billion mobile phones in China," Saunders says. "When it comes to apparel and shoes, 59% of Tier 1 adults will regularly shop online. Tier 2 (63%) and Tier 3 (68%) have even higher levels, as they have a growing — but still fewer — number of brick and mortar retailers to choose from."
But rather than jumping into the Chinese market with unrealistic expansion plans, Saunders says U.S. businesses must show patience.
"If a retailer is going to spend tens of millions in establishing a front, as well as resources of time and personnel, it must be certain to capture a strong set of consumer insights a good two years before entering the market," Saunders notes. "Like Victoria's Secret did, bring new hires from China to the U.S. to work in stores and co-learn the right approach to the in-store experience in China. Get it right or it will be costly in terms of dollars and careers."