Maybe it's because people in general have become multitaskers, we've come to expect everything else to do double duty, too: Phones that have cameras and internet capabilities. Bracelets that measure our heart rate and sleep cycle. And jeans that can be worn forever, without smelling, staining, or washing; that can withstand bad weather, and possibly give an instant booty lift. They sound perfect, but they also change up denim's make up. And in a market that's been feeling the heat from athleisure, the question might be, "How much more can denim do, while remaining true to its roots?"[quote]
Euromonitor International pegs the U.S. jeans market at $17.6 billion. American consumers account for 39 percent of the world's denim, followed by Western Europe (20 percent), Japan and Korea (10 percent), and the rest of the world (31 percent), according to Statistic Brain, a Los Angeles-based market research firm. But denim has felt pressure from the athleisure market. The NPD Group values it at $44 billion here in the U.S., and that's expected to grow.
So more than a few jeans makers have been looking to make denim more of a super fiber. By making it water-resistant or thermo-regulating or stretchy, makers are often substituting some of the cotton that traditionally constitutes denim jeans for synthetics. It's leaving consumers with mixed feelings when they weigh the new materials against denim's long-established history and meaning.
More than half of all consumers (53 percent) are bothered by brands and retailers that substitute manmade fibers for cotton in their denim jeans, according to the Cotton Incorporated Lifestyle Monitor™ Survey.  Fully 9 out of 10 consumers think denim is made of cotton fiber. And more than 8 in 10 say cotton-rich jeans are the most authentic (89 percent), soft (88 percent), sustainable (88 percent), comfortable (87 percent), breathable (87 percent), trustworthy (86 percent), high quality (85 percent) and fashionable (80 percent).
In her classes at the Fashion Institute of Design and Merchandising in Los Angeles, Deborah Young, textile expert, professor and author of "Swatch Reference Guide for Fashion Fabrics," often surveys her students over what type of denim they prefer.
"Traditional denim is of course cotton. And the purists say it has to be cotton," Young says. "And while some say you can add a little stretch, they prefer pure. A smaller group says denim can't have anything added to it. That group says raw denim is untouched and they don't want it pre-distressed or discharged in color. But actually, most of the students want textiles to do tricks — because we have them."
About half of all consumers plan to purchase jeans with thermal regulating (56 percent) and odor resistant (44 percent) properties in the coming year, according to Monitor™ data. That's followed by jeans that have moisture wicking (36 percent), as well as active inspired (25 percent), and waterproof (23 percent) denim.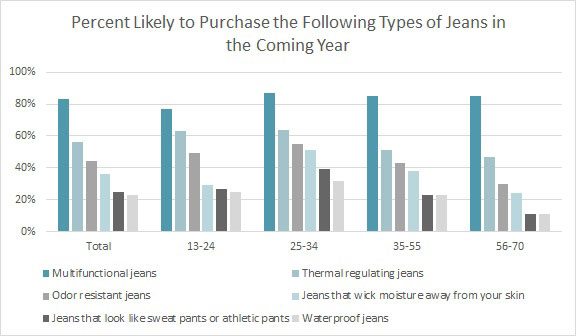 From high end to mass market, the denim jeans category is coming out with more performance tech pieces. NYDJ offers the "Future Fit" jean with compression technology for contouring, and Old Navy has its line of "Stay-White" denim technology jeans that repel stains and spills. Last summer, New York City-based Outlier introduced its highly durable Armalith denim, a black denim that was rated as being able to "skid on asphalt for 2.5 seconds at 100 kph." While all of these are made mostly of cotton, the makers are including stretch, ultra-high-molecular-weight polyethylene (UHMWP), and other synthetic fibers in their manufacturing.
But makers might keep in mind: the majority of consumers (62 percent) are willing to pay more to keep cotton from being substituted with synthetics in their denim jeans.
At 88 percent cotton, Levi's Commuter 511 Jeans have a high natural fiber content for a performance denim bottom. Made primarily for city cyclists who bike to work, they feature durability and flexibility, as well as water repellency and reflective details.
Of course, being the originator of blue jeans and the top-selling denim brand in the U.S., Levi's also has the heritage and capacity to offer its Vintage Clothing series, which uses 100 percent cotton Cone Mills Red Selvedge denim — a line that appeals to the purists.
Levi's and other makers of premium denim recommend minimal washing for these jeans, to help maintain color, shape and lessen wear. Young says even though cotton naturally holds less odor than synthetics, odor-resistant denim could hold special appeal for 100 percent cotton purists, especially for younger wearers.
"Levi's has a new care label that says to wash the jeans every 10 wearings versus every two," she says. "In the research I did on Millennials, it's clear they're aware and care about sustainability. So, odor-resistant denim is appealing because if the clothes smell, people will get rid of them and the garments end up in a landfill. Or they'll wash them again and again, and waste water. So if you can kill bacteria, which kills odor, it will last longer, wear less and wash less."
Volcom, the street/surf/skate brand, has teamed with Cone Denim to produce jeans that are not only odor-resistant, but also water- and tear-resistant. The jeans are a move to differentiate the brand in a crowded youth-driven market.
"My opinion is Millennials are by and large moving forward, with a small contingent holding fast to the past," Young says. "But overall, they're interested in asking for technology in denim. They're charging forward saying, 'I want this.'"