We live in a day and age when screens are an addiction and smartphones an appendage. It's also a time when consumers are spending less time wandering stores to shop, or make their returns — which is frustrating to retailers and brands, both online and those with brick and mortar locations. But service apps and new technologies are aiming to bridge that gap, with many looking to becoming "the Uber of" their individual area.[quote]
The key thought behind these services is consumers are just too busy to do the things their parents somehow had time to do. So, for instance, if a shopper doesn't have time to go to the mall to pick up the outfit he or she wants to wear to dinner, it can be ordered online and a local store can deliver it within hours. Not only does this save the shopper from running around, it leaves him or her with plenty of time to post the unboxing on various social platforms.
Another option for busy consumers — and not necessarily the screen-addicted — is transforming vehicles into an "opportunity to connect retailers to their customers long before they get to the store and long after," said Joanna Pena-Bickley, global chief creative officer, IBM Corporation, at last month's National Retail Federation's Big Show.
IBM and General Motors have created a cognitive mobility platform that works with IBM's Watson and OnStar Go. With the car owner's consent, the platform observes and learns the needs of the car owner and anticipates their moves. The platform is also working with partners like Mastercard and Parkopedia to help drivers quickly navigate between favorite places and activities. Brands and retailers can also opt in so that as drivers go through their day, they might receive offers to entice them to go to a store, or pay for goods right on their OnStar screen to speed a transaction in what IBM is calling a "virtual drive-thru."
"The thing we wanted to explore was: how do we actually enable those rituals, how do we make them easier?" Pena-Bickley explained. "How do you keep the car as that part of connectivity and then guide them into an experience? Consumers have a new level of expectation — I want to call it the Uberization of industry."
The ease of Uber — a private car service that deals with the driver's payment and tip with cashless and cardless simplicity — is forcing many businesses to rethink how they can take the hassle out of everyday activities. That includes apparel shopping.
Almost half of all consumers (48 percent) say they "love/ enjoy clothes shopping," according to the Cotton Incorporated Lifestyle Monitor™ Survey. Yet, nearly 3 in 5 consumers (57 percent) wish clothes shopping was like video streaming, where they can get whatever they want, whenever they want it. Consumers under 35 (70 percent) are significantly more likely than older shoppers (49 percent) to wish clothes shopping was as "on demand" as video streaming.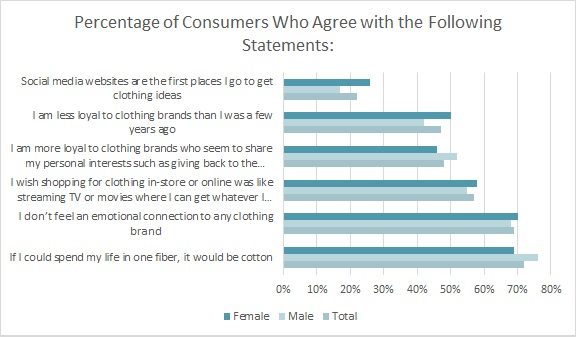 Tech companies are taking the initiative in helping consumers get more done with less effort. The now ubiquitous Uber took drivers with nothing to do between delivering passengers and created UberRUSH. The app picks up items and delivers them for about $6 within one mile, with extra miles varying in price, depending upon the city. Stores like Nordstrom, Dick's Sporting Goods, Walmart, and Cole Haan have used the service, as has the online designer rental service Rent the Runway.
The Deliv service boasts that it provides a "last mile delivery solution" for websites or retailers who need to make local deliveries. Mall operators like Simon, Westfield, and Macerich have all used the service, which ranges in price from free to $5.
Of course, some stores — like Barneys New York — offers same-day delivery to its New York customers. As do websites like Net-A-Porter, whose Premier service offers last-minute deliveries in New York City, as well as the Hamptons during the summer.
As usual, the biggest threat looming in the background is Amazon, whose Prime membership gives free same-day delivery in dozens of metro areas across the U.S. Shoppers merely have to spend $35 or more, and place their order before noon — any day of the week.
While digital disruption was quick to overhaul industries like music and movie rentals, the apparel retail model has been slow to change mostly because most consumers (75 percent) still prefer to go into a store to buy clothes, according to Monitor™ data. Shoppers go in-store because they want to try on clothes (56 percent), feel the fabric (29 percent), see the item in person (26 percent), make sure it fits (22 percent), experience the customer service (4 percent) and because there's no waiting/instant gratification (3 percent).
Retailers might note that, among the younger set, the Monitor™ finds 65 percent were likely to buy clothes from a store that offers high-tech dressing room mirrors to see an outfit in various colors, send a picture of themselves to their social media followers or get product details by tapping the mirror screen.
To that end, Nikki Baird, managing partner at Retail Systems Research (RSR), says a better fitting room experience is an area where retailers are quite willing to invest.
"Abercrombie made a big deal about that in their announcement of a new store concept, where, for example, they're doing things like connecting fitting rooms — almost like connecting hotel room doors — so that two people shopping together could see what each one is trying on without having to hang out in the hallway," she explains. "So it's more about making the shopping experience more engaging, rather than trying to add services on the back end like tailoring or fulfillment."
That being said, traditional retailers are struggling with the modern shopper's preference for ease and speed. While most clearly do prefer to purchase clothes in-store, among those who prefer to buy online, 42 percent say it's just easier than buying at a brick and mortar location, according to the Monitor™ data. Others cite convenience (20 percent), better selection (18 percent), and cheaper/better prices (11 percent).
However, while things like a high-tech mirror would have to be experienced in an actual store, it would, to a certain extent, fulfill the consumer's addiction to digital screens. And they can always have their packages UberRUSHed or Deliv'ed home if they want stay hands-free for texting, Instagramming, and Snapping for the remainder of their outing.