Spring is officially in full swing and with it come the latest styles of the season. While everyone fêtes the newest lengths, colors, and silhouettes, there will be one industry icon celebrating its 145th birthday: the blue jean.[quote]
But that doesn't mean it's dated. In fact, it remains as ageless as ever. As Lynn Downey, historian for Levi Strauss & Co., the creator of the first jeanswear, wrote in A Short History of the Blue Jean, "In 1969, a writer for American Fabrics magazine declared, 'Denim is one of the world's oldest fabrics, yet it remains eternally young.'"
Today, young music festival goers have reinvigorated the denim market, turning blue jeans and all things denim into signature style pieces. And designers have been sending more of it down the runways in recent seasons, in looks that range from clean and dark to highly embellished to deeply deconstructed and destroyed.
Just as Calvin Klein took the humble blue jean and elevated it to a status symbol, denim is going through another renaissance. On the one hand, it's seen as a palette where fashion's most creative can express high forms of inventiveness. On the other, it's viewed as a vintage garment that exudes authenticity in its quiet simplicity.
That versatility is what, after nearly a century-and-a-half, makes denim jeans so popular. Almost 2 in 3 consumers (61 percent) say they wear denim jeans/shorts at least three times a week, according to the Cotton Incorporated Lifestyle Monitor™ Survey. Nearly three-quarters of all consumers (72 percent) say denim is their first pick for casualwear. About half prefer to wear jeans to run errands (58 percent), school or class (54 percent), express themselves (51 percent), feel confident (47 percent), and go out to dinner and feel stylish (both 42 percent).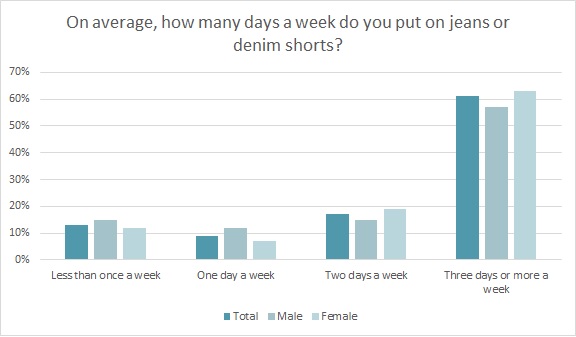 Of course, in today's work world, where flex time, WeWork spaces, and working from home is commonplace, blue jeans are the preferred work bottom for a third (33 percent) of consumers, according to Monitor™ research. That's followed by casual pants (26 percent) and dress pants (21 percent). More than half of all consumers (60 percent) say they wear denim jeans at least once a week to work, and 51 percent consider denim to be dressy.
It's impressive that this one garment can work in so many situations after all this time. Back on May 20, 1873, Levi Strauss and Jacob Davis obtained the U.S. patent for the process of putting metal rivets in men's denim work pants. These tiny fasteners, affixed at the points of strain on the traditional workwear fabric, fortified the denim so well that Levi Strauss & Company sold its early jeans with the slogan, "It's no use they can't be ripped."
These days, denim is a category all its own, with $13.5 billion in U.S. men's and women's sales in 2016, according to The NPD Group, Inc./Consumer Tracking Service. Euromonitor International estimated the market to be closer to $17.6 billion.
Denim experienced second-fiddle status with the rise of athleisure. While that active-inspired category is still strong, it's already experiencing growing pains. Sales of activewear grew just 2 percent in 2017 to $48 billion, according to The NPD Group, a drop from the double-digit increases seen the previous two years.
Euromonitor's Lorna Hennelly, beauty and fashion analyst, writes that denim designers and manufacturers realized they needed to innovate to compete against athleisure, which has the comfort factor in its favor.
"The impact of athleisure on denim has given rise to fabric innovation and a move towards more sustainable production processes," Hennelly writes in a report, "Spotlight on Jeans: Denim Bounces Back." "Growing consumer demand for comfort has prompted brands to explore fibre [sic] technology."
To that end, at the recent Kingpins denim show in Amsterdam, Artistic Milliners debuted a collaboration with Cordura and Tencel called the "SuperCharged Noir" collection, noted for the color-fastness, enhanced strength and abrasion resistance while the denim maintains softness and stretch for comfort.
Additionally, Lee Jeans partnered with the premier design team Cushnie et Ochs for the special Lee Body Optix collection. The companies say the line harnesses vision science and exclusive patent-pending technology to create denim that flatters the female body. Rolling out later this year, the companies say the Lee Body Optix line is "precisely shaded and contoured using patterns created by nano laser technology and constructed with strategic seams and pocket placement. The result is a clothing line that delivers 360° body enhancement."
At least two-thirds of consumers say they would be willing to pay more for denim jeans that fit them perfectly (87 percent), according to Monitor™ research. They would also pay a premium for jeans that were higher quality/lasted longer (79 percent), were custom made to their fit and style (70 percent) and kept their shape all day long (69 percent).
Innovation doesn't just come from the marriage of denim with technology. Designers sent a slew of new denim looks down the Fall/Winter 2018 runways. Dolce & Gabbana took the basic denim trucker jacket and reimagined it with bold patches and oversized fuzzy collars. Alice & Olivia showed flared bell bottoms, studded denim and jeans that were split with one leg light blue and the other leg a deep indigo. Son Jung Wan offered luxurious denim bottoms for women that were fabulously embellished with sparkling crystals and oversized fur cuffs. Jeremy Scott showed wide-leg denim jeans with a tuxedo strip down the sides, as well as a midriff baring cropped denim jacket, again with the tuxedo striping, this time down the arms. The John Lawrence Sullivan brand showed half-and-half denim, both with black and blue denim legs, as well as one denim and one leather leg. And Philipp Plein showed biker-style jeans with the reinforced motorcycle knee panels, as well as destroyed and destructed denim.
As the skinny jean is giving way to looser-fitting legs and higher-waists, consumers are also looking for more rigid denim, aka, denim without stretch. Three in four consumers (74 percent) say they prefer their denim jeans to be made from cotton, according to Monitor™ research.
So, perhaps designer Alexander Wang has hit it just right: his Denim X Alexander Wang's distressed denim jogger pants are made with 100 percent cotton, but feature a drawstring waistband and elastic cuffs, giving them the look of a jogger, the comfort of athleisure but the edginess that is permeating this classic and rejuvenated category.