It's no secret that retailers feel an ever-present threat from Amazon. No one feels it more than brick and mortar stores, who are bearing the costs of expensive real estate while hearing about steady increases in ecommerce sales. But experts say this is not a losing battle, as long as stores commit to high-level customer service along with helpful technology, which, when combined, give customers the personalized selections they're looking for as conveniently as possible.[quote]
Cynics might say all of that is easier said than done. But those who generate the fully "phygital" (a seamless physical and digital) experience may stand to do well.
"The clients that shop in our stores spend three times as much as clients that only shop online," said Barneys New York's Danielle DiMaiolo Rendini, senior director of project management, at the recent Retail Innovation conference in Manhattan. "Our client that shops both online and offline has the highest average spend. They drive about a third of the revenue, so they're an incredibly significant segment for us. Additionally, we've found that more than half of our young customers, 34-and-under, are already shopping the store. So we find the store experience to be important not just for our existing customer, but also for our new and soon-to-be customers, as well."
Rendini credits an intense focus on customer service for the retailer's strong in-store performance.
"Making sure service is unparalleled and personalized for every client has always been the case with our stores," she says. "What we've been focusing on in the last few years is really adding tools and technology to that for our floor associates. This allows them to enhance that experience, and help them make it even more seamless, which really helps develop relationships with the client."
Barneys built an internal associate-facing app that its sales force uses for all product information, as well client information.
While Barneys may recognize the importance of impeccable customer service, consumers find most stores lacking in that area. In fact, 2 out of 3 (66 percent) think apparel brands and retailers should focus more on improving service both in-store and online, according to the Cotton Incorporated Lifestyle Monitor™ Survey. Women are significantly more likely than men to feel this way (69 percent versus 61 percent).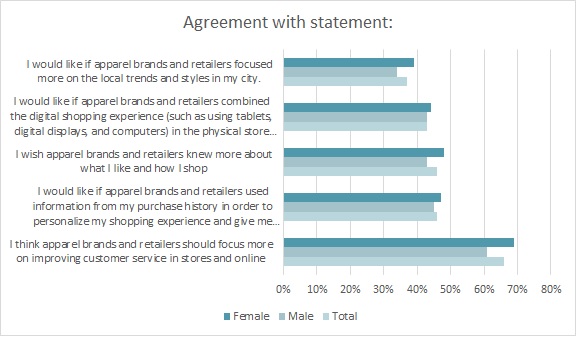 If brick and mortar clothing retailers can fix this customer service deficit, they may very well end up in a strong position. That's because more than 6 in 10 consumers (63 percent) say buying clothes in stores "is a fun, social activity for me," according to Monitor™ research. However consumers add that they would be more loyal to apparel brands and retailers who gave them the ability to customize their clothing (70 percent) and took the time to educate them about their product (57 percent).
SAP's Lori Mitchell-Keller, global general manager of consumer industries, says to attract consumers to come in-store, retailers need to elevate their offerings and provide next-level shopping experiences.
"One way some retailers are successfully doing this is by integrating entertainment into their sales strategies, transforming the consumer journey beyond the process of searching for and purchasing new items," Mitchell-Keller says. "Nike, for example, recently installed basketball courts in a few of their top store locations, creating a place where consumers will want to visit, interact with the brand and, ultimately, browse through and purchase products from the shelves. Macy's is also rejuvenating the in-store experience through the just-announced acquisition of Story."
Story is a 2000-square-foot New York-based concept shop that works like a permanent pop-up, collaborating with brands to curate shopping experiences that change out every four to eight weeks.
Mitchell-Keller says consumers expect retailers to offer curated offerings that are unique to their individual preferences and styles. SAP works with stores to develop clientelling apps that collect previous purchase information so associates can provide personalized recommendations.  Additionally, retailers need to be in tune with shopper needs and current trends.
"To ensure they are offering products in-store that fulfill consumer needs, retailers should use technology to collect real-time, accurate data and analytics by combining previous purchasing behavior, shopping history and consumer sentiment from social media," Mitchell-Keller says.
Nearly half of all consumers (46 percent) would like if brands and retailers used information from their purchase history to personalize their shopping experiences and give them recommendations on what to buy, according to Monitor™ research. They also wish stores and brands knew more about what they like and how they shop (46 percent). Further, more than half (54 percent) would be likely to buy clothes from a store that personalized their experience and pulled together clothes based on their previous purchases and preferences.
Rendini says clients that are clearly tied to Barneys' associates spend much more than those who are not. And the information associates have at their fingertips through the sales app regarding things like new collections and delivery dates, as well as a customer's personal choices, is vital in furthering that connection.
"The people piece is the most important connection," she says. "And the technology we use now is very important, too. It's super simple and easy to use. And it kind of builds on the foundation of customer service. We've been using it two years and it makes it much easier for associates to access customer information as far as things like prior purchase history and sizing, so it makes it more seamless. We'll hear from customers that 'So-and-so on the fifth floor saved my life.' We're not saving lives, but in retail, you don't necessarily hear things like that from customers. That associate-client relationship is the key to what we do."