With the country celebrating its birthday next week, there will be plenty of flag waving going on from coast to coast. And in this political year, one of top discussions concerns manufacturing jobs here in America. It's a subject that has deeply affected the fashion industry. But a combination that includes love of country, start-up ingenuity, and American perseverance continues to fuel the Made in the USA movement.[quote]
The number of U.S. citizens working in apparel manufacturing has shrunk sharply since the turn of the century. In 2001, there were 15,478 private business establishments in apparel manufacturing, employing 426,027 workers, according to the Department of Labor. Last month, the Bureau of Labor Statistics put the number of apparel manufacturing jobs at 133,000.
But American consumers appreciate apparel that's made stateside. When asked about factors that are important to the apparel purchase decisions, 53 percent cited "whether it's made in the U.S.A.," according to the Cotton Incorporated Lifestyle Monitor™ Survey.  Additionally, 43 percent say it is "very or somewhat important" that the clothes they buy are U.S.-made.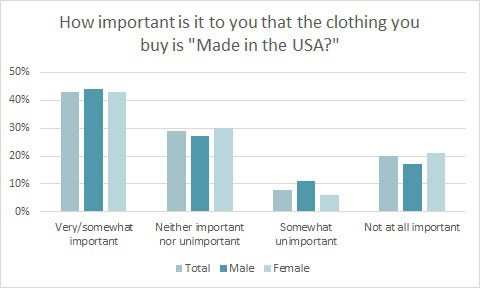 Nicole Musselman understands the consumer preference for American-made apparel. Now in its sixth year, Musselman launched her Koch apparel brand in Dallas, Texas. And — except for knits that are made in Los Angeles — all of the label's workrooms are in the Dallas/Fort Worth area.
"The idea was always to manufacture in the U.S.," she states. "Years ago, big companies like JC Penney were based in Dallas and they made everything here. Then they moved overseas but left the infrastructure of manufacturers and a nice network of sewers that have been instrumental in what I do because we're in the workrooms every day."
Koch began with a "tiny collection" and has grown to 120 pieces and four collections a year. Koch sells to about 60 stores in the U.S., Australia, and Japan. The company also recently showed at the Paris Sur Mode trade show, as it looks to expand into France.
"We want to have manufacturing here because it gives small businesses the opportunity to start a company and then grow it until it thrives," Musselman says. "I think it would be difficult for young designers to have to fund themselves and start their business overseas. We love working in our community and I like having that connection. Also, it functions well for start-ups because they'll take smaller cuts. So we started out small and continued growing. Manufacturing in the U.S. allows you to do that."
Such sentiments resound with consumers. Among those who say it's important that the clothes they buy are made in the USA, 79 percent say it's because they prefer to support the U.S. economy, 46 percent believe U.S.-made apparel is better quality, and 30 percent believe it's environmentally-friendly, according to the Monitor™ data.
The "Made in USA" tag carries such an allure, some manufacturers might try falsely sticking such labels in their apparel. But New York Senator Chuck Schumer pushed for an investigation of companies on the U.S. General Services Administration site that touted U.S.-made products. Following his push, nearly a dozen companies were removed from the list. The GSA list allows federal agencies as well as state and local governments to purchase products from various suppliers. Schumer said not only was it misleading to have companies listed as having American-made products when they were made overseas, but it put bona fide U.S. manufacturers as a disadvantage.
"Consider this a warning to companies attempting to misrepresent foreign made products – we will not let false labeling threaten to chip away at companies… and the good-paying, middle-class jobs they provide. I urge other companies selling their products on the GSA Advantage to use this as a starting point to expose those who seek to undermine American workers."
Some foreign countries are also seeing the benefit of doing some manufacturing here. In a roundtable discussion about the resurgence of "Made in the USA," Atkins Machinery's Chris Wilkinson, vice president, said his company is seeing China and India bringing spinning facilities to the USA "because they see the advantage of actually being a 'USA-based company.'"
Of course major labels like American Apparel, Brooks Brothers, Oxford, and Nanette Lepore have persevered and steadily made their clothes in the U.S. And some U.S.-based companies are bringing some manufacturing back. The North Face launched its Backyard Project Collection two years ago with the idea of crafting apparel within a 150-mile radius of its San Francisco Bay Area headquarters. The company collaborated with local farmers, producers and craftsmen to produce a selection of tees and hoodies. The majority of production is now done in the Los Angeles area. But the project is going strong, using cotton grown in Arizona, processed in South Carolina, and sewn in L.A.
More than 2 in 3 consumers are very or somewhat interested in buying clothing made with U.S. cotton and manufactured in the U.S.
Musselman says the one downside to making product in America has to do with the expense.
"It's difficult because it's expensive to have things produced here," she says. "We want to offer our customer great product but will be more expensive because of the way we're doing it. But I really wanted Koch to be made in the U.S., and now it's just part of who we are and it's part of the fabric of our company."
Save
Save
Save
Save
Save
Save