Among restaurants, the farm-to-table movement has become so pervasive it's hard to find a menu or chalkboard that doesn't tout a local farmer, fisher, or baker. While the apparel industry isn't as impacted with quite that amount of passion regarding the origin of their clothes, there are growing signs that Americans want to do more than just wave the Red, White & Blue on July 4th. They want to celebrate what the country has to offer, including clothes that are Made in the USA of homegrown, natural materials.[quote]
Raleigh Denim's co-founder and designer Victor Lytvinenko says the fact that the collection is U.S.-made is "absolutely" important to the company.
"We love making things ourselves in America, and that will always be the heart of our brand," Lytvinenko says.
The majority of consumers (52 percent) say it's important to them that the clothes they buy are made in the USA, according to the Cotton Incorporated Lifestyle Monitor™ Survey. Men and consumers over the age of 25 are significantly more likely than their counterparts to feel this way.
When purchasing various products, more than 7 in 10 consumers (72 percent) check the country of origin information before purchasing clothes, followed by fruits/vegetables (70 percent) and electronics (69 percent), according to Monitor™  research. Additionally, more than 6 in 10 consumers (63 percent) check the country of origin info before buying home textiles.
While young people are often closely associated with authentic product and local movements, the Monitor™  finds consumers under the age of 25 (60 percent) are significantly less likely than their older counterparts (76 percent) to check the country of origin before making purchases of clothes, produce, electronics, or home textiles. Males are significantly more likely than females (67 percent versus 60 percent) to do so.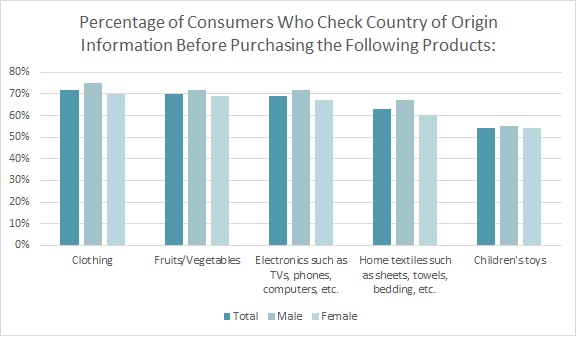 American Giant is a San Francisco-based apparel company that began in 2012 with "the audacious idea that innovation and enterprise belong to all of us. Not just Silicon Valley." The company asserts it is investing in technology and engineering to produce "the best of American-made classics" while reigniting "manufacturing towns with new jobs along the way."
More than 7 out 10 consumers (73 percent) say it's important to buy made in the USA apparel because it supports the U.S. economy, according to Monitor™ research. That's followed by the sentiment that clothes made in the U.S. are better quality (55 percent) and manufacturing here is more environmentally friendly (32 percent).
American Giant's Bayard Winthrop, founder and CEO, says producing at scale was the hardest part of growing the business.
"Getting there requires a lot of unglamorous work in sample rooms and on factory floors," he says. "But once you have scale, you can control and mitigate inventory risks dramatically, allowing you to charge a much fairer retail price. You begin to unlock efficiencies that we believe can reset assumptions in the industry about the competitiveness and effectiveness of American-made product."
The country's apparel and footwear makers were spared somewhat when the Trump administration recently put tariffs on $50 billion in Chinese imports. Most of the Chinese equipment and machinery used by American apparel companies to make product domestically were removed from the tariff list.
The American Apparel & Footwear Association's Rick Helfenbein, president and CEO, said a tariff on this equipment and machinery would have increased costs for domestic manufacturers across the industry, leading to higher prices and lower sales.
However, according to Helfenbein, cotton farmers will feel the pinch.
"China previously identified almost $1 billion worth of American cotton exports to China as a target, which will hurt American farmers and U.S. textile manufacturers, and add costs to our supply chains," Helfenbein said. "Any new tariffs present an immense burden for the American people. Further, China has already made clear that it will retaliate swiftly. Ramping up tariffs doesn't help bilateral trade talks reach a successful conclusion. It's hard to see how anyone benefits from this."
Besides manufacturing in the U.S., American Giant and Raleigh Denim also use domestic cotton in their apparel lines, as does Chicago-based Dearborn Denim. Dearborn began in 2016, and all the products, including jeans, tees and shorts, are cut, sewn and crafted at its Windy City factory.
Almost 2 in 3 consumers (65 percent) are interested in buying apparel made with cotton that is grown in the United States and then manufactured here, too, according to Monitor™ research. Among those consumers over the age of 35, almost 3 of 4 (74 percent), significantly more than their younger counterparts (51 percent), say they are interested in buying U.S.-made clothes produced with domestically grown cotton.
At Raleigh Denim, Lytvinenko says not only is everything made in the U.S., but also most of the denim and the majority of the button-down shirts are made in North Carolina. The company is currently celebrating its 10-year anniversary. It's grown from a team of two — Lytvinenko and his co-founder and wife Sarah Yarborough — to a 40-member firm.
"Producing in the U.S. is a beautiful adventure and challenge. There are always obstacles to overcome…it is hard to say if it is easier or harder now than before," Lytvinenko says, recalling how 10 years ago, he and Yarborough did all the running, designing and manufacturing themselves. Now, the company has a retail space called The Curatory at the front of its downtown Raleigh, NC, workshop, and product is sold in 100 doors across North America. "In the beginning, building our factory — hunting for, finding and rebuilding the vintage machines — and training our jeansmiths took some time. Ten years later we are a lot better at making, but it is harder to find raw materials."
Lytvinenko is referring to the difficulty in attaining American-made denim. White Oak Cone Mills closed in December. It was preceded by Denim North America and Swift Galey. For makers looking for U.S.-made denim, that leaves only Mount Vernon Mills in Mauldin, SC.
But 62 percent of consumers are interested in buying denim jeans that are both made with U.S.-grown cotton and domestically manufactured, according to the Monitor™. Likewise consumers would like to see "homegrown" T-shirts (69 percent), underwear (67 percent), bed sheets (65 percent), and active tops (61 percent).
Raleigh Denim's customers appreciate the effort the company has made to stay homegrown and local.
"We feel we have some of the most loyal customers, who get excited as much as we do when we launch new products and styles," Lytvinenko says. "Sarah, myself, and our entire team love hearing from the community that not only do they appreciate our designs but also the importance we place on being U.S.-made."