»

»

»

Battle of the Bottoms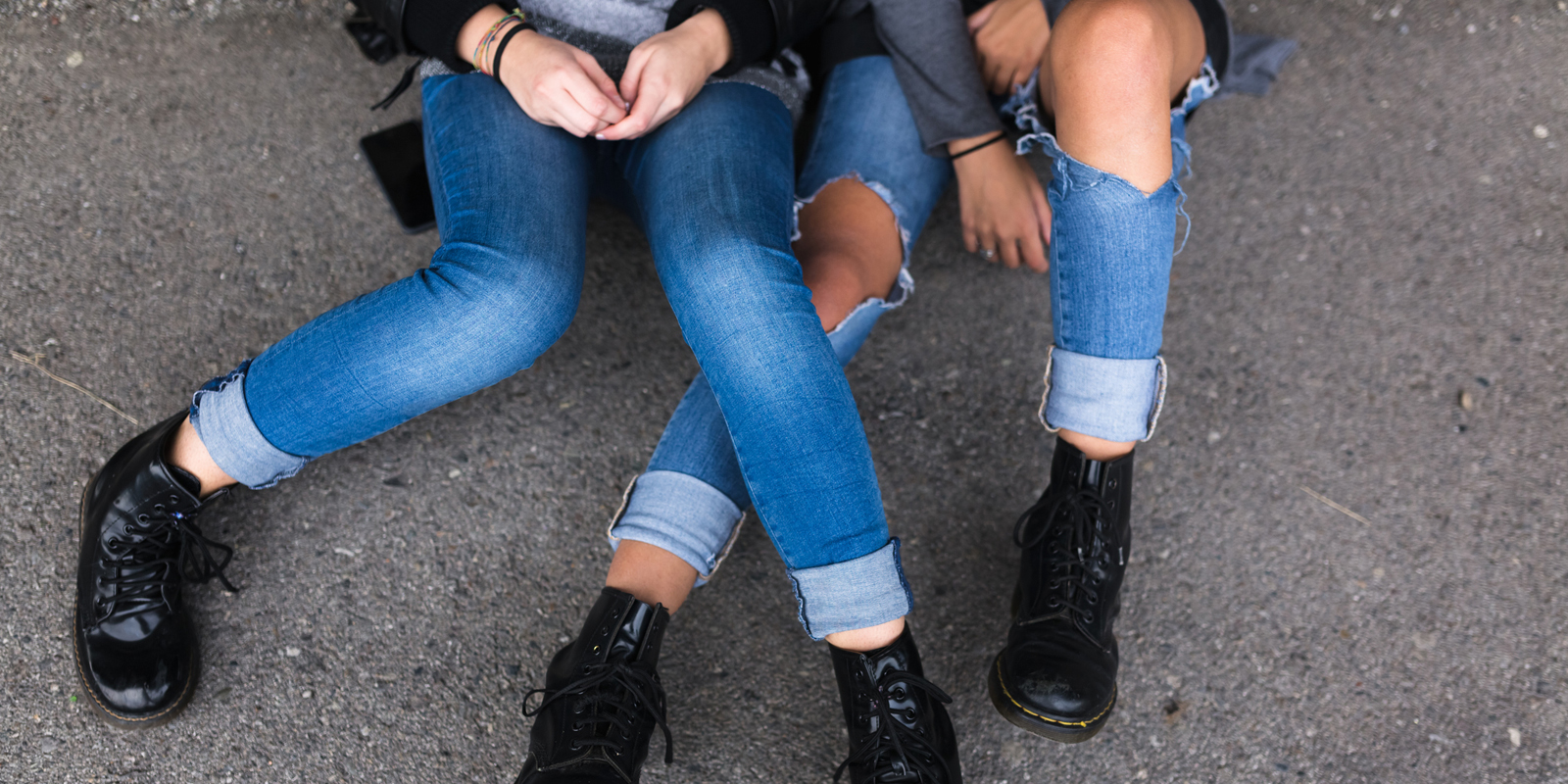 For many students over many years, the Back-to-School season has meant new jeans and tees to go along with a clean, new backpack that hasn't yet taken on the smell of a forgotten sandwich and sweaty gym clothes. But just as athleisure became popular for Millennials, the trend has caught on with Gen Z and younger kids. But rather than capitulate to the jogger and yoga pant trend, savvy denim makers are appealing to youthful consumers with softer jean washes and fresh, new styles.
"I think we're going to see a nice season in denim...There's enough newness there and as long as we continue to address their desire for comfort and give freshness in the silhouettes, it should do well."

-Patty Leto,
Senior Vice President, Doneger Group
"Denim on the teen side is actually off to a good Back-to-School (BTS) season," says the Doneger Group's Patty Leto, senior vice president, GMM men's, intimates, accessories, and children's. "Athleisure is still important but denim is having a nice uptick and we expect to see it continue to get stronger into Back-to-School and post-Back-to-School because we continue to see shoppers exhibit the buy-now-wear-now mindset. Often, it's buy today, wear tonight. So, long denim bottoms may not be worn to start school. Let's face it, kids in the south are already going back and it's really hot. But kids will be wearing denim as the weather changes."
When it comes to timing their shopping, 2 in 5 parents (40 percent) plan on waiting to buy the majority of the Back-to-School clothes for their kids "because the best sales will be after the school year has begun," according to the Cotton Incorporated Lifestyle Monitor™ Survey.
And considering the warm temps when school first starts up, it does makes sense to wait on buying jeans. However, denim is one of the top BTS apparel items. While the most popular category is shirts/tops (88 percent), jeans are second in demand (78 percent) among BTS apparel shoppers, according to the Monitor™. That's followed by socks (76 percent), pants (73 percent), undergarments (56 percent), shorts (56 percent), and outerwear (51 percent).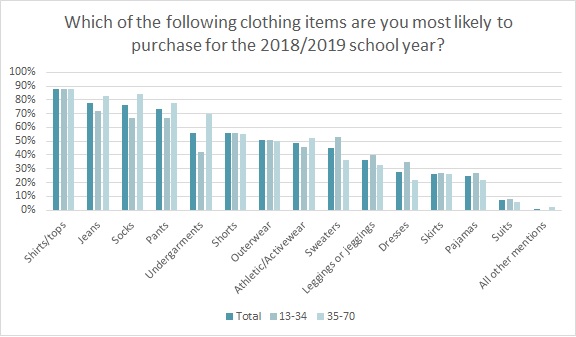 "On the boy's side, they stay in shorts until December," Leto says. "You'll see them at the bus stop in hoodies and shorts when it's cold outside. They eventually make the switch."
Total BTS spending for K-12 schools and college is projected to reach $82.8 billion, according to a survey from National Retail Federation (NRF), conducted by Prosper Insights and Analytics. The biggest category of spend is for clothes, according to the survey.
While the start of school is traditionally a time of strong denim sales, athleisure has made a dent in the category. The NPD Group reports that sales of jeans for school-age kids (5-to-18 years old) decreased almost 10 percent to $3.7 billion for the most recent 12 months ending June '18. This follows a similar trend from last year, when the category was down 8 percent.
However, globally, the global denim jeans market is expected to generate $129.8 billion dollars in retail sales by 2021, according to Statista. That compares to $86.6 billion in 2012. And North America is the world's largest denim market, accounting for 30 percent of that total, according to market researcher Prescient & Strategic (P&S) Intelligence.
So it stands to reason that as the denim category grows among Millennial adults, thus contributing to a slowing in the pace of athleisure sales, the same might hold true in the youth sector.
JC Penney is expecting denim to trend well this BTS season. Elizabeth Melley, vice president of children's and men's product development, design and trend, said the category is still a Back-to-School staple and her team has worked to interpret what students will be looking for.
"In juniors, styles will be focused on high-waist, ankle lengths, clean — not destructed — finishes, black washes and exposed button [flies]," she said on the company's blog. "For girls, we have age-appropriate denim trends including stretch, embroidery, embellishments, destruction, jean jackets, and cuffed and cropped hems. Teen guys and boys will find similar denim trends featuring destruction, cuffed and cropped hems, as well as black washes.
Melley says JC Penney also identified a trend its calling the 'New '90s,' which includes high-waist jeans, oversized jean jackets, and, for teen girls, denim skirts.
JC Penney is one of the top stores consumers are expected to shop for Back-to-School clothes. The Monitor™ research shows 63 percent of BTS shoppers plan to go to chain stores like JC Penney and Kohl's, followed by mass merchants (62 percent), specialty stores (53 percent), off-pricers (47 percent), and department stores (39 percent).
Leto says the denim trend is stronger for girls than boys, as boys are more about the active/athleisure joggers.
"The teen guy is still seeing joggers as an important silhouette, and that could be taking early denim dollars," she says. "Girls want comfort but they're seeing newness in denim. They're moving a little away from destruction and cleaning it up. The denim itself has some stretch in it, which provides girls with a comfort factor. And the silhouette change sees the waist coming up a little higher. As the crop tops, bandeaus and shorter length tops become important, that's impacted her bottom choice."
When it comes to kids' denim colors, fall 2018 is about a range of blues. But Leto says black will become important and colors will come into play heading into spring.
"I think we're going to see a nice season in denim," she says. "There's enough newness there and as long as we continue to address their desire for comfort and give freshness in the silhouettes, it should do well."
Related posts