Denim has always been a tried-and-true staple item here in the U.S. While the relatively recent athleisure trend may have affected America's denim sales, jeans remain the top bottomswear item available at retail. And globally, denim's popularity is growing — even in countries that have long resisted the iconic American-style garment.[quote]
"Athleisure and the rise of yoga pants has impacted growth in some markets, but the denim category remains strong," says Euromonitor's Bernadette Kissane, apparel and footwear analyst. "Going forward, jeans are expected to return to growth with a global CAGR (compound annual growth rate) of 3 percent to 2020. As the athleisure trend matures, consumers are likely to begin investing in jeans once more."
The global denim jeans market was valued at $58 billion in 2014, according to Technavio, a leading research and advisory company. Here in the U.S., more than 518 million pairs of men's and women's jeans were sold in 2015, according to The NPD Group Consumer Tracking Service. Sales in the U.S. were $13.1 billion last year, down 2 percent compared to the prior year. However, declines are slowing in comparison to the 4 percent decrease in 2014.
"Denim is making its comeback," says The NPD Group's Marshal Cohen, chief industry analyst. But he cautions against expecting an overnight return to the status it has held. "It is more of a fashion item that requires less investment in the number of pairs for one's wardrobe. There are other more comfortable bottoms now, like active bottoms."
Active bottoms in the U.S. are the most popular for hanging out at home (31 percent), but jeans are the most popular for running errands (50 percent), work (32 percent), and dinner (31 percent), according to the Cotton Incorporated Lifestyle Monitor™ Survey. Jeans are significantly more popular among America's Millennials and Gen Xers compared to Boomers when going out to dinner (35 percent versus 21 percent). However, jeans are less popular among Millennials compared to Boomers when running errands (43 percent versus 57 percent) and hanging out at home (17 percent versus 27 percent).
Globally, affinity for denim has been increasing from 2003 to 2016. The majority of consumers in most major apparel markets say they love or enjoy wearing denim, according to Cotton Council International (CCI) and Cotton Incorporated's 2016 Global Lifestyle Monitor Survey. Affinity for denim is highest in Colombia (79 percent), Mexico (70 percent), and Europe (70 percent), and lowest in India (34 percent).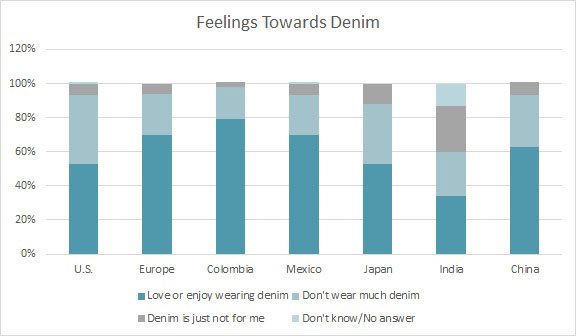 Significant increases in denim affinity have been seen in developing Asian markets such as India (22 percent to 34 percent) and China (39 percent to 63 percent) from 2003 to 2016, the Global Monitor™ research shows. Opportunities exist to further increase denim affinity as well as wearing occasions in Asian markets. For example, less than 1 in 4 consumers in China (24 percent), Japan (17 percent), and India (11 percent) say they prefer to wear jeans to work. Offering unique fabrications or designs that make jeans look dressier or dyes that color deeper to give the appearance of dress pants could help brands increase denim acceptance in Asian workplaces.
Kissane says even though athleisure has had an adverse impact on the jeans market in the U.S., in other markets the full force of the trend has been less severe.
"Key markets such as the U.K., Germany, and France have experienced slowing growth; however, this is not to say that jeans are no longer considered a wardrobe staple," she says.
Designers are certainly leaning into denim. The Fall/Winter 2016 New York Fashion Week catwalks showed a lot of it — from emerging designers like Grier Co. to established labels like Public School and Michael Kors.
Ownership of denim garments — which include jeans, shorts, jackets, shirts, and skirts — is highest in Latin American countries such as Colombia (18 items) and Mexico (12 items), and lowest in Asian markets such as India (4 items) and Japan (5 items), according to the Global Monitor™ data. The U.S. falls in the middle at 9 total garments. Jeans account for the majority of consumers' denim wardrobes across all markets. Again, jean ownership is also high in Colombia (9 pairs) and Mexico (7 pairs), and lowest in India and China (3 pairs each), while the U.S. averages 6 pairs.
But Chinese consumers have turned denim into a staple item, Kissane says, to the point where that country is now the second largest jeans market in the world, valued at $12 billion in 2015.
But to grow the category, makers should note that nearly 9 of 10 global consumers prefer denim jeans be cotton-rich, according to Global Monitor™ research. And the majority in major markets such as Colombia (67 percent), the U.S. (62 percent), India (61 percent), Europe (58 percent), and China (58 percent) are willing to pay more to keep them that way.
At L.A.-based Rockstar Denim, co-founder and designer David Mathey says even when his super premium brand uses stretch, the garments are still 97 percent to 99 percent cotton.
"My customers are well-built guys who want a slim fit but a bit of stretch so they can fit into it," Mathey said at the recent PROJECT men's wear show in New York. "I think they want real jeans with a nice weight to it, but also like the fact that it's comfortable with a little stretch. For men's, we don't want to be too elastic looking and feeling. They want something rugged that's still comfortable."
The Euromonitor's Kissane says that, "As the middle class rises, aspirational consumption continues to fuel growth with super premium and premium sub-categories accounting for the largest gains."
Kissane points out that while both China and the U.S. continue to account for the majority of growth, emerging markets such as Asia-Pacific nations like India and Indonesia, as well as Saudi Arabia, are picking up pace in the jeans sphere.
"As fast fashion brands such as H&M and Zara aggressively expand into Asia Pacific, the standard jeans category has been performing strongly as consumers favor western brands and global fashion trends that have cemented jeans as a sartorial staple."
Save
Save
Save
Save