It will be a few weeks before we know how things shook out for Holiday 2016. But industry experts already know what trends to anticipate for the coming year. Some are fun. Some require a tech investment. But they're all predicated on meeting the customer's needs as quickly and seamlessly as possible.[quote]
Jesse Tron, head of corporate communications and research for The Dealey Group, a Dallas-based advertising and marketing agency, says that while online sales continue to grow, the government data is sure to show that the vast number of sales occur in physical stores.
"Experience is the most important thing in stores. And mobile is most important from the digital perspective," Tron says. "Finding out how to marry the two to optimize all channels will be the difference between the winners and losers. Omnichannel is an obsolete buzzword, even though we're not totally there with it yet. But the stores that do really well will reach consumers any time and at any moment. Consumers really are king — they want what they want, when and where they want it. That's different from a retail perspective but the ones meeting that challenge will continue to win market share."
The International Council of Shopping Centers' Stephanie Cegielski, vice president, public relations, says the blurring of lines between online and offline will continue.
"We expect pop-up stores to continue to grow, especially as many online-only retailers are looking to sell products at a physical location," Cegielski says. "Consumers want social interaction and they can't get that online. Consumers enjoy the convenience of online shopping but still carve the social and emotional aspects that physical stores offer. The online only retailers are seeing that and making a move to physical locations. Companies like Warby Parker, Bonobos, and even Amazon are opening physical stores to complement their online presence while also building their brands and capturing consumers by providing a shopping experience."
In a recent report, comScore found digital media usage time, driven by mobile apps, has grown by 53 percent since 2013. However, growth across all platforms is starting to slow. The digital measuring firm found over the past year, mobile growth increased 5 percent for mobile web and 11 percent for mobile apps. That compares to growth of 21 percent and 25 percent, respectively, from 2014 to 2015. Meanwhile, desktop usage has declined by 11 percent in the last year, after experiencing a 14 percent increase in 2015.
Shopping has changed so radically for the consumer and retailer in just the past few years, the industry has been doing Olympic-level mental and technological gymnastics trying to catch up, keep up and get ahead of it all. But, as the experts and industry data point out, certain consumer patterns are remaining constant.
For instance, although most customers prefer to go online to browse for (53 percent) and research apparel (65 percent), they really do prefer the remainder of their shopping journey — purchasing (76 percent) and repurchasing the same kind of apparel (56 percent) — to take place in physical stores, according to the Cotton Incorporated Lifestyle Monitor™ Survey.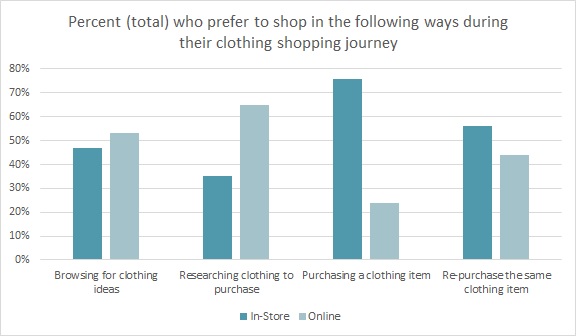 Data also highlights some generational differences when it comes to online browsing and purchasing. Millennials are significantly more likely than Boomers to prefer doing things online like browsing for clothing ideas (57 percent versus 47 percent), researching clothes (72 percent to 60 percent), and re-purchasing the same apparel item (52 percent versus 36 percent), the Monitor™ survey shows.
Still, all generations prefer to buy their apparel in-store (70 percent), according to the Monitor™. However, Boomers (73 percent) and Gen X shoppers (72 percent) lead Millennials (64 percent) in this preference. And women are significantly more likely than men (74 percent versus 65 percent) to want to shop in a store.
"We're social creatures and technology can really make us socially isolated," Tron says. "Think of how many people work from home now. Yet we have an innate need to interact. And the store gives us that opportunity."
So it comes down to how to make the experience interesting for everyone, regardless of where they're shopping.
"We live in a society where we are tied to technology, so the convergence of physical and digital is inevitable," Cegielski says. "People have access to information instantly allowing them to be savvier and more informed than ever before. Consumers expect to be able to buy online and pick-up in-store; they want a virtual and augmented reality experience to help them find the right products; and they want social media to be part of their shopping experience." Close to 3 in 5 consumers (57 percent) say they wish shopping for clothing in-store or online was like streaming TV or movies on Netflix or Hulu, where they can get whatever they want whenever they want it.
Tron says physical retail locations can't operate as they did previously, as "straight up distribution channels" for goods.
"Now, the store has to provide something unique, interesting, and entertaining for the customer to provide them with a reason to come to your location," he says. "In-store conversion rates are significantly higher and shoppers spend more in-store than online. So it behooves retailers to drive consumers to stores. But it doesn't have to be laser shows and dancing water fountains. It makes sense for stores to have helpful salespeople who understand the demographic they're selling to, and who can make suggestions for more product. Really good service is part of the experience, too."
Another enticement: Great restaurants. Yes, if you feed them, they will come. In fact, the U.S. Commerce Department found that as of January 2015, Americans are spending more dining out than cooking at home. And Millennials are leading the drive, viewing dining out as a social event, according to the National Restaurant Association. Much like Vegas turned their celebrity restaurants as tourist destinations, better malls are installing full-service, higher-end restaurants. Nearly 1 in 2 consumers (45 percent) say they would be more likely to shop at a clothing store that had a restaurant, coffee shop, or bar, which rises to 56 percent among Millennials.
Of course, the importance of a good WiFi connection can't be ignored. If consumers can't connect to apps or email for information, coupon codes, or promotions — or to post an outfit on their social platforms for feedback — their shopping experience is less than seamless and could result in a loss of sale. Likewise, good WiFi can provide the retailer with beacon data that can be used to curate a more personalized experience for each shopper.
Going forward, Cegielski says a top challenge for retail will be keeping up with the pace of technological change.
"Another is the shift in demographics from Baby Boomers to Millennials, and even to Generation Z," she says. "Technology and demographics together have created a new retail landscape. Understanding where technology is headed, what younger generations want and where the two converge is critical for sustainability in the future."
Tron agrees that the integration of technology will continue to be a challenge in 2017.
"From the back end, logistics and distribution are still being worked out," he says. "And continuing seamless integration for a seamless experience from online to in-store will be a challenge — because we can have anything pop up in the palm of our hand, but at the same time, you want a different kind of experience in a physical space. It's very hard, and it's a thin line. How much tech is too much?"
Despite the challenges, Tron says 2017 presents incredible opportunity.
"Retail is a competitive landscape. But those that get it right stand to win and that's why people go into it."
Save
Save
Save
Save