A quick Instagram search for #activewear will quickly reveal joggers, sleeveless tops, yoga pants, and more are being worn not just for workouts, but for travel, hanging with friends, and cuddling with the baby and dog.
Activewear is as popular as ever. Traditional manufacturers have expanded their assortments, while makers of sportswear continue to offer activewear styles that satisfy the consumers' continued appetite for athleisure apparel, a trend that's destined to continue as we head into the warmer months. [quote]
In 2018, U.S. activewear sales reached $80.1 billion, according to Euromonitor International. The category is projected to grow about 17 percent by 2023, to $94.1 billion. American activewear consumption eclipses that of other global regions. The Euromonitor found Asia had $42 billion in 2018 activewear sales. Even though that figure is expected to jump by 31 percent in the next five years, the projected total (about $55 billion) will be roughly half of the American spend. Europe had sales of $43.8 billion last year and is expected to see a 13 percent increase to about $49 billion by 2023. Latin American countries purchased the least amount of activewear. The Euromonitor found this region saw $7.1 billion in workout wear last year, and it's expected to see a 16 percent increase in the next five years.
Gartner L2 says smaller brands stand to gain in the coming years. In its recent Activewear US Digital IQ Index report, the firm stated activewear continued to grow faster than traditional fashion in 2018. It cited an increased interest in wellness and experiences for the market's strength. Gartner L2 also said activewear makers can tap into a broader base of shoppers by "blurring the lines between fitness and lifestyle, and competitive sport and recreation."
Gartner L2 also says that while the Big Three — Adidas, Nike, and Under Armour — made up a third of the overall traffic in its Activewear Index, the fastest rising brands include "smaller digital upstarts and medium-sized brands that are having a moment. Alo Yoga and Outdoor Voices, direct-to-consumer brands catering specifically to female consumers, saw year-over-year site traffic rise by 91 percent and 57 percent, respectively."
The NPD Group's Matt Powell, vice president and senior industry adviser, also expects smaller brands to make an impact on the activewear sector in 2019.
"Pressure from verticals and non-core brands will likely increase," he stated earlier this year. Powell projects the market will experience a low single-digit sales increase for 2019.  "As in footwear, small brands will outperform the market. In addition, I expect that private label and e-commerce will be the primary growth drivers for activewear sales."
Powell says with all the new players, activewear brands and retailers have to consider some strategies in order to differentiate themselves. He points out that consumers are willing to spend more on product that is made sustainably. Additionally, he advises, they should put quality over quantity.
To that end, makers should know that compared to apparel made of synthetic fiber, more than three-quarters (78 percent) of consumers say cotton clothing is the highest in quality, according to the Cotton Incorporated Lifestyle Monitor™ Survey. In general, 83 percent of consumers say cotton is their favorite fabric to wear. And more than half (52 percent) say it is the best fiber for activewear.
Cotton Incorporated's TransDRY® technology combines the comfort of cotton with moisture-wicking performance. The result is the wearer stays cooler while working out, and the apparel dries faster. Together, the performance rivals any competitive fiber in the market.
Consumers say they're willing to pay more to keep cotton from being substituted with synthetics like polyester in items like their T-shirts (65 percent) and activewear (55 percent), according to Monitor™ research. Their reasoning is it's more comfortable (49 percent), lasts longer (34 percent), is more breathable (10 percent), and is more environmentally friendly (10 percent).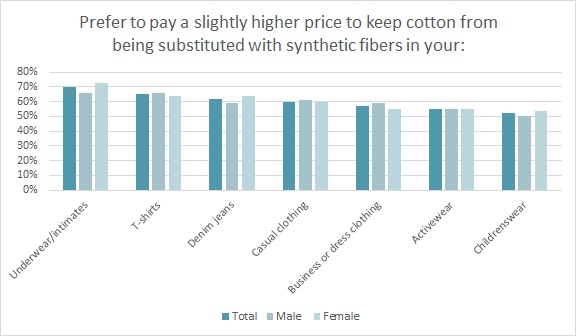 On average, consumers expect their activewear to last 3.2 years, according to Monitor™ data. However, they say it actually lasts them just 2.75 years. Fully 90 percent of all consumers feel their fitness apparel would last longer if it were made of cotton.
The activewear category should also continue to benefit from a variety of collaborations. A report by the Business of Fashion points out the old-school brand Champion has seen its value rise after joining with streetwear labels Supreme, Vetements, Off-White, and Kith. The label has also enjoyed luxury attention through its pairing with Todd Snyder.
In April, another legendary activewear brand, Russell Athletic, collaborated with Kith for a 96-piece collection that included 14-ounce cotton fleece that was custom milled in the U.S. for hoodies, shorts, crewnecks, and T-shirts. The entire collection sold out.
Charlotte Yau, editor and content marketer at Edited, the apparel and retail analytics firm, adds that celebrity collaborations are keeping the activewear category hot. She points to the deal between Kelly Rowland (Destiny's Child) and Fabletics, Nike's capsule collection with LA-based designer Eli Russel Linnetz, and Cardi B's collab with Reebok.
"The artist is planned to promote silhouettes from Reebok's nineties apparel," she stated, "which is a throwback to the strong nostalgia trend we've seen in the past year."
Despite the abundance of product from brands both new and mature, plenty of opportunities exist for the active market.
"All in all, 2019 will be a challenging year for the sports industry," Powell said, "but those that seize these opportunities can thrive."