After years of acquiring mountains of clothes thanks, in part, to trendy but inexpensive fast fashion, a movement has begun among some consumers toward paring down their closets and creating "capsule wardrobes" for themselves. Tidying expert Marie Kondo has become a superstar of the reduction effort, advocating via books, a website and a new TV show that people should reconsider their many belongings and shed those things that no longer "spark joy," including clothes. Her KonMari Method of organizing advises keeping only objects that speak to the heart.[quote]
There's a catch, though: capsule wardrobing may sound like simple decluttering, but its creation requires a thoughtful curation process, with consideration given to which items are actually needed, as well as serve as true sources of delight.
Luckily, fashion experts have some good pointers regarding the pieces consumers should keep in their closet or purchase when they're creating their "capsule wardrobes." And natural fibers are often part of the mix.
Italian designer Francesca Liberatore, recently in New York to show an exclusive edit of her Fall/Winter 2019-2020 designs and hold a book signing at Marist College, admitted that she's quite good at traveling light and was quick to offer up recommendations for condensing one's wardrobe.
"If people are creating a capsule collection, they need to think about the seasons. For winter they would definitely need to have a shirt with a high neck and a leather bomber," Liberatore states. "For spring, I like to use a lot of natural fibers because with the heat and the sweating, they're better. I would say a beautiful skirt or a nice pair of trousers that are very voluminous should be part of the wardrobe. Because either of those can save your situation with just a T-shirt.
"In summer, I prefer to cover [the lower body] and give a more relaxed feeling on top with a cotton T-shirt or tank top," she says. "So it could be a basic white tee, but underneath you can have things that are more decorated — some jeans, some silk." Even, she suggests, a filmy, black organza skirt, "that's not too see-through," like one that's part of her Fall/Winter collection.
Liberatore's suggested outfit combinations are the types that satisfy the KonMari Method's standard for being both mindful and sparking joy. And that's what people should keep in mind when looking to buy new apparel, even if they're editing their wardrobes. Most women (62 percent) and almost half of all men (44 percent) love or enjoy clothes shopping, according to the Cotton Incorporated Lifestyle Monitor™ Survey. A capsule wardrobe just requires more considered purchases.
Kristopher Fraser, a New York-based stylist and associate editor at As If magazine says natural fibers should be a part of any capsule collection.
"Depending on where you live, you might need a seasonal wardrobe. People in Florida can easily get away with mostly summer pieces with a few things mixed in for the chillier months. But those of us who go through actual winters with snow and temperature[s] in the teens need to be sure to have our coats, boots, hats, and scarves on deck. When downsizing your wardrobe, focus on those types of staple pieces for each season," Fraser says, pointing out, "Natural fibers are the way to go."
More than 3 in 5 consumers (63 percent) say they would feel more connected to or loyal to a clothing brand that offers clothes made of natural fibers, according to Monitor™ research. Additionally, the Cotton Council International (CCI) and Cotton Incorporated Global Environment Study found that "trusted brands" (69 percent) and "clothes made from natural fibers such as cotton, wool, silk, etc." (67 percent) are the top drivers influencing clothing purchases.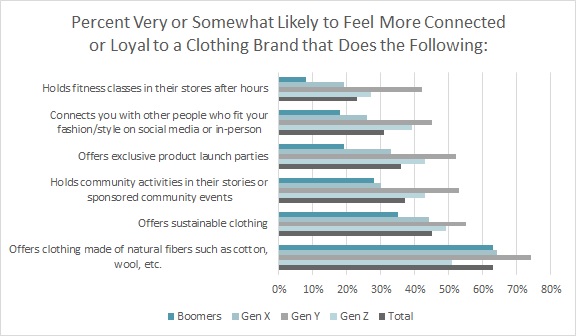 The Global Environment Study also found that most consumers (76 percent) consider cotton to be the safest among fibers. That figure surpasses organic and recycled cotton (75 percent and 72 percent, respectively). It's significantly higher than wool (69 percent) and silk (64 percent). And cotton's safeness rating is far higher than recycled polyester (43 percent), polyester (36 percent), nylon (35 percent), rayon (32 percent), and Tencel (25 percent).
Like sustainable fibers, Fraser says consumers are drawn to capsule wardrobes for their "green" appeal — to a certain extent.
"Consumers are becoming more eco-conscious and are more interested in shopping for brands that are less mass produced because they are less destructive to the environment," he asserts. "In addition, people are becoming more obsessed with having more limited things because they feel more special." Caroline Rector, author of the Unfancy blog, started writing about the journey into creating her own capsule wardrobe in 2014. She told readers that she had a closet "full of cheap clothes but 'nothing to wear'." So, she decided to live on just 37 pieces that were more in tune with her personal style. She wore only those pieces for one season and changed them out after three months. After a year, Rector said she found herself more content and confident than ever before. The 37 capsule pieces, which included shoes, served as her "everyday, real life wardrobe." For special occasions, she had three dresses (that she acquired over time) and three pairs of shoes at the ready. These days, Rector's "less is more" blog includes outfit ideas, closet-curating tips and carry-on packing guides.
In the same vein, Liberatore says she has always given a specific role to each garment in her collections.
"For example, in the winter you have more gala occasions so you have special things that you wear maybe just once in the season, but you can express yourself overall in your coat and that kind of thing," she explains. In her Spring/Summer '19 collection, Liberatore includes natural fibers like a silk/cotton blend, which is used on an intricate and colorful macramé bomber. "So you have your image garments — the specialties — and the rest are very comfy."
Fraser agrees that a pared down closet should include necessary and special items.
"There should be cotton shirts, whether T-shirts or button-ups," he says. "Also, a good pair of denim, a coat for those who [go] through cold winters, a good pair of cotton chinos for men, one good work outfit — and a little black dress for women."
And, of course, each choice should inspire KonMari-style joy.