Perhaps one of the most convoluted questions of the New Year is: how did retail do over the holidays? It would seem a simple answer: pretty well, thank you, as early signs showed retailers were having the best season in more than a decade. Yet, no sooner did people crawl out of their New Year's fog and stores were announcing closures from coast to coast. And since memory is generally short, news that stores are closing gets people wringing their hands. But, of course, it's not as simple as all good or bad. It's retail, after all.[quote]
Michael Niemira, principal and chief economist at The Retail Economist, explained the mixed bag.
"There are some pockets of strength — Children's Place, Costco, Tandy Leather, Zumiez — but many of those reporting so far — Macy's, Kohl's, Sears, Barnes & Noble, Limited Brands, Buckle — are weak," he stated. [Editor's note: The Limited began closing all stores after this interview.] "The picture needs to be filled out with Amazon — which seemingly continued to do well — and other retailers in different segments, since the department store segment has been struggling right along and does not provide a totally representative picture of demand."
Last fall, industry forecasters expected holiday sales to increase: 3.6 percent, according to the National Retail Federation (NRF) and 3.3 percent, according to the International Council of Shopping Centers (ICSC). The season got off to a late start, with experts citing shopper distraction due to the presidential election.  However, once it got closer to Christmas, gift buyers rallied, got to the stores and placed their online orders.
Now that the season's over, it looks like consumers hit the mark.
"We continue to be optimistic about 3-to-4 percent sales growth and we think sales could come in at the high end of that range," said Fung Global Retail & Technology's Shoshana Pollack, senior research associate, during a Planalytics webinar last week. "That's based on our views that a last-minute surge in shoppers ahead of Christmas more than offset a soft start to the season in early November."
Research firm Customer Growth Partners expects overall sales to increase 4.9 percent over last year.
In October, U.S. consumers had said they expected to spend about $744 on holiday gifts, which would have been 23 percent more than 2015's $603, according to the Cotton Incorporated Lifestyle Monitor™ Survey. PwC had estimated shoppers would average $1,121 each. Pyments.com recently reported consumers actually spent about $711 on gifts and holiday items.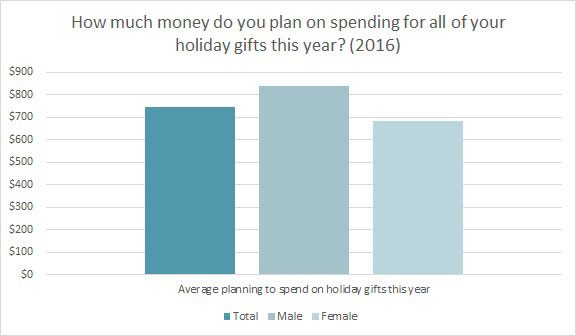 Prior to the season, the biggest percentage of shoppers expected to start buying gifts in November (27 percent), according to Monitor™ data. That was to be followed by October and December, which were tied at 14 percent.
The Monitor™ also found that the biggest shopping days were expected to be Black Friday (in-store at 50 percent and online at 49 percent), Cyber Monday (47 percent), National Free Shipping Days (24 percent), and Small Business/Local Saturday (22 percent).
But since procrastination seemed to be in the air more than holiday spirit, the biggest shopping days turned out to be Dec. 17 (Super Saturday — the last Saturday before Christmas) and Christmas Eve, according to The Washington Post and MasterCard's SpendingPulse, respectively.
Niemira said his company's store tally and the GAFO (General Merchandise, Apparel and Accessories, Furniture and Other sales) data from the U.S. Commerce Department's retail sales report points to a season "that should be better than 2015's performance, but not particularly strong" for in-store sales.
"Overall, I would characterize [holiday] as more of the same — retail segments struggling as consumers change their spending habits during the season," he said. "We pared our expectations from a year-over-year gain for comparable-store sales for the fourth fiscal quarter — based on an aggregate of about 100 stores — from an aggregate gain of about 2-to-2.5 percent to what we now expect the industry to post of about 1.5 percent year-over-year gain. For context, the third-quarter pace was 0.9 percent year-over-year and just a few tenths of a percentage point stronger earlier in the year."
Of course, digital played a very big role in spending this year. Apparel gift givers planned to purchase about two-thirds of their clothing gifts in-store (65 percent) and a third online (35 percent), according to the Monitor™. While final data is still being tabulated, online sales jumped 17.1 percent, according to research firm Conlumino. MasterCard put online increases at nearly 19 percent, while Adobe estimates it was more than 10 percent, according to Pollack.
"Online sales seemingly are trending around 13 percent year-over-year — and was our forecast — which will provide a lift to overall holiday spending," Niemira says.
Pollack points out that Amazon was the online winner again this holiday season.
"The company called out its performance as its best ever this year," she said. "December 19th was the peak shipping day and December 23rd was the biggest day for Prime Now deliveries."
The Planalytics and Fung webinar showed that in the fashion category, Levi's men's 501 Original Fit jeans, Fossil's Emma zip wallet, and Kate Spade's Cedar Street cross-body bag were Amazon's most popular sellers.
While Amazon proved it's still a force to be reckoned with, the ICSC pointed out that 91 percent of holiday shoppers did at least some shopping in brick-and-mortar stores.
But, clearly, it was a tougher season for some stores than others. Prior to the holidays, the majority of apparel gift givers planned to shop at mass merchants (56 percent) and chain stores (53 percent — down from 59 percent in 2015), followed by department stores (44 percent) and online only sites (40 percent), according to Monitor™ data.
"We had expected the season to be tough for department stores and other mall-based retailers," Pollack said. "And in fact, Macy's, Kohl's, American Eagle, and Limited Brands all reported disappointing results for either November/December or December holiday period. On the positive side, PVH, The Children's Place and Costco all reported results that were a bit better. Women's sales were down 2.9 percent, offset by a 7 percent increase in men's apparel."
Stores could be grateful for more cooperative weather this year. Evan Gold, executive vice president of global services at Planalytics said the colder weather in November along the east coast drove $267 million in apparel sales in the eastern third of the country for items like fleece, outerwear, and long-sleeve shirts.
"December 2016 turned out much colder than the record warmth last year," Gold said. "The coldest weather came during the middle three weeks of the month, which drove winter category demand over the peak shopping periods. So the drier conditions over the back half of the month did allow shoppers to get to the stores to get those holiday deals. This was an ideal setup for businesses."
Save
Save