Because man can't live by stress alone, happy diversions are welcome. In this case, the diversion also provides an opportunity to become more knowledgeable about the world's most popular natural fiber. World Cotton Day (WCD) will be held Oct. 7, and it serves as an opportunity to celebrate the international cotton industry, illustrate its contribution to worldwide communities and the global economy, and recognize its significance to brands.
This marks the second WCD, the first being hosted last year in Geneva by the World Trade Organization. It was initiated to reflect the importance of cotton as a global commodity. The United Nations Conference on Trade and Development (UNCTAD) also collaborated on the event.
[quote]
"Cotton is a cash crop with enormous potential to contribute to poverty reduction and economic development," said Mukhisa Kituyi, UNCTAD Secretary-General, before the kickoff event. "Small farmers value cotton as a drought-resistant crop with a ready market, providing reliable cash income to pay for school fees, medical services and other important expenditures. Advances in cotton producing technologies offer opportunities to reduce waste and increase value. At the end of the chain, consumers around the world continue to demand cotton products, creating lucrative trading opportunities."
The Discover Natural Fibres Initiative says about 150 million people in about 80 countries worldwide make a living from cotton. The International Cotton Advisory Committee puts it more simply, estimating that every bale harvested around the world represents one job on the cotton global supply chain. The natural fiber is an important source of income in developing countries in particular, as primarily small farmers in Africa, China and India cultivate cotton. A drought-resistant crop, UNCTAD states cotton occupies just 2.1 percent of the world's arable land, yet meets 27 percent of the world's textile needs.
In the U.S., more than 8 in 10 (85 percent) of consumers say cotton is their favorite fiber to wear, according to the Cotton Incorporated Lifestyle MonitorTM Survey. Brands should know that when consumers compare it to manmade fiber apparel, 84 percent say cotton is the most comfortable, softest (84 percent), most sustainable (82 percent), highest quality (75 percent) and lasts the longest (65 percent).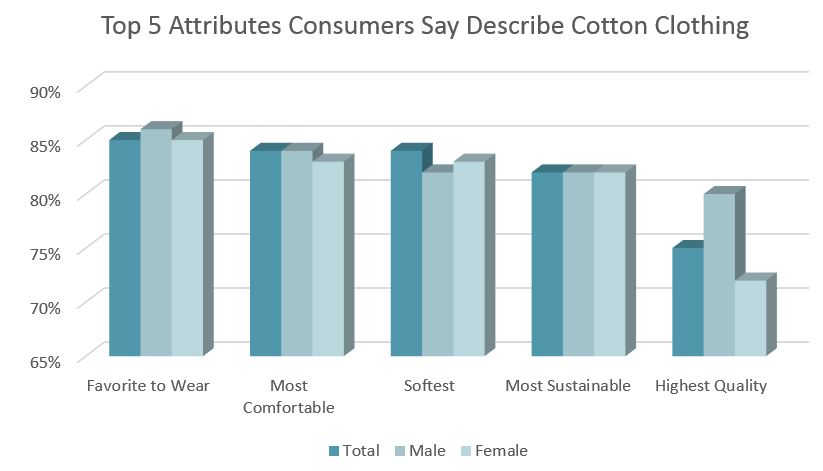 Again, when compared to synthetic fiber apparel, the overwhelming majority of consumers say cotton is best for T-shirts (89 percent), children's wear (83 percent), underwear and intimates (81 percent) and casual clothing (76 percent), according to MonitorTM research. More than half (52 percent) say cotton is best for activewear, too.
Retailers and brands should keep in mind that, despite the pandemic, 46 percent of consumers expect to buy casual shirts, according to Cotton Incorporated 2020 Coronavirus Response Consumer Survey. Another 44 percent plan to purchase activewear, as well as sweatpants or sweatshirts (44 percent) and denim jeans (43 percent). And they're looking for garments made of cotton. Among those surveyed, more than 2 in 5 say they are bothered by brands and retailers that would substitute synthetic fibers for cotton in their underwear (48 percent), T-shirts (45 percent), denim jeans (42 percent) and casual clothing (42 percent).
Gap Inc., the largest specialty retailer in the U.S. and one of the world's leading apparel brands, states cotton is essential to its business, and it uses a significant amount of the global cotton supply. As such, it's looking to use more sustainable cotton across all of its brands: Gap, Banana Republic and Old Navy. Gap has teamed with Textile Exchange to release Gap Inc.'s Preferred Fiber Toolkit (PFT). This resource will be available for use by sourcing and designs teams to inform companies on meeting their sustainability goals. Gap Inc.'s Diana Rosenberg, product sustainability manager, says a "rigorous and data-driven approach allows for greater confidence in our sustainable material sourcing decisions while creating an incentive to select more planet-friendly raw materials."
Fully 92 percent of consumers in the U.S. say better quality garments are made from natural fibers like cotton, according to the MonitorTM research. And 62 percent say they would be willing to pay more for such natural fibers.
For this year's World Cotton Day, the International Cotton Advisory Committee (ICAC) says stakeholders from the cotton community will come together both virtually and through local events to "educate audiences on the many advantages of cotton, from its qualities as a natural fiber to the benefits people obtain from its production, transformation, trade and consumption around the world."
Events for this year's celebration include:
— The Cotton Australia World Cotton Day Photo Competition, which began July 24 and ran through Sept. 23rd. The best photos will be shared on social media and collated into the printed 2021 CottonInfo calendar.
— Members of the "Women in Cotton" group on LinkedIn are also holding a photo challenge. Participants purchase an item of apparel made from 100 percent cotton and then photograph the purchase, either by wearing it or displaying it in a fun/thought-provoking way. The prize is a free ticket to the ICA dinner in Singapore.
–The ICAC will release a series of #TruthAboutCotton videos. Included will be videos that show the Aral Sea was destroyed by inefficient Soviet-era irrigation practices, not cotton cultivation. The video will also show cotton requires 320 gallons of water to produce 2 pounds of fiber, not the commonly cited figure of 5,283 gallons.
— The ICAC Secretariat members have issued a cooking challenge, wherein several members will participate to see whose cottonseed oil recipe is the best. Since there's no official taste test (due to the pandemic), the organizers say everyone who cooks gets to sample the entries.
Besides being a natural fiber preferred by consumers, UNCTAD points out cotton is a valuable commodity with multiple processing steps that lead to investment, jobs and industrial upgrading.
Says Kituyi, "Cotton's many industrial applications make it an ideal foundation for upgrading and diversification strategies that allow producing countries to benefit more from trade."