In recent years, new companies with straightforward apps have been the big disruptors to the apparel industry. Think Amazon, Rent the Runway and Stitch Fix. But COVID-19 proved to be the biggest disruptor of all, forcing new business models to be adapted overnight both to keep businesses operating, and for the safety and convenience of customers.
As the pandemic stretches into its seventh month, these solutions may very well become standard operating procedure when it comes to clothes shopping. In the meantime, anything stores can do to ease their customers' minds is valuable. The majority of shoppers (65 percent) say they're mentally exhausted and ready for life to "get back to normal," according to Cotton Incorporated's September 2020 U.S. Coronavirus Consumer Response Survey, wave 3.
RetailNext's Gabrielle Curione, retail engagement manager for the in-store analytics firm, said merchants need to keep the end-to-end customer journey front of mind.
[quote]
"We know that when customers are actually making it out to stores, they're shopping with purpose and they are coming in your doors because they want to buy," Curione said during a recent RetailNext webinar titled, "Reopening and Thriving in the New Retail Climate." We've seen in some cases that customers are spending a longer duration shopping or time within the store compared to last year. So, they're more than likely buying more units per transaction than they did last year. It's very important to be managing a consistent shopper-per-labor-hour ratio to really reduce any kind of pain point and wait time at entry or point of sale — and ensure customer satisfaction."
Curione said retailers have tackled the health and safety aspects of reopening in three key ways, starting with communicating store occupancy, available inventory, new store procedures and safety measures that they're taking.
"The second ideal is around measurement and automation, really utilizing automated solutions to make data-driven decisions," she said. "For example, they're understanding new traffic trends after reopening to inform labor and merchandise planning, since historical data may not be as helpful in the current time. Lastly is the idea of personalization, which is letting shoppers choose the best channels and experience, whether it's utilizing curbside or in-store pickup. We're also providing occupancy data so they can determine the best time for them to shop or virtual queuing solutions."
It's a good thing retailers are being so pragmatic, as 88 percent of consumers are still "somewhat concerned" or "very concerned" about the pandemic, according to Cotton's September 2020 Coronavirus Response Survey. That compares to 94 percent in the late April Coronavirus Consumer Response Survey, and it's nearing the same levels of concern that were voiced when the shutdowns occurred in March (92 percent).
Moreover, 6 in 10 consumers (60 percent) say they're actually uncomfortable shopping for clothes in a brick and mortar store due to the pandemic, according to the September Coronavirus Response Survey. More than half say they would feel more at ease if stores limited their occupancy (51 percent) and had sales associates wear face masks and stay socially distant (51 percent). Consumers would also like to see hand sanitizer stations (48 percent), face masks worn by all customers (47 percent), extra distancing between clothing racks (38 percent) and heightened sanitation of all surfaces and clothing (36 percent).
To free up valuable employee time while ensuring their stores are clean, some retailers have begun using self-cleaning robots, according to Bringoz, the cloud-based logistics platform for shippers and carriers. The company cited a Capgemini report that says stores have also added self-checkout and adopted mobile payments because 86 percent of consumers expect to increase their use of touch-less technologies.
Safety and speed are fundamental in today's retail journeys, said Keith Sherry, chief commercial officer of MishiPay, an app that allows in-store shoppers to scan and pay for their purchases with their smartphones. He also took part in the RetailNext webinar.
"We need to minimize the amount of time customers are coming into the stores," Sherry said, "We've got to really speed things up so they're in and out very quickly, but make sure that they get the best experience possible. And what we've done with the MishiPay application is enable people to start the journey, before they even come in. So, in certain stores, they can pre-order what they're looking for. It lends nicely to ordering online and picking up curbside or in store. But the main thing is making the experience as touch-less as possible."
MishiPay eliminates the need to stand 6 feet apart in a line, come in contact with a store associate at checkout or use a credit card, pin pad or pen to sign a receipt.
While 60 percent of consumers say, in the September Coronavirus Response Survey, they're excited to shop for clothes in a physical store and will do so as soon as they reopen, 60 percent admit that it may take a while before they feel comfortable shopping in a mall again. Most shoppers (63 percent) say they will take extra measures to protect their health when going out (e.g., face mask, hand sanitizer) for some time going forward. And 65 percent say they will buy more clothes online in the future. But, rather disheartening for the apparel industry, 62 percent of shoppers say they're waiting to buy new clothes until the current crisis passes.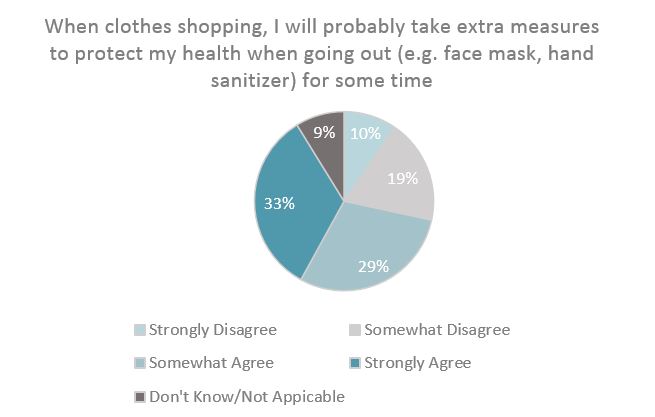 As a result of the pandemic, 69 percent of fashion, specialty and brand stores already have or will adopt home delivery, according to a survey from Retail Systems Research (RSR) titled "Business Continuity and Recovery in the Age of COVID-19; The Role of Location Intelligence." Clothing stores have also taken on new store designs (50 percent) and adopted curbside pickup (46 percent).
"The ability to think differently and adapt quickly will be key to not only retailers' success," states RSR, "but in many cases, their very survival."