It could be argued Macklemore made shopping for secondhand clothes cool. After all, his song "Thrift Shop" hit No. 1 in 2013. Sure, ThredUP and The RealReal started a little bit before that, but the idea of popping tags with just $20 in your pocket hit home with Millennials and Gen Z, the same consumers who are continuing to grow the secondhand shopping market.
Although resale is still largely an offline game, the digital secondhand market is poised for considerable growth."

Claire Tassin
Retail & Ecommerce Analyst, Morning Consult
While Macklemore promoted combing the racks in physical thrift stores, today's shoppers are searching for secondhand treasure both in-store and online. YPulse, the youth culture research firm, says Gen Z and Millennial interest in more eco-friendly shopping along with a thirst for good deals have helped boost digital secondhand shopping platforms. [quote]
"Resale platforms like Poshmark, Depop and ThredUP have skyrocketed in popularity in recent years, and COVID accelerated their growth even more," a YPulse Insights article states. "According to research from ThredUP and GlobalData, the secondhand market is expected to reach $77 billion by 2025, and is growing 11 times the rate of the broader retail clothing sector. ThredUP CEO James Reinhart says the company brought in $186 million in revenue—an increase of 14 percent from the previous year. The number of active buyers grew 24 percent last year, while 77 percent of its product supply came from repeat sellers."
Most consumers, 77 percent, say COVID changed how they shop, according to Cotton Incorporated's Coronavirus Response Consumer Survey (Wave 9, December 2021). Not only have 43 percent shifted some of their clothes shopping online, but others have also become more financially conscious and are adjusting their buying habits (38 percent). More than one-third say they'll buy less and focus on purchasing higher quality clothes that will last. And 31 percent say they'll buy more secondhand clothing.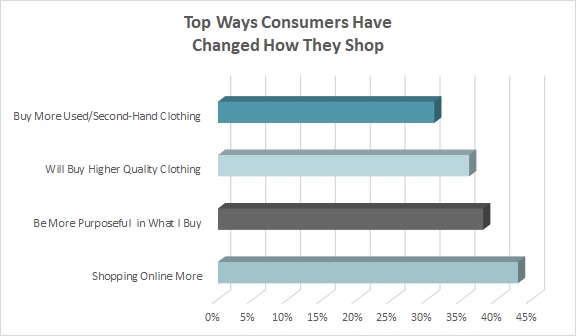 Morning Consult's Claire Tassin, retail and ecommerce analyst at the global intelligence company, points out that secondhand options have only grown over the pandemic period. These days, consumers don't need to choose between just brick-and-mortar stores and established resale platforms. Brands are also creating their own secondhand programs.
"Although resale is still largely an offline game, the digital secondhand market is poised for considerable growth," Tassin states. "According to Morning Consult research, more people buy secondhand items in stores than online (75 percent versus 55 percent), but the reverse is true for sellers: 44 percent say they sold items online, but just 31 percent say they sold in stores. While shoppers will always have an appetite for secondhand treasure hunts at brick-and-mortar stores, digital tools and evolving platforms can help would-be sellers overcome the barriers keeping them from participating in the secondhand economy."
For instance, REI's RE/Supply for used gear and apparel grew 86 percent through 2021 and is available in most of its 172 locations and two pre-owned retail stores. The North Face is relaunching its Renewed resale program for both gear and apparel. Hugo Boss is going to introduce its own resale platform later this year, calling it Hugo Boss Pre-Loved. Levi's SecondHand offers consumers pre-owned shorts, jeans, and denim jackets. And Paris-based Vestiaire Collective acquired American resaler Tradesy, making the U.S. Vestiaire's biggest market. The re-commerce platform now offers 5 million products by 10,000 brands. The growing list of brands and stores involved in re-commerce is staggering.
More than half of all consumers (57 percent) say they've purchased secondhand apparel over the last year, according to the 2022 Lifestyle Monitor™ Survey And the same percentage says they plan to purchase more pre-owned apparel in the future. Half (50 percent) say they shopped at thrift/consignment shops such as Goodwill and Plato's Closet. Nearly 2 in 10 shoppers (18 percent) turned to online resalers like ThredUP, Poshmark, and The RealReal. And 13 percent used online marketplaces like Craigslist, eBay, and Facebook Marketplace.
This rising interest in secondhand clothes make sense, coming at a time when shoppers are concerned with inflation and climate change, yet still want to keep up with trending fashion thanks to the ever-present influence of social media platforms like Facebook, Instagram, and Pinterest.
Consumers say their top reasons for buying pre-owned apparel are lower prices (50 percent), it's more sustainable (17 percent), they're able to get high-end brands (11 percent), and they like the styles (9 percent), according to CivicScience.
Brands should keep in mind the majority of consumers say cotton clothing isn't just the most sustainable (76 percent) when compared to manmade fiber clothing, but it's also the highest quality apparel (71 percent) and it lasts the longest (59 percent), according to the Cotton Incorporated Lifestyle Monitor™ Survey. And nearly half of all shoppers (43 percent) say fiber content is the most beneficial factor for determining how long an article of clothing will last.
As popular as re-commerce is right now, the market isn't without its challenges. Tassin says brands that are contemplating resale first need to determine if they're going to use a peer-to-peer or consignment model when selling pre-owned goods. Morning Consult research finds consumers almost equally like both peer-to-peer (39 percent) and consignment (38 percent). But shoppers are concerned with quality and authenticity, as well as the ability to return a product. Meanwhile, sellers are worried about getting a fair price for their listings and "sometimes don't feel appropriately compensated for their efforts," as fees often cut into the amount of money they make on a sale.
"As the secondhand market continues to grow, brands face hard choices: Should they create their own resale platform powered by emerging resale service tech, partner with an existing platform (as Target did with ThredUP), or stay out of the game entirely, knowing their customers are reselling on sites like Poshmark and The RealReal?" Tassin submits. "These choices come with vastly varying costs, benefits and degrees of control over how merchandise is represented and authenticated."
Despite all this, Tassin states, "There's plenty of room for digital disruption."