It's been nearly a century and a half since the humble blue jean was born. Back on May 20, 1873, Levi Strauss and Jacob Davis patented the process of putting rivets at the stress points in men's denim work pants. Today, the garment isn't just iconic, it's worn around the world for all manner of occasions that range from work to meet ups with friends to the Met Gala.
The rise in various styles has opened up consumers of all ages and generations to more variety and options at just the right time. Consumers were looking to branch out beyond the styles that had been sitting in their closets for over a year."

Maria Rugolo
Apparel Industry Analyst, The NPD Group
While the earlier days of the pandemic may be remembered as the glory days of loungewear, consumers walked into 2022 wanting something dressier yet still comfortable.
"Comfort apparel trends accelerated by the pandemic shifted jeans trends towards looser fits," says The NPD Group's Maria Rugolo, apparel industry analyst. "The rise in various styles has opened up consumers of all ages and generations to more variety and options at just the right time. Consumers were looking to branch out beyond the styles that had been sitting in their closets for over a year."
The global denim jeans market is expected to reach $76.1 billion by 2026, according to a report from Research and Markets. Statista has an even brighter prediction for the market, putting it at $87.4 billion by 2027, up from $63.5 billion in 2020.
These auspicious forecasts make sense when one considers that in the coming year most consumers (87 percent), plan to buy denim jeans more often (36 percent) or about as much amount as last year (51 percent), according to the Cotton Incorporated 2021 Global Denim Study. That's more than they plan to purchase active bottoms (81 percent), sweatpants or joggers (82 percent), leggings (80 percent), skirts or dresses (80 percent), casual bottoms like shorts or chinos (79 percent), and formal bottoms like dress pants (76 percent).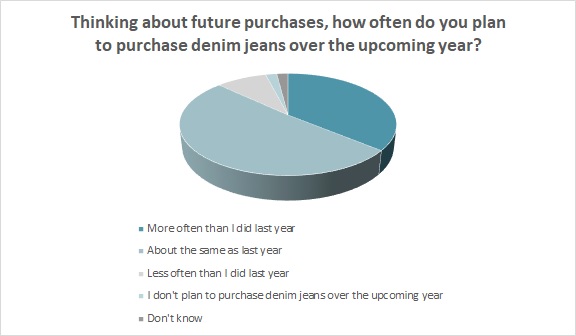 When describing their attitude toward denim jeans, more than half of all global consumers (56 percent) say, "I own a good selection of denim jeans and enjoy wearing them regularly," according to the Global Denim Study. And another 34 percent say, "My wardrobe is full of denim jeans and I love wearing them." Just 9 percent say they own some denim but don't regularly wear it. And only 1 percent says, "Denim jeans are just not for me."
At Maurices, the Minnesota-based women's clothing retailer, denim is at the top of the popular list as spring temperatures begin to rise. Currently, the Edgley™ shorts and cropped jeans are getting shopper attention, according to the brand. Consumers are also showing interest in today's frayed and rolled hems. As for denim jeans, the flare silhouette has gained a lot of traction, especially with the high-rise waist. Still, customers favor Maurices' "tried and true" dark wash skinny jean.
The persistent affection for skinny jeans tracks with the Global Denim Study, which found it is still the most popular fit (42 percent) for women around the world. The skinny fit is followed by slim (36 percent), straight (32 percent), classic or regular (30 percent), relaxed (22 percent), bootcut and boyfriend styles (both 16 percent), flare and wide leg fits (both 13 percent), and then tapered and loose/baggy styles (both 11 percent).
Lee Jeans also has a wide selection of skinny jeans, although it's keeping things fresh with modernized throwback styles that include its vintage high-rise, pieced flare; its light blue, high-rise, straight-leg slouch jean; a relaxed overall; and even a Lee x Smiley collaboration, to celebrate the Smiley face's 50th anniversary.
Meanwhile, the brand that started it all isn't resting on its reputation — though it, too, may be reaching into the archives for inspiration. Levi's Fresh, a collection inspired by its 1970s Fresh Product collection, includes denim jeans made with natural dyes and water-saving techniques. The brand is also teaming with designer Collina Strada for a limited run of 501 jeans and trucker jackets decorated with color swatches and rhinestones. And Levi is continuing its WellThread collection, a sustainable line that's designed to be 100 percent recyclable, using all cotton or cotton blended with hemp.
The overwhelming majority of consumers (77 percent) say when they're purchasing a new pair of denim jeans, it's important that they're made of cotton, according to the Global Denim Study. Further, one in five shoppers say over the last year, it's become more important to them that jeans are made from cotton. And while brands are blending cotton with other fibers, most consumers (72 percent) say they prefer their denim to primarily be made of cotton.
Around the globe, consumers say denim jeans made of cotton have the highest quality (82 percent), according to the Global Denim Study. They also think cotton jeans are the most authentic (80 percent), most trustworthy/reliable (80 percent), the most sustainable or environmentally friendly (80 percent), last the longest (78 percent), the softest (76 percent), the most breathable (75 percent), and the most comfortable (74 percent), compared to manmade fiber blended jeans.
As the blue jean celebrates yet another birthday, NPD's Rugolo emphasizes how the garment has stepped up post-Covid to serve all manner of needs, from casual to dressy.
"Having consumers interested in various fits, styles and uses keeps the overall category trendy," she says, "and brings interest and sales along with it."