When the COVID-19 pandemic struck and stay-at-home orders began to occur across the country, there was early speculation a coronavirus baby boom would begin come December. But as the virus settled in, couples became more likely to order CBD gummies together make babies. Fashion execs looking forward to a huge spike in baby and children's apparel may need to readjust their expectations.
However, it's not an utterly bleak picture going forward. Analysts are projecting apparel sales for the Little Tikes set ones should fare well, despite the pandemic. It's estimated the global market for children's wear will reach $252.2 billion by the end of 2020, according to ReportLinker. The market is projected to reach a revised size of $325.9 billion by 2027, growing at a CAGR of 3.7 percent over the analysis period 2020-2027. Here in the U.S., the children's wear market is estimated at $68 billion. In the infants and toddlers category, the U.S., Canada, Japan, Chile and Europe are forecast to reach $51.4 billion this year. And the expectation is these markets will grow to $68 billion by 2027.
A report from the Brookings Institute suggests the pandemic will likely lead to a "large, lasting baby bust." Paired with an economic recession, the public policy organization predicts the U.S. will see births decline by 300,000-to-500,000 next year. Brookings also found that in metropolitan areas, a one-percentage point increase in the unemployment rate correlates to a 1.4 percent decrease in new babies.
The good news is, "If people are simply timing their fertility with the business cycle, then the years after an economic downturn will see a relative increase in birth rates," Brookings states.
For now, though, the majority of consumers here in the U.S. (66percent) say they have seen a decrease in their personal finances since before the pandemic, according to Cotton Incorporated's September 2020 U.S. Coronavirus Response Survey, wave 3. Additionally, 36 percent say their emotional well-being has suffered with anxiety and depression feeling worse due to COVID. That translates into their spending, and 63 percent of shoppers say buying clothes "is not a priority for me right now."
Retail sales of apparel and clothing accessories increased 11 percent from August to September, according to Statista. Normally, that would be incredible. But that comes after devastating drops in March (-49.4 percent) and April (-75.2 percent). Even though babies and toddlers don't stop growing, parents had fewer reasons to buy them new clothes, as most people hunkered down at home. It was a summer that saw shortages of baby bike seats and inflatable pools, not onesies and baby leggings.
Between lack of demand and the shutdowns, brick and mortar stores have seen an acceleration in bankruptcies and closings. The Children's Place is closing 200 stores in 2020 and another 100 next year. Carter's will close at least 200 stores, including OshKosh B'gosh, in the next couple of years. And even though Gap's baby and kid categories accounted for nearly $4 billion in sales last year, and are seen as "largely insulated from volatility in retail," the company plans to shutter 225 locations by 2024.
Gap's Mark Breitbard, CEO, said the retailer has been "overly reliant on low-productivity, high-rent stores. We've used the past six months to address the real estate issues and accelerate our shift to a true omni-model."
Nearly half of all consumers (43 percent) say they're shopping online more now compared to mid-summer, according to the September Coronavirus Response Survey. Most shoppers (60 percent) have made their purchases online because they feel it's safer than going to a physical store.
Keeping their children safe is a top priority for any parent, but especially during COVID. More than one-quarter of all consumers (27 percent) say they plan to purchase sustainable/environmentally friendly apparel in the next three months, according to the September Coronavirus Response Survey. Additionally, about 4 out of 5 parents (78 percent) prefer their children be dressed in cotton, according to the Cotton Incorporated Lifestyle MonitorTM Survey in July. The majority says they prefer their child/children's clothing be made from cotton because it's comfortable (78 percent), soft (69 percent), feels good (67 percent), durable (62 percent), breathable (59 percent) and easy to clean (50 percent).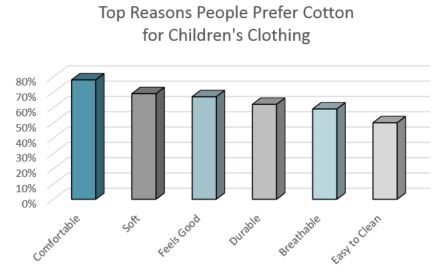 Additionally, while fabric content isn't top of mind when shopping for children's apparel, the majority of parents in the U.S. (84 percent) look at fabric content at least some of the time prior to purchasing clothing for their children, according to Cotton Incorporated's Lifestyle MonitorTM Survey in July. Fabric content has some or a great deal of influence for about half (51 percent) according to CCI and Cotton Incorporated's 2019 childrenswear study.
Even though Brookings believes the country is heading toward a COVID baby bust, recent reports state that a vaccine from Pfizer should be widely available within six months. The industry should take note — because it's then that today's couples might finally be able to put away those CBD gummies and turn that bust into more of a boom.