For a number of years now, the retail industry has watched as Cyber Monday, Thanksgiving Day, Small Business Saturday and Super Saturday have diminished the importance of the granddaddy of all shopping days: Black Friday. This holiday season, with the surge in COVID-19 cases throughout the U.S., the departure from "the biggest shopping day of the year" was expected to be magnified.
"As we all know, many things are different this year," said Coresight Research's Deborah Weinswig, CEO and founder, in a note. For starters, large retailers like Best Buy, Target and Walmart announced they would be closed on Thanksgiving Day. But, Weinswig pointed out, consumer interest in shopping in stores over Thanksgiving weekend also appeared low, according to Coresight's U.S. consumer survey. It showed only 19 percent of respondents were willing to shop in stores on Thanksgiving Day and just 16 percent on Black Friday.
"Rather than go out and brave potentially cold weather, coronavirus risks and closed stores, a large percentage of consumers are electing to shop from the comfort of their own sofas," Weinswig said. She pointed out that consumers wouldn't have to wait until Nov. 27 to start their holiday shopping, since many retailers launched early Black Friday sales events "to add interest and drive consumers to make purchases by prompting a fear of missing out."
To appeal to both the anxious shoppers and the bargain-seekers, and to stave off the possibility of holiday crowds, stores and brands wisely began offering shopping deals both online and in stores starting in October.
Of course, Amazon played a major role in that early kick off. The ecommerce giant's Prime Day event is usually held in July, but the pandemic put it on hold. When Amazon announced a new date, seemingly the rest of retail migrated to October, as well. The move paid off, as retail sales jumped 5.7 percent from October 2019, according to the Census Bureau.
While holiday shopping will take place both online and in-store this year. Deloitte predicts ecommerce sales will grow by 25 percent-to-35 percent over 2019.
Half of holiday shoppers (50 percent) say they plan to do more purchasing through ecommerce this year, according to the MonitorTM research in September. And 52 percent say they plan to do less shopping in-store. Among those with plans to buy holiday gifts online, 48 percent expected to do so on Cyber Monday, down significantly from 53 percent in 2019, and Black Friday (48 percent), down from 52 percent in 2019. A solid 43 percent planned to do holiday shopping on Amazon Prime Day, up from 39 percent a year ago. Another 18 percent planned to shop online during the week leading up to Thanksgiving Day, 18 percent will wait for National Free Shipping Days (in mid-December) and 11 percent planned to shop online on Thanksgiving Day.
Whether they buy online or in-store, Deloitte sees the possibility of two different holiday conclusions. The first comes with expectations for modest holiday sales overall, with increases between 1 percent-to-1.5 percent. This would reflect low spending due to COVID-related anxiety over finances and health. The second scenario calls for increases of 2.5 percent-to-3.5 percent over last year, due to increasing consumer confidence.
"This growing confidence could be a result of several factors, including an effective federal pandemic relief bill with an unemployment insurance benefit supplement, and the creation of an effective vaccine," Deloitte states. "In addition, as consumers have dramatically cut costs related to travel and experiences, these funds might be redirected to spending on holiday gifts."
The National Retail Federation expects consumers will be all in on spending this season. It predicts November and December sales will increase 3.6 percent-to-5.2 percent over 2019. This would put totals between $755.3 billion and $766.7 billion.
"Given the pandemic, there is uncertainty about consumers' willingness to spend, but with the economy improving most have the ability to spend," said the NRF's Jack Kleinhenz, chief economist, in a holiday forecast call. "Consumers have experienced a difficult year but will likely spend more than anyone would have expected just a few months ago.
"After all they've been through, we think there's going to be a psychological factor that they owe it to themselves and their families to have a better-than-normal holiday," he continued. "There are risks to the economy if the virus continues to spread, but as long as consumers remain confident and upbeat, they will spend for the holiday season."
All told, 40 percent of holiday shoppers say COVID-19 will cause them to spend less on holiday gifts this year. About a quarter of shoppers (24 percent) say they plan to spend less on gifts because of economic uncertainty. Another quarter of shoppers (26 percent) plan to spend less because they have less money. And another 22 percent plan to spend less because they're saving their money.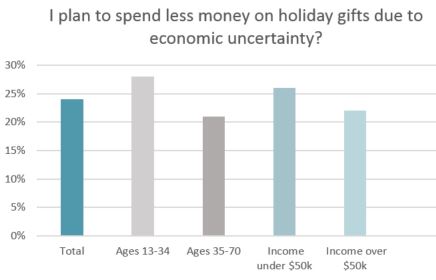 Additionally, despite the NRF's positive outlook, it appeared consumer confidence was faltering as the nation headed into the holiday season. The University of Michigan's measure of consumer sentiment decreased nearly five points to 77 in November from 81.8 in October, and against expectations of 82. In January, consumer sentiment had reached 101, but started sinking immediately as the pandemic took hold in the U.S.
However, Sensormatic Solutions' Bjoern Petersen, president, says retailers "should remain optimistic." He said there's been a shift toward weekday shopping as consumers take advantage of their new work-from-home situations, allowing them to avoid large weekend crowds. He adds that retailers must be prepared for shoppers who want to buy online/pickup in-store (BOPIS) or curbside.
"It's also crucial to provide a safe in-store environment where shoppers feel comfortable through offerings such as contactless checkout and real-time occupancy monitoring to adhere with social distancing guidelines," Petersen states.
Consumers have clarified further COVID-era protocols that would make them feel more comfortable if they were to shop in-store during the holidays. To start, 61 percent would feel better if retailers required that shoppers wear masks, according to the MonitorTM research in September. That's followed by 52 percent who would prefer a limited number of people allowed in stores at one time, 52 percent who would like required spacing in check-out lines and 51 percent who would appreciate if hand sanitizer was provided for all consumers.
"Although the ways in which consumers shop and celebrate will be different this year, and the shopping calendar has been altered, consumers have not given up on the holidays by any means," Coresight Research's Weinswig says. "Instead, they are finding new ways to get their shopping done and continue with holiday traditions in a safe and socially distanced manner."