Although one tired teacher took to Twitter in early June begging companies to hold off on Back-to-School ads until August, students in the U.S. return to their classrooms anytime from late July until after Labor Day. And colleges are generally filling the dorms from mid- to late-August. Yes, it's Back-to-School (BTS) time and stores and brands should note what Gen Z and their parents are looking for in this fall's apparel.[quote]
Inflation hasn't impacted Back-to-School categories like apparel, electronics and paper goods in the same way that it's hitting gasoline prices, but family budgets are adjusting to accommodate rising prices by spending less on discretionary goods."

Claire Tassin
Retail & Ecommerce Analyst, Morning Consult
"Back-to-School is the second biggest season for retailers and is often looked at as an early indicator of retail momentum ahead of the traditional holiday season," said Mastercard's Steve Sadove, senior advisor and former CEO and chairman of Saks Incorporated. "While Mastercard SpendingPulse anticipates growth across sectors, retailers will need to find innovative ways to entice shoppers as discretionary spending potentially stretches thin as a result of increasing prices."
Despite inflation's impact on consumers, the news is good for the apparel sector. Mastercard SpendingPulse expects clothing sales to increase 8.7 percent over 2021 and 15.9 percent compared to pre-pandemic 2019. Overall retail sales, excluding automotive, are forecast to grow 7.5 percent during the mid-July through Labor Day Back-to-School period. The company predicts total retail sales will rise 18.3 percent compared to 2019 and anticipates department stores will be a "noteworthy winner as the sector continues to rebound."
The Mastercard SpendingPulse report says the company will be watching to see how consumers balance their desire for fresh styles with continued price pressures.
Most consumers are concerned about the economy, according to Cotton Incorporated's Inflation and Supply Chain Survey, U.S. (June 16, 2022). Research shows that 70 percent of consumers are now "very concerned."
Still, more than 8 out of 10 Back-to-School apparel shoppers plan to spend the same (50 percent) or more (35 percent) on clothes this year compared to 2021, according to the 2022 Cotton Incorporated Lifestyle Monitor™ Survey. Just 10 percent expect to spend less than last year. Among high school and college students, 44 percent expect to spend more, while another 46 percent plan to spend the same as in 2021. Just 10 percent expect to spend less.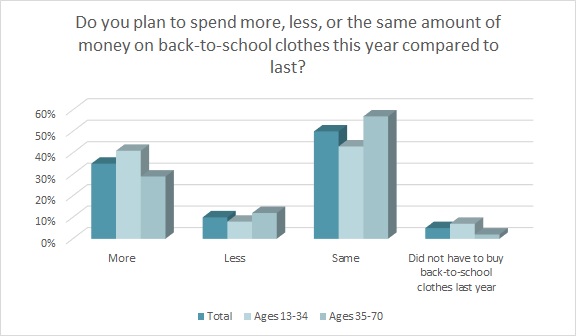 Overall, parents plan to spend about $520 per person on Back-to-School clothes, according to the Monitor™ research, a figure that's up 41 percent from $368 in 2020.
Michelle Meyer, U.S. chief economist for the Mastercard Economics Institute, says consumers have been resilient, witnessed by the "continued sales momentum in May that aligns with growth rates seen earlier this year." Shoppers, she said, are spending on goods and services as the economy rebalances.
"That said, headwinds have become stronger – including gains in prices for necessities like gas and food, as well as higher interest rates," Meyer said.
Morning Consult's Claire Tassin, retail and ecommerce analyst for the global data intelligence company, states retailers should be prepared for consumers who are facing the dual threats of inflation and a looming recession.
"Consumers' wallets are feeling squeezed from higher prices for essentials, leaving less room for discretionary spending," Tassin says. "Inflation hasn't impacted Back-to-School categories like apparel, electronics and paper goods in the same way that it's hitting gasoline prices, but family budgets are adjusting to accommodate rising prices by spending less on discretionary goods."
With budget in mind, shoppers say they will shop for Back-to-School clothes with their eye on comfort (75 percent), quality (68 percent), durability (53 percent), function (42 percent), and sustainability (36 percent, up significantly from 21 percent last year), according to Monitor™ research. Retailers and brands should also note that the majority of consumers (84 percent) say they prefer their kids be dressed in clothes made of cotton. They state that they prefer cotton because it's comfortable (70 percent), soft (68 percent), feels good (61 percent), and is breathable (54 percent).
Nearly one-third of parents (31 percent) – perhaps those especially with college-bound students — say they will be looking at the care/laundering instructions on the clothes they plan to purchase for Back-to-School, according to Monitor™ research. Additionally, the majority of parents (59 percent) say they would prefer that their children and young adult kids wear apparel that does not create microplastic pollution.
Tiny microfibers from synthetic clothes are responsible for microplastic pollution in the planet's water supply and food chain, according to the Plastic Soup Foundation. Microplastic particles come from clothes made of synthetics like polyester, acrylic, and nylon, and account for 35 percent of the microplastics polluting the oceans, the foundation states. Whenever consumers wash their laundry, millions of tiny microfibers are released into the wastewater. The fibers are too small to be captured at water treatment plants, so they then make their way to Earth's oceans, rivers, and streams. The foundation also maintains the synthetic fibers are constantly released into the air just by being worn. Since they're petroleum-based, these fabrics can take 20-to-200 years to break down in the environment.
Saleforce's Rob Garf, vice president and general manager of retail, told CNBC that in these times of economic uncertainty, retailers shouldn't compete on price alone. Rather, they should play up features like a product's sustainability.
In keeping with that, retailers should consider cotton is a biodegradable fiber that naturally decomposes quickly because it is made of cellulose, an organic compound that is the basis of plant cell walls and vegetable fibers. In studies, cotton had a 76 percent degradation after 243 days in wastewater, while polyester fibers showed just 4 percent degradation. Further, cotton continued to show degradation over time, while polyester's degradation plateaued after the time tested.
Nearly half of high school and college-aged consumers (48 percent) say sustainability is important when looking at the apparel they're planning to buy, according to the Monitor™ research.
Even with budget, economic, and sustainability concerns, Mastercard SpendingPulse research indicates shoppers will be stocking up on apparel for school, events, and other social occasions this fall, meaning the demand for apparel both in-store and online shows no signs of slowing.
"This Back-to-School season," the Mastercard SpendingPulse report states, "will be defined by the resilience and flexibility of the consumer."