»

»

»

What a Girl (and Boy) Wants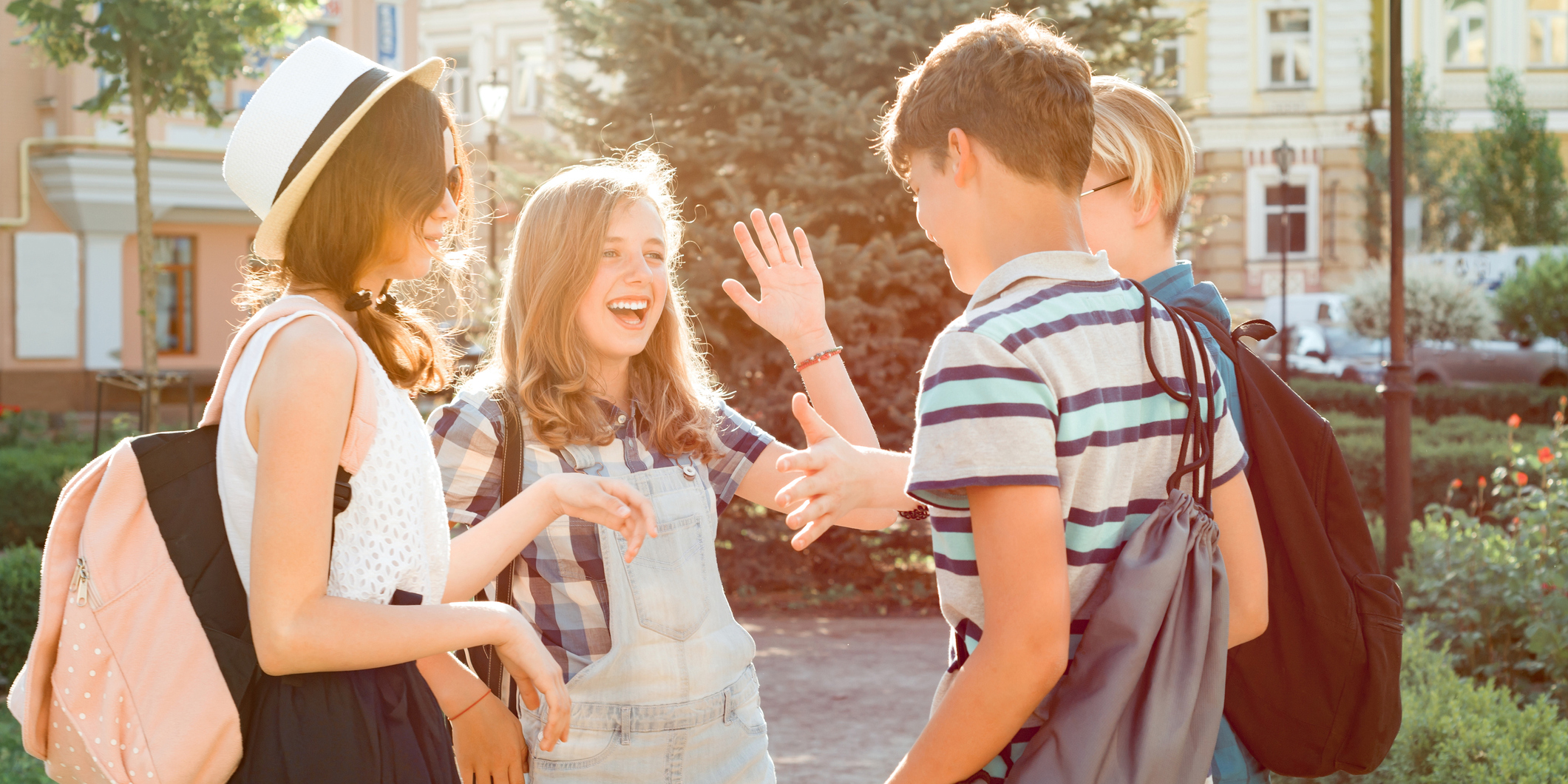 Before there were UwUpies and E-Gees, Softgirls and VSCO girls, there were Valley Girls. Fer sure. And they totally like, loved going into, like, clothing stores and stuff. Of course, parents then had to pony up for that preppy, peppy California look, just as today's parents try to keep up with the fickle trends that drive the kids' market. It's a business that — despite some of the cryptic lingo — continues to remain steady, thanks to parents who are willing to listen to their kids, and brands that understand the parental preferences, as well.
"Retailers need to consider parents' and children's style preferences, especially as kids play a big role in purchase decisions. Those that capture the attention of parents and their kids have a chance to encourage additional self-purchases from parents and retain children as loyal customers when they transition to independent shoppers."

-Alexis DeSalva,
Retail & Apparel Analyst, Mintel
Childrenswear held a global value of US $203.4 billion in 2017, according to Statista, the international statistics portal. The market is forecast to reach US $339 billion by 2024, according to Global Industry Analysts (GIA).
Growth in kids' wear will be "driven by factors such as growing exposure of children to media and the ensuing rise in materialism, excessive consumption and impulsive purchases," GIA states, adding that other aspects include, "greater autonomy and decision-making power of kids and their enhanced role in purchase decisions; growing affluence of parents; and a widening range of choices in luxury and designer clothing brands."
Statista says the baby and young children's apparel market in the United States was valued at $21 billion in 2018. And with all the effort to appease their kids, American parents have made the U.S. the largest consumer of children's apparel, with 21 percent of the global market, according to web data provide ScrapeHero.
Perhaps the market is so strong in the U.S. because more than half the parents of 1-to-5 year olds (56 percent) say shopping for children's clothes is fun, according to the Cotton Council International (CCI) and Cotton Incorporated 2019 Childrenswear Study. It may come as no surprise, though, that the shine wears off the enjoyment once kids hit the tween years (10-to-13) when just 39 percent of parents say it's still fun and instead say they are more likely to feel overwhelmed (16 percent) and frustrated (14 percent) by the clothes shopping experience.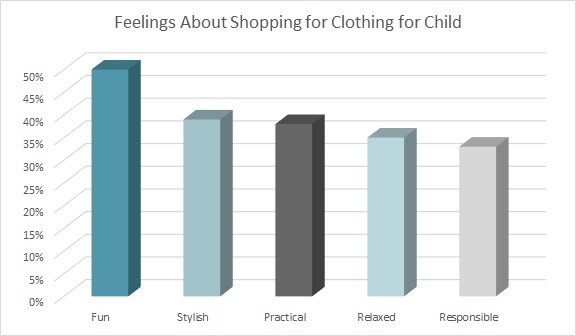 Babies, on the other hand, have no say in what they wear and toddlers, not much more. That gives parents all sorts of leeway to play dress-up with their own living dolls. It makes sense then that ScrapeHero reports that babies (0-to-3 years old) have the highest number of products (13.3k) and that market was expected to be worth $8.4 billion in 2019. Girls had the second greatest number of products at 9.30k, followed by boys at 7.4k.
Mintel says moms are more prone to being thrifty, while fathers like to express their sartorial side when picking out kids' clothes. And overall, the top inspiration for a purchase comes from what is requested by the child (69 percent), according to the Childrenswear Study. That's followed by retail store displays, salespeople and window shopping (50 percent), "people I see regularly including children of friends and family" (36 percent), retailer, brand, or ecommerce sites (30 percent), and social media sites (29 percent). It should be noted that the social media sites see a big spike among parents of one-year-olds (43 percent).
More than one-half of all parents (51 percent) say fabric has "some/a great deal" of influence on their purchase, according to the Childrenswear Study. And 83 percent of parents check fabric content at least some of the time before purchasing kids' clothes, with 2 in 5 checking "always/usually."
When it comes to fabric preference for their child's clothes, cotton is the preferred fabric overall. More than three-quarters (78 percent) prefer cotton for their kids' underwear and undershirts, while 77 percent prefer it for shirts or tops, such as tees, tanks, dress shirts, and sweatshirts, according to the Childrenswear Study. Additionally, 71 percent prefer cotton for their kids' bottoms, whether its pants, leggings, denim jeans, or shorts.
When seeking apparel for their children, the Childrenswear Study respondents say the most important factors are that the clothes are "comfortable for my child" (96 percent), "does not chafe or irritate my child's skin" (76 percent), "functional/allows my child to move/play" (70 percent), durable or long-lasting (62 percent), is high quality (60 percent), and "is a style my child will wear" (60 percent).
Increasingly, parents are springing for premium children's brands. GIA says this stems from the fact that even though the birth rate is declining, "the increased resources available per child is helping increase per capita spending." This can be seen in the increase in "Mom & Me" outfits for mothers and daughters. The market is also seeing demand for non-gender specific clothes, according to GIA, as well as durable apparel made from environmentally friendly materials and extended-size apparel for children. It's also feeling the influence of advergaming (advertising in video games), viral marketing, and social media advertising aimed at children.
Speaking of viral, Edited analysts say retailers should be poised for the spread of Baby Yoda merchandise. The character is officially known as The Child in the new Disney+ series, "Star Wars: The Mandalorian." Officially licensed apparel and accessories is being made available through a variety of retailers, including ShopDisney, Amazon, Target, Kohl's, Walmart, and Macy's.
"Unlike many other memes that are short lived, Baby Yoda's popularity has rolled into 2020 with retailers tapping the character for merchandise," Edited noted. "If you have a license for Baby Yoda, then graphic T-shirts are the easiest and most popular way to capitalize on the character."
The tops category is the most popular among children's clothes (19.8k), according to ScrapeHero, with bottoms following at 6.3k.
Since so many tops are purchased, parents say they like to buy clothes for their kids that include positive messages (88 percent), according to the Childrenswear Study. That's followed by parents who just want their kids to be comfortable, "even if I don't like his/her style" (85 percent).
Mintel's Alexis DeSalva, retail and apparel analyst, says that although the children's market faces some challenges due to declining birth rates, the market remains steady.
"Retailers need to find ways to evolve the meaning of value and convenience for parents, especially as they do more shopping online," she states. "Further, looking to existing shoppers to drive incremental sales will be important for maintaining ongoing engagement. Retailers need to consider parents' and children's style preferences, especially as kids play a big role in purchase decisions. Those that capture the attention of parents and their kids have a chance to encourage additional self-purchases from parents and retain children as loyal customers when they transition to independent shoppers."
Related posts