Unemployment numbers are down and summer retail sales are up in the U.S. A good portion of the purchasing increase may be related to a seasonal boost, but certain gauges are indicating this could be a more long-term increase in economic optimism.
[quote]The latest U.S. jobless rate declined to 6.1%, according to the Labor Department, a decrease from 7.5% a year ago, and the lowest figure since July 2008. Existing home sales rose 4.9% in May, the latest figure available. While it's 5.6% below last year's rate, it's a strong increase from this year's first quarter. And one of the strongest indicators comes from The Conference Board's Consumer Confidence Index, which stands at 85.2, up from 82.2 the month before, and the highest reading since January 2008, when it stood at 87.3.
The International Council of Shopping Centers reports June chain store sales posted a strong increase of 5.9% over last year.
"There's a lot of pent up demand now — that's the situation we're in," says Jesse Tron, ICSC spokesperson. "In many parts of the country, especially in the Northeast, we had a very harsh winter and that impacted sales. Also, we had a winter that actually extended — from a cold weather standpoint — into March and April here in the Northeastern states, and that pushed off demand for spring/summer apparel. When the weather warmed up, that's when consumers got into spending. We'll continue to see with the shortened window of summer, that demand will continue into Back-to- School and the holiday season. If gas doesn't go way out of control, we're looking at pretty positive picture from the consumer."
Nearly four out of 10 consumers (38%) say they are "very or somewhat optimistic" about the U.S. economy, flat from last year but up significantly from 34% in 2011, according to the Cotton Incorporated Lifestyle Monitor™ Survey. Men (41%), consumers ages 25-to-34 (42%) and those making $75,000 or more per year (44%) are significantly more likely than their counterparts to be optimistic about the U.S. economy.
The National Retail Federation's Jack Kleinhenz, chief economist, says aside from seeing improvement in the fundamentals — income, employment and consumer confidence — the economy is benefiting from a rally in consumer credit.
"Credit card use is at a post-recession high," Kleinhenz says. "Personal income is up, as people have seen an increase in the net worth of their homes or investments. It's provided them with the confidence to spend and they're using their cards again. It's not as strong as in the past pre-recession, but it's still increasing. And banks are soliciting credit card applications, so that's all part of the mix."
When looking at their own personal financial situation, 50% of consumers say they are "very or somewhat optimistic," up from 48% in 2012 and 47% in 2011, according to the Monitor. Again, men (53%), consumers ages 25-34 (59%) and those making $75,000 or more per year (61%) are significantly more optimistic than the average consumer.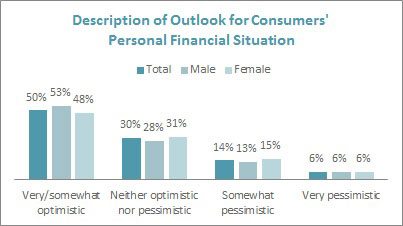 In the U.S., consumers say clothing (29%) is their top item of choice to shop for, followed by electronics (23%), groceries (26%), shoes (11%), cosmetics (5%), fashion accessories (4%) and home fabrics (2%), the Monitor shows. On average, consumers spent $71 on apparel in the past month.
Kleinhenz says if home sales enjoy a good summer selling season, it will go a long way toward improved outlooks for the remainder of the year. However, geopolitical risks could pose a downside.
"Whether it's the situation in Ukraine, tensions in the Middle East, or concern over ISIS, these could prove to become a confidence speed bump for everyone, business and consumers alike," he says.  "These are all hotbeds that turned up in the last three or four months that could pose concerns."
Tron adds that problems in the Middle East could lead to issues with gas prices. Heading into July 4th, the average U.S. gasoline price had risen to $3.70 per gallon, its highest level for that holiday since 2008. Prices have since dropped 4 cents per gallon after Libya increased production.
"So far, we don't see an issue there," Tron says. "I don't know how high gas prices have to go before we have a problem, but people need gas to get to work and get places, and some people will be hurt more than others. So if it increases dramatically, it would dampen the consumer's ability to spend elsewhere."
Tron adds that if any stores see a decrease for July and August, it's actually natural.
"June is the second largest volume for store sales because people are excited about summer, outdoor activities, and we see the drive up in sales then.  Meanwhile, in July and August, consumers are enjoying their June purchases so they're not shopping as much — until it's time for Back-to-School."
Kleinhenz says stores should expect "a good solid summer season." But he adds that this season's strong sales go beyond sunny skies.
"Consumers have been feeling more optimistic and while they associate that with the weather, it also has to do with the stronger labor market. Workers think, 'I can take a vacation now that I'm up to 40 hours a week,' or, 'Hey, my co-workers aren't getting laid off left and right.' That kind of breathing room is important for the spirit."