The fireflies may be swirling, and lines at the ice cream stand are long. But for many a parent, summertime is Back-to-School (BTS) season. For some, it's a matter of practicality. See, even though plenty of kids on the East Coast are happily splashing in the ocean waves for almost two more months, students in Chandler, AZ, head back to class July 23; Macon County, AL, starts the year Aug. 7; and Amherst, NE, begins Aug. 15. Add Amazon's 48-hour Prime Day into the mix (held July 15-16), and stores have good reason to be geared up for all things school.[quote]
"Retailers are continuing to promote Back-to-School products and promotions early to capitalize on sales," says Edited's Kayla Marci, market analyst. "July events such as Amazon Prime Day and Target's 'Deal Days' are an incentive for parents to start shopping Back-to-School earlier. Edited has recorded retailers communicating Back-to-School shop edits and discounts earlier over time. Target and Joe Fresh stand out as retailers are sending BTS emails at least two weeks earlier than the year prior."
Clothing is the top purchase for back-to-school shoppers (93 percent), followed by school supplies (88 percent), shoes (85 percent), accessories (32 percent), electronics (27 percent), and sporting equipment (22 percent), according to Cotton Incorporated's Lifestyle Monitor™ Survey.  Shoppers plan to spend $312 on BTS clothes (which is 13 percent more compared to last year), with $371 being spent by males and $280 by females.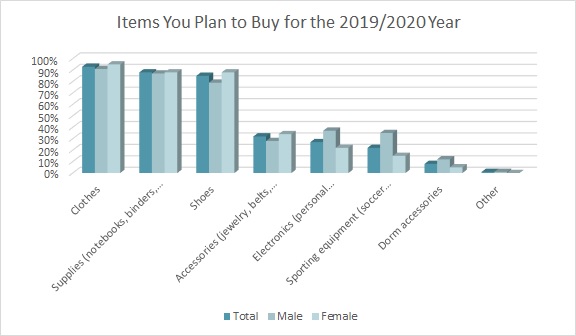 The months-long BTS season is the second-biggest shopping time of the year, behind only the holiday period. Last year, back-to-school spending was expected to reach nearly $83 billion, according to the National Retail Federation (NRF).
A survey from Kelton Global that was commissioned by RetailMeNot predicted BTS spending would increase 9 percent this year. But Retail Metrics' Ken Perkins, founder and research analyst, says he expects mid-single digit growth over last year, to $85 billion-to-$86 billion for the 2019 season.
"That's obviously less than the $600-plus billion spent over the holidays but it's still a significant number," he said in a June broadcast on WBBM radio.
For the 2019 school year, more than 3 in 5 parents (64 percent) planned to shop Amazon on Prime Day, spending about $162, according to the Kelton Global/ RetailMeNot research. And 89 percent of Prime Day shoppers were expected to make at least one back-to-school purchase.
This season, the NRF says more than 55 percent of BTS and college shoppers said they were planning their purchasing around sale events like Prime Day, 4th of July, and Labor Day.
In an effort to compete with Amazon's self-made shopping holiday, other retailers offered their own deals. Ebay promoted three weeks of discounts in July, plus a "Crash Sale" on July 15, where some items were marked at 80 percent off. "Target Deal Days" coincided with Prime Day, and shoppers — who don't need a membership — were reminded they could buy online and pickup in store the same day or get same-day delivery. Additionally, Walmart bookended the sale extravaganza with discounts on "thousands" of items from July 14-17.
But Amazon also took on its challengers with a new "Happy School Year" store, where shoppers could find everything BTS, from crayons to laptops to back-to-school clothes.
The BTS season ends up lasting for months because shoppers buy two-thirds of their apparel (66 percent) before the first day of school, according to Monitor™ research. The remainder is purchased a few weeks (18 percent) and a month or two (16 percent) after the first day of school. But the start dates vary throughout the country.
"In the U.S., schools in the Northeast and East/North Central areas start later. Schools in the South Atlantic and West tend to start earlier," said NPD Group's Leen Nsouli, industry analyst, in a BTS webinar. "This year, you can actually expect potential shifts in Michigan, where school districts are lobbying to start earlier before Labor Day for the first time. Also, Jefferson County schools from Alabama have already announced a later start due to some of the construction happening there. So those are micro things happening that you might want to pay attention to."
"Knowing when school starts around the U.S. and the volume size of that market can really help you better align your marketing, your advertising spend, and the right timing and location. This is especially true if you're a more regional retailer, and a larger portion of your success depends on having a strong early or late start strategy to capture sales."
Whenever consumers start their purchasing, retailers should keep in mind that most shoppers (71 percent, flat from 2018) still plan to buy their clothes in store, while just over a quarter plan to buy online (29%, flat from 2018), according to Monitor™ research.
More than 3 in 5 back-to-school apparel shoppers (63 percent) plan to buy clothes at mass merchants, followed by specialty stores (49 percent), chain stores (48 percent, down significantly from 63 percent in 2018), and off-pricers (47 percent), according to Monitor™ research. Consumers buying BTS clothes for themselves are more likely than parents to shop at department, online, and thrift stores while parents buying for kids are more likely to shop at mass merchants and chain stores.
Sales tax holidays also help spur BTS shopping. This year, 17 states will participate in designated days during the back-to-school shopping period where they won't charge taxes on apparel.
Regardless of where their children attend school, fully 80 percent of BTS shoppers prefer their kids be dressed in cotton, according to Monitor™ research. The majority prefer their kids' tees (83 percent), sweatshirts (76 percent), school uniforms (66 percent), jeans (65 percent), skirts and dresses (62 percent), and casual pants (52 percent) be made from cotton. The majority of BTS shoppers say they would be willing to pay more for their child/children's apparel if it had stain resistance (69 percent), shrink resistance (67 percent), durability enhancement (65 percent), odor resistance (60 percent), fade resistance (58 percent), wrinkle resistance (57 percent), and stretch (51 percent) performance technologies compared to clothes without those features.
The top clothing items for back-to-school are shirts/tops (88 percent), socks (75 percent), pants (70 percent), jeans (68 percent, down significantly from 78 percent in 2018), shorts (56 percent), outerwear (55 percent), and undergarments (50 percent), according to the Monitor™ research. BTS apparel shoppers plan to buy on average (for about two children) 11 shirts, 10 undergarments, 9 socks, 6 pants, 5 sleepwear pieces, 5 leggings or jeggings, 5 jeans, and 5 activewear items.
"Similar to popular trends already gaining traction in this market, athleisure, and licensing stand out as trends we can expect to see targeted at all age groups during this time," Edited's Marci says. "Mixing nostalgia and new, collaborations with popular series such as Stranger Things resonate well with teens. For younger age groups, film releases such as Toy Story 4 present as a licensing opportunity for this time."