Millennials and Gen Z consumers are said to have a "social first" mindset, where they care about how something is made, what it's made of, who makes it and the manufacturing conditions.
In "The Gen Z Playbook," a manual presented by PSFK, the retail research consultancy, and Suzy, the real-time consumer polling platform, the two generations said they seek brands whose values align with their own, even if the preferences vary between the two groups.[quote]
"When asked to choose the most important trait for a brand to have, 58 percent of Gen Z choose a brand's purpose, values and mission, making it their number one most important trait," the Playbook states. "Whereas Millennials rank it as their third most important trait."
Millennials, born between 1981 and 1996, constitute 22 percent of the population, according to Statista. The research and analytics firm estimates that collectively, this generation's spending power will have grown from $600 million in 2013 to $1.4 trillion in 2020, representing 30 percent of total retail sales.
The younger Gen Z, or those born from 1997-to-2012, spends an estimated $143 billion a year. But with a population of 90.5 million, Statista rates it as the largest generation in the U.S., accounting for nearly 28 percent of the population. Considering this group is aged just to 8-to-23 years old, it's clear they will have an astonishing amount of purchasing power within the next decade.
That's why brands should be making an effort now to up their sustainability game. More than one-third (35 percent) of Millennial and Gen Z (36 percent) consumers say they put an effort into finding clothes for themselves that are labeled as "sustainable" or "environmentally friendly," according to the Cotton Incorporated Lifestyle Monitor™ Survey. That compares to 28 percent of Gen X shoppers and 32 percent of Boomers.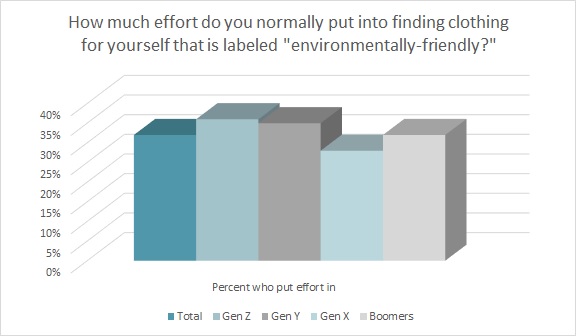 Additionally, about 2 in 5 of Millennial (38 percent) and Gen Z (40 percent) consumers say they are "very or somewhat likely" to pay full-price for a clothing item that is made in a sustainable or environmentally friendly manner, according to the Monitor™ research.
A.T. Kearney's Future Consumer Report found that 57 percent of Gen Z consumers say they want products that are environmentally sustainable. But brands should not confuse the younger set's willingness to pay full price with paying more for it.
"Our survey revealed Gen Z puts a high priority on sustainability and eco-friendly products," said Greg Portell, A.T. Kearney's global lead of consumer goods & retail. "Now, this by itself isn't new and revolutionary information. But what we did find is that the group is unwilling to pay. In the past, that had been filtered through with a look and a view that they just aren't able to pay. But what our survey found is that they now expect eco-friendly and eco considerations to be built into design. So where in the past, a consumer products company or a retailer may have created a line of products and then looked to charge 10 percent, 15 percent more because they had certain sustainability aspects, that proposition no longer holds. Because the expectation of Gen Z is that those considerations are already part of the decisions, and the manufacturing and design processes that led the products to get into their realm of consideration to start with."
Among Gen Z shoppers, A.T. Kearney found just 33 percent strongly agreed/agreed they would be willing to pay a premium for sustainably packaged products. This, the firm says, "puts the onus back on brands to figure out how to get the value equation right."
When it comes to social and environmental issues, the top concerns for Millennial and Gen Z consumers are water quality (78 percent) and food contamination/safety, according to the Monitor™ research.
Yet microplastic particles from synthetic apparel are swirling in virtually every body of water and making their way into kitchen taps and even food on the dinner table. The National Institutes of Health says it is estimated that yearly between 4 million and 12 million tons of plastic go into the oceans and seas. Of that, 1.5 million tons come from microplastics. The International Union for Conservation of Nature and Natural Resources found that 98 percent of the microplastics are generated from land-based activities, the largest being the laundering of synthetic textiles. According to the Wall Street Journal, it's the equivalent of 50 billion plastic water bottles being thrown into the ocean every year.
The synthetic microparticles are also like plastic bottles or the much-maligned plastic straws in that they are not biodegradable. On the other hand, natural fibers like cotton degrade much more quickly. Cotton's biodegradation stems from its cellulosic nature, meaning it's an organic compound. A study from Cotton Incorporated, the Cotton Research and Development Corporation in Australia and North Carolina State University compared the degradation rates between polyester and cotton in a wastewater environment. After 243 days, cotton showed 76 percent degradation, while the polyester fibers had just 4 percent degradation.
The clothing industry should take note that both Millennials and Gen Z consumers both overwhelmingly say cotton is their favorite fabric to wear (78 percent), according to Monitor™ research. The next favorite fibers were polyester, at only 3 percent, and silk (2 percent).
PSFK says brands and retailers should realize that the younger generations of shoppers want to do better — but they want companies to help them. Those that do, stand to benefit.
"The rules are fairly simple," PSFK states. "Be authentic, put actions to words, embrace diversity, and be prepared to roll up your sleeves and do a little good in the world."