The recent PROJECT New York show held a fireside chat with the description "fashion is ever changing and in its current iteration is making space for gender fluidity." The message was clear: Stores and brands that embrace gender fluid apparel and merchandising stand to have broader customer appeal.
For the uninitiated, the PROJECT show's chat was a lively course on how to reach consumers who don't necessarily want gender-specific clothes.
So fluid fashion is about having that freedom, and not feeling like you are hardbound to a certain type of clothing. You should feel free to express yourself in any way that shows who you authentically are."

Travis Weaver
Founder, One DNA Clothing
"It's about the freedom of choice of what you want to wear and not limiting yourself to the binary of what we've been constructed to wear," said Travis Weaver, founder of One DNA Clothing, in describing what gender fluid fashion means. "It's like breaking the binary and feeling like you're not so bound to what our society is told. In the Western culture, a man has to wear a business suit. But in an African country, a man will wear a different garment that in Western culture would be considered a dress. So fluid fashion is about having that freedom, and not feeling like you are hardbound to a certain type of clothing. You should feel free to express yourself in any way that shows who you authentically are."
Rob Smith, founder of The Phluid Project, a gender-free fashion, activism, and education brand, compared the word fluid to navigating between two spaces like water in a river.
"It flows easily back and forth," Smith said at the PROJECT event. "And if you think about each side of the river being a construct, whether it's gender, religion, race or age, our ability to look at each of these and say, 'Am I this or that, or am I this and that,' I think a lot of us are more 'this and that.' Being curious and authentic is what brings that out."
The majority of consumers (70 percent) say they would like if apparel brands and retailers were more inclusive in both their products and their advertising, according to the 2019 Cotton Incorporated Lifestyle Monitor™ Survey. And more than 8 in 10 consumers (83 percent) say they would like the fashion industry to offer additional fits and sizes.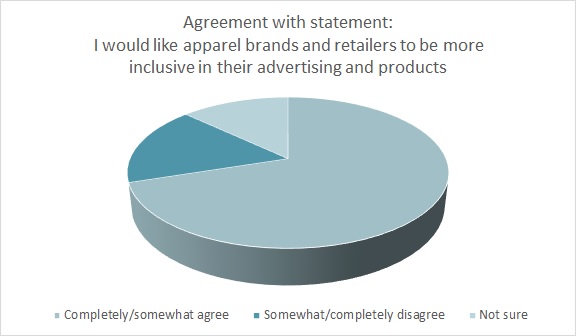 An NPD Group survey found 40 percent of U.S. consumers said they have purchased clothes or footwear outside of their gender identity, according to Kristen Classi-Zummo, director, industry analyst, apparel.
"The top reasons for these purchases were size and fit (22 percent), comfort (21 percent) and price (16 percent)," states Classi-Zummo. "The active and comfort movement that has gained momentum over the past few years is helping to broaden the gender-neutral trend. In addition, personal reasons are also involved, such as purchases that are actually 'social statements' or 'align with gender expression,' which applied to 5 percent of respondents. While this figure may seem small, this trend is gaining attention, as social movements have also been a catalyst for self-expression — breaking the mold of outdated concepts of gender identity."
Weaver said One DNA is appealing to consumers through its extended sizing. But the brand is also working to educate customers about how One DNA's sizing works.
"We're really conscious of communicating sizing, measurements and showing the clothes online on a diverse group of people," Weaver said. "We do offer a relaxed fit, and our pants have an elastic waist to accommodate the different sizes."
Relaxed fits and stretch waistbands hold a universal appeal for today's consumers. When it comes to the factors in a clothing purchase decision, shoppers listed comfort (95 percent) and fit (95 percent) at the top, according to Monitor™ research. Those factors are followed by price (89 percent), durability (89 percent), style (85 percent), and color (83 percent).
While selling gender fluid fashion has its rewards, it isn't without its challenges. Weaver said the fashion industry is still very binary, and it keeps its marketing separate, as well.
"So, we have to push the buyers a little bit and educate them on what it could look like if the clothes are placed on multiple sections of a company's website," he said. "It's really rewarding to work with the buyer and let them know that they will have more people to sell to."
Weaver and Smith pointed out that gender fluid merchandising could work across all areas of retail. Currently, consumers purchase their clothes at mass merchants like Walmart and Target (59 percent), according to the Monitor™ research. That's followed by Amazon (46 percent), chain stores like Kohl's (40 percent), department stores (34 percent), specialty stores like Gap and American Eagle (33 percent), and off-price retailers (33 percent).
Smith agreed that retailers still predominantly segregate their in-store men's and women's departments, but said there are ways to overcome that, even in established brick-and-mortar locations.
"There are people who shop men's, and those who shop women's and that's where they're comfortable," he said. "I like to add a third section. If you're an existing business, create a little space in the middle and do an all-gender shop.
"A lot of it is how you tag the product, too," Smith said. "Maybe a sweater could be tagged as men's and women's. Some products are all-gender, but they will be sold exclusively to women. I think it's about communication, and you must learn to communicate differently. Even when I work with big box retailers, I say, 'Why don't you take down women's dresses and just say dresses? Instead of men's suits, make it suits.' It changes the game. You're growing your business by inviting more people into your space."