After two-and-a-half years of dealing with a pandemic, nerves are frayed. That's why anything retailers can do to make shopping easier isn't just welcome, it can cement relationships and grow business with today's customers, according to industry experts. [quote]
Fusion BPO Services' Peter Giglio, director of sales, says retailers are challenged by hiring and retaining talent, as well as choked supply chains – two major factors that can impede customer service and influence the customer.
As marketing, commerce, sales and service teams innovate on their individual states of the lifecycle…it's critical organizations don't lose sight of how it all fits together."

State of the Connected Customer
Salesforce
"When we talk about workplace challenges, some of the things we hear include, 'I can't achieve the same results because my entire staff is working from home,' or 'there's not the same talent pool today as there was two years ago,' or 'the work staff is overwhelmed because we're understaffed,'" Giglio said in a recent Retail Customer Experience webinar sponsored by Fusion BPO Services. "When we talk about the many different challenges that occur, the customer just gets confused and it creates a crisis of confidence. They may really like doing business with a company but they feel they're a decreased priority. They might wait on hold 5, 10 – sometimes I've waited 40 minutes. Their questions might be answered slowly or not at all. It just really generates a poor customer experience. We sometimes feel overwhelmed, but customers just really feel unimpressed."
Whether it's in-store or online, great customer experiences can make all the difference to consumers. A recent report from Salesforce finds a positive customer experience makes 94 percent of shoppers likely to purchase again.
More than half of all consumers (58 percent) say the events of the past few years have changed the way they will shop for clothes in the future, according to the 2022 Cotton Incorporated Lifestyle Monitor™ Survey. This means brands and retailers need to factor these new preferences into the customer experiences they provide if they would like to endear themselves to today's shoppers.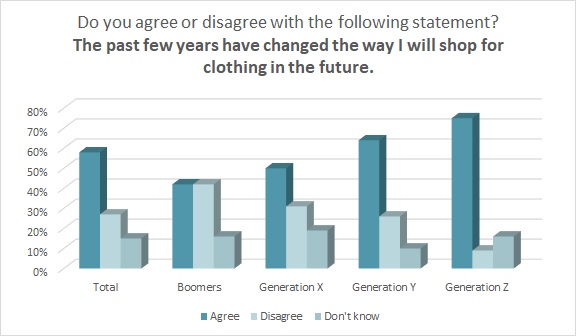 These new consumer preferences include shopping for more clothes online (47 percent) and trying to purchase more during sales and promotion periods (41 percent), according to the Monitor™ research. Consumers have come to rely on product recommendations based on their browsing and purchasing habits, as 45 percent currently use them and 21 percent expect to do so in the future. They have also become fans of curbside pickup, with nearly 4 in 10 currently using it (39 percent) and 22 percent planning to use it in the future, according to the Cotton Incorporated Coronavirus Response Survey (March 2022, Wave 10). They also appreciate live chat customer service, as 37 percent use it now, and 17 percent plan to in the future.
A report from Salesforce Research states customer experience is digital-first now. But the company says however consumers choose to engage, "customer expect flexibility and a thoughtful, personal touch." The report found that 83 percent of customers expect to interact with someone immediately when they contact a company. They've also taken to using self-service support options, like account portals or chatbots for simple customer service.
Knowing what consumers want and offering that to them via product recommendations comes through the use of artificial intelligence (AI). Salesforce says more than half of all consumers can now point to examples of AI they use every day, like voice assistants or auto-generated playlists. And overall, they trust that businesses will use AI ethically (57 percent) and are open to it benefiting their overall experience (69 percent). Further, the report found that 46 percent of shoppers would share their style preferences to get tailored rewards.
To that end, 45 percent of consumers say they wish apparel brands and retailers knew more about what they like and how they shop, according to Monitor™ research. And nearly three-fourths of all shoppers (70 percent) say they would like if brands and retailers gave them recommendations based on their purchase history.
The Salesforce report found 68 percent of customers have purchased products in new ways over the past two years. Additionally, 88 percent of customers feel the experience a company provides is as important as its product or services, up from 80 percent in 2020. The tricky part for stores and brands, though, is 43 percent of shoppers prefer non-digital channels, meaning retailers and brands must offer great experiences both online and in-store. And online isn't just on a company's website. More than half of the Salesforce respondents (57 percent) say they've shopped via social media and 61 percent expect to do so even more in three years.
This increased use in social media shopping tracks, as 63 percent of consumers say they're using sites like Facebook, Instagram, and Twitter more than before the COVID-19 pandemic, according to the Cotton Incorporated Coronavirus Response Survey (December 2021, Wave 9).
This increased usage has made consumers comfortable reaching out to brands directly through their social platforms. Fusion's Giglio said 70 percent of consumers prefer a variety of options – including social media — when they're communicating with brands.
"We're finding 66 percent of Millennials are now using social media as their way of communicating with companies," Giglio said. "So, as we work through a lot of solutions, that's something that we always recommend. But we're finding this is a gap for a lot of companies today, using social as a communications channel."
Between social, chat bots, AI, supply chain, and in-store associates, there are a lot of moving parts for stores and brands to deal with. But Salesforce points out that great customer experience is more than just the sum of its parts. It finds that 83 percent of customers say they're more loyal to companies that provide consistency across all departments. Unfortunately, its report found many customers still experience a disconnect between them.
"As marketing, commerce, sales and service teams innovate on their individual states of the lifecycle," the Salesforce report advises, "it's critical organizations don't lose sight of how it all fits together."