If there's one thing that sustained its popularity over the long course of the pandemic, it's that fashion stalwart: denim jeans. The bottom continues to be a go-to not just here in the U.S., but in countries around the world. And while international consumers share many of the same sentiments about denim, countries also have their own preferences and planned spending patterns that could prove meaningful for the many denim brands that populate the category.[quote]
Globally, the denim jeans market is expected to grow from $64.5 billion U.S. dollars in 2022 to about $76.1 billion by 2026, according to Statista. The consumer data firm says this projected increase "is unsurprising" considering the entire denim fabric market is set to grow, as well.
Earlier this year, The NPD Group explained this enduring affection toward denim jeans when it rolled out its inaugural Denim Retail Performance Awards.
Jeans were among the first clothing items to rebound after 2020, as consumers sought a wardrobe refresh and craved the latest fashion trends to make their debut back into public life," said the NPD Group's Susan Merrill, president of fashion apparel. "Offering a variety of styles and options catering to consumers' demands for comfortable clothing that can be dressed up or down, jeans manufacturers continue to be leaders in innovation."

Susan Merrill
President of Fashion Apparel, NPD Group
Innovation can look like denim "sets," where a floral or pieced denim jacket matches the bottom, like at Mavi. They were showing at the recent Coterie New York show at the Jacob Javits Center. Lisa Fink, Mavi's senior national sales manager, said the brand's customers are not looking for basics. Instead, they want embellishments, colored denim like pink, green, flaxen, and bleached blue shades. As for ripped or frayed styles, "Some accounts are all about it, some don't want it. It's territorial," Link said. "And of course, everybody wants a wide leg."
Yes, after reigning for many years, the skinny jean was dethroned in 2021 as the best-selling style for U.S. women, according to NPD. That silhouette change happened around the world, as well. The Cotton Council International (CCI) and Cotton Incorporated's 2021 Global Denim Survey was conducted in the U.S., the U.K., Germany, Spain, the Netherlands, France, Italy, India, Mexico, and China. The research shows the most popular silhouettes around the globe are regular (37 percent), slim (34 percent), straight (33 percent), skinny (31 percent), and relaxed (27 percent).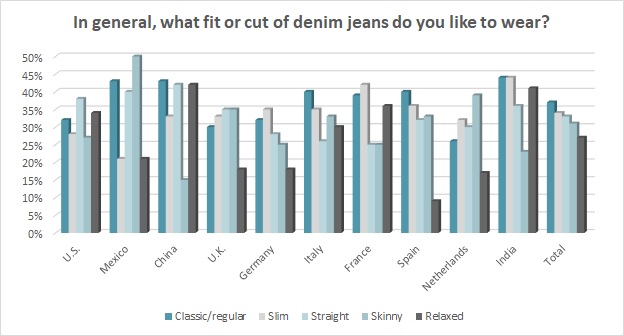 NPD's Maria Rugolo, apparel industry analyst, said consumers made the silhouette switch because after spending so much time at home during the pandemic, they wanted something they didn't already have in their closets. Since COVID began, 37 percent of consumers worldwide say they're wearing denim jeans more than, according to the Global Denim Survey. Almost half (49 percent) are wearing jeans the same amount as before while just 14 percent are wearing them less. Half of Mexican consumers (50 percent) are wearing denim more, and more than half (53 percent) of Chinese consumers are doing the same. That's significantly more than the number of U.S. consumers (34 percent).
Of note, 82 percent of global consumers say cotton is their favorite fiber to wear for denim, according to the Global Denim Survey. That is trailed by polyester at 10 percent and rayon at 8 percent. At 91 percent, Italy showed a significantly higher favoritism toward cotton.
Compared to manmade fibers, consumers around the world say that jeans made with cotton are the highest quality (72 percent), authentic (70 percent), soft (68 percent), reliable (68 percent), comfortable (67 percent), last the longest (66 percent), breathable (66 percent), and sustainable (66 percent), according to the Global Denim Survey.
Mexican consumers have a great enthusiasm about denim. They own an average of 16 pairs of denim jeans, the most of any country, according to the Global Denim Survey. Further, most Mexicans (55 percent) plan to buy more denim this year and 41 percent plan to purchase the same amount as last year. Just 4 percent expect to buy less. India comes in second in denim jeans ownership, with an average of 12 pairs. This year, 52 percent plan to purchase more – the highest of all countries surveyed, while 44 percent plan to buy the same amount as usual and 4 percent plan to purchase less. In contrast, consumers in the U.K. own 7 pairs on average, the fewest of any consumers. Just 29 percent plan to purchase more this year, while 60 percent plan to buy the same amount and 11 percent plan to buy less.
Among the remaining countries (U.S., Germany, Spain, Netherlands, France, Italy, and China), consumers own an average of 10 pairs of jeans, according to the Global Denim Survey. One-third (33 percent) plan to buy more denim this year, 57 percent expect to purchase the same as previous years and 8 percent expect to buy less.
Consumers looking to buy fresh styles will have plenty of newness to choose from, too, based on further vendor offerings at the Coterie show.
"We have denim painters, cargos and jeans with wider legs," said Julian Medina, president of Current Elliott. "Buyers are interested in higher waistbands and trouser fits."
And at New York-based Driftwood Denim, it's all about embroidery and novelty, according to Randi Goldman, president of sales.
"We have a couple of groups that have been amazing with our brightly colored embroideries," Goldman stated, adding that the brand appeals to women ages 30-to-75. "Wide legs are trending and we're doing really well with flair legs. Compared to what sold before and during the pandemic, everyone now is looking for something different. Basics are out; it's novelty that's in."
Learn more about global denim trends.