It seems the hoteliers of the world have long known what science is now proving: when it comes to bedding, the preferred fabric is 100% cotton.
[quote]A research project called "Skin Talk," conducted by AAT Research, presented the study of subconscious brain activity while exploring different fabrics — and the production of "musical signatures" through this brain activity. The bottom line showed that when study participants held 100% cotton, their brainwaves exhibited positive levels of brain activity.
This doesn't come as a surprise to Roxana Hayda, director of housekeeping at a luxury boutique hotel in downtown Manhattan. She says AAT's findings are "absolutely" consistent with the linens used for her guests.
"It's not even an issue," Hayda states, saying cotton is the obvious choice both for its comfort and durability.  "Especially in any luxury property, you will have cotton sheets.  What other kinds are there? Synthetic fibers can be scratchy. There's flannel, but those aren't really an option for us because that's not the way you want to present a luxury hotel. Then there's silk, but how do you launder silk sheets?  Most you'd dry clean. And it is also an acquired taste.  A hotel has to appeal to most consumers."
And among the masses, more than three-quarters (76%) of all consumers prefer their sheets be made of all cotton, with another 5% seeking cotton blends, according to the Cotton Incorporated Lifestyle Monitor™ Survey. These are followed by silk (3%), satin (2%) and flannel (2%). According to Cotton Incorporated's Retail Monitor™ Research, 72% of sheets at key U.S. retailers are 100% cotton.
Crane & Canopy, a San Francisco-based online bedding brand, only uses extra-long staple cotton for its designer bed linens, duvets and luxury sheets, according to Karin Shieh, co-founder.
"The decision to use 100% cotton was an easy one," Shieh says. "Cotton is incredibly cool and breathable, easy for consumers to handle and wash, and when woven in single ply and single pick (yarn), will last for years to come."
In the AAT study, researchers studied brain activity when participants held different fabrics. The study showed how Delta, Theta, Alpha and Beta waves present different characteristics that directly represent specific levels of brain activity linked to what a person is doing, feeling or thinking. The experiment revealed a significantly elevated level of Beta wave when participants held fabrics that were 100% cotton. Beta waves are fast waves associated with excitement, alert attentiveness and adrenalin. Other fabrics revealed an elevated level of Theta wave. Theta waves are associated with feelings of boredom and a lack of excitement.
The positive reaction to cotton's hand-feel bears out the fact that nearly six out of 10 (59%) consumers say softness is very important to their sheet purchase, the Monitor finds. That's followed by price (55%), durability to laundering (54%) and how long the sheets last (53%). On average, consumers expect a quilt to last about 8 years, a blanket and comforter to last about 6 years, and a single sheet or sheet set to last about 4 years.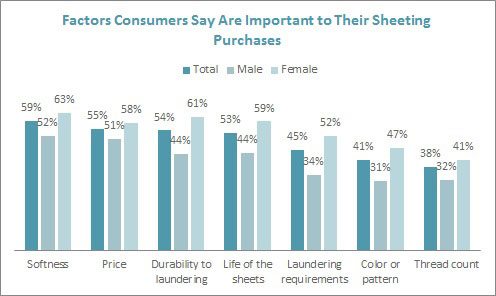 In a hotel's case, Hayda says sheets should last for 75 washes — and top quality sheets can be kept in circulation longer exclusive of stains and rips.
"In a hotel, you'll have three to five sheet sets for each bed. One is in the laundry, one is on bed, one in transit, and so on — they're always in use or being cleaned so durability is a must," Hayda says.
Nearly four out of 10 (38%) consumers are concerned with thread counts, with some people thinking the higher the thread count, the softer and more durable.  Shieh says that's true, but only to a point.
"Thread count refers to the number of threads woven into one square inch of fabric.  While thread count is a good indicator of the quality to expect, other factors like type of materials used, the weave and the finish all affect how the fabric feels," Shieh notes.  "A high-quality sheet or duvet set will usually range between 300-430 thread count. Anything higher is creative counting — either through ply or pick — or finishing and softening methods, all of which do not add to a higher-quality product."
Hayda agrees. "If you're using really long strand cotton, it will take a long time for the weave to loosen because the thread is so long. In fact, 250 thread count can be absolutely luxurious if it's the right cotton."
Among the features consumers look for when shopping for new sheets, 53% of Monitor respondents say they want product that doesn't pill, followed by little/low-linting (52%) and wrinkle resistance (51%).
"Our average consumer is actually quite educated when it comes to knowing what she wants in her bedding," Shieh says. "She understands value when she sees it."
During the cotton price spike of 2011, Shieh says high-end rayons were considered an alternative to cotton.  Now, however, "given current prices, 300-400 thread count woven long and extra-long staple cotton is the best material to deliver superior hand feel, durability, and breathability – all at a reasonable price."