The Gen Z versus Millennial denim war over skinny versus loose-fit jeans is the best kind because there are no real losers. Well, unless you wear skinny jeans, which automatically makes you "not cool," according to Gen Z. But we digress. The Denim War is putting jeans front and center for the Fall 2021 fashion conversation, and that actually makes it an opportunity for brands and retailers. [quote]
It's kind of funny, though, that Gen Z is now claiming ownership of the loose fit denim trend, considering roomier denim was touted years ago in fashion circles. The Zoe Report was styling low-rise, baggy denim with barely-buttoned cardigans in 2017. Who What Wear credited Gigi Hadid's decision to step out in vintage Danielle Guizio jeans — roomy and high-waisted — with creating anti-skinny jean buzz back in 2018. And Jennifer Lopez wore dark-wash paperbag waist jeans in 2019 during a visit to Jerusalem.
But young users of TikTok, a social media platform that became even more popular when the world was in COVID lockdown and people had nothing better to do but check out new apps, decided skinny jeans were super old and needed to go away because, well, they had nothing better to do as the pandemic wore on.
The NPD Group's Maria Rugolo, director and industry analyst of fashion apparel, explained Gen Z's exasperation with the skinny jean. "Millennials who wear skinny jeans are trying to look younger, but instead wearing them really signifies the exact opposite (in their opinion)." Of course, Millennials got their backs up, which quickly had the younger set declaring them (clutch your pearls) old. Kids these days have also decided hair with a side part is also for biddies, FYI.
Rugolo says when creating their upcoming jeans assortments, the fashion industry should keep in mind women have spent more than a year wearing comfortable bottoms like sweatpants and pajama bottoms, as well as putting on some weight. And American Psychological Association survey found 61 percent of U.S. adults reported "undesired weight changes" since the COVID-19 outbreak.
"From new work-from-home (WFH) schedules, to more casual outings, apparel categories will evolve in a post-COVID-19 world — and so will skinny jeans," Rugolo stated on the NPD Group's blog. "This evolution could shift interest from super-skinny styles to more relaxed skinny-hybrid offerings with slimmer, yet roomier, options."
Over the past month, more than a third of consumers (34 percent), the top choice, say that denim jeans are the bottomswear they have worn most often, according to the 2021 Cotton Incorporated Lifestyle Monitor™ Survey. That is followed by sweatpants/joggers (23 percent), leggings/jeggings (19 percent), casual pants (13 percent), and active pants (7 percent).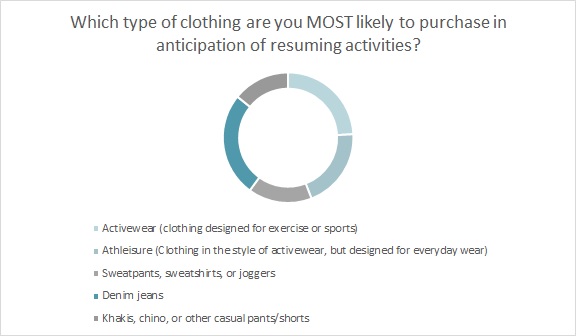 Despite all the loungewear that came into play during the pandemic, consumers also reached for their denim jeans. Nearly half of all consumers (49 percent) say they wear their denim jeans the same amount as before the pandemic and 18 percent say they wear their denim more, according to the 2021 Monitor™ data. Nearly two-thirds of Gen Z consumers (64 percent) wear their denim three days a week or more, while 74 percent their older Millennial counterparts do the same, according to the Monitor™ survey. Over two-thirds of all consumers (70 percent) say denim jeans are their first pick for casualwear, according to the Monitor™ survey.
Despite the hype about roomier denim, women still choose skinny fit jeans more than four times as often as loose fit (18 percent versus 4 percent), according to the Monitor™ survey. But their affinity for wearing comfortable clothing has grown considerably since the start of the pandemic, from 63 percent when the pandemic began to 74 percent this year, according to Cotton Incorporated's Coronavirus Response Consumer Surveys (Wave 1, March 20, 2020 and Wave 5). And compared to before the pandemic, 25 percent of consumers are wearing more relaxed or casual cuts of jeans.
Not only would a newfound affinity for comfortable clothes create an interest in new clothes among those heading back to the office, but also The NPD Group's Rugolo points out that 40 percent of women say they're wearing a different size compared to a year ago. Brands and stores should take note that of the 80 percent of female shoppers who plan to buy denim over the next year, the top three styles are straight (30 percent), skinny (29 percent) and — tied for third — high-rise and bootcut (both 21 percent). She says silhouettes that are wider than skinny jeans, like slim cut, relaxed and baggy styles, are gaining market share due to the popularity of the "mom jean" and "boyfriend jean," as well as a resurgence in '80s and '90s styles. However, they're still a smaller share of the market overall.
In a recent Rivet webinar titled "COVID: One Year Later," Diesel's Patrick Valeo, CEO, agreed comfort is going to be a key factor for people going back to the office.
"Going forward, they want that easy transition and they still want to have that element of comfort that they've grown to take advantage of in the last year. We're really full steam ahead with that focus, and with investing in and developing products that meet the new needs of the consumer," Valeo said, before adding, "But remembering who brought us here from the past is always important for any brand."
In other words, the smart brands will continue to offer styles that appeal to Millennials, while courting those Gen Z shoppers who are itching to differentiate themselves from the older denim-shopping crowd.
"At the end of the day, skinny jeans are not leaving the marketplace but will instead adapt to fit our lifestyles better," Rugolo states. "Now, what to do about parting our hair?"