The fall menswear shows, which ran for about three days, are wrapping up in New York and the full week of women's shows are set to begin. The ladies' shows continue to garner the bulk of attention, but a new study shows stores and brands should be paying more attention to the menswear side of the fashion business.[quote]
First Insight's Tim Shea, chief commercial officer, said the company conducted a study to identify the differences between male and female shoppers, and to see how their purchasing patterns have changed, particularly over the past year. The report, The Rise of the New Male Power Shopper, found men are shopping more than women both online and in stores.
"We found that men are making more purchases online this year than last year," Shea said during the recent National Retail Federation's Big Show in New York. He explained that men's online purchases increased from 38 percent to 41 percent. "Men are now on a par with women in terms of the percentage of purchases they're making online. Women actually decreased their online purchases significantly, from 46 percent to 40 percent."
"We also saw that more men than women are shopping at traditional retailers," Shea continued. "So 25 percent of men are reporting shopping six or more times a month in the traditional retail channels, like Kohl's, JC Penney, Macy's, etc., compared only 15 percent of women that are shopping at these channels six or more times a month."
Over two-thirds of all men say they shop online just as often or more (67 percent) as in past years, according to the Cotton Incorporated Lifestyle Monitor™ Survey. This compares to 62 percent of women who shop as much or more. Additionally, 46 percent of men say they shop in malls just as often or more (13 percent) as they have in past years, which is markedly more than women, where 39 percent shop as much and 13 percent shop more.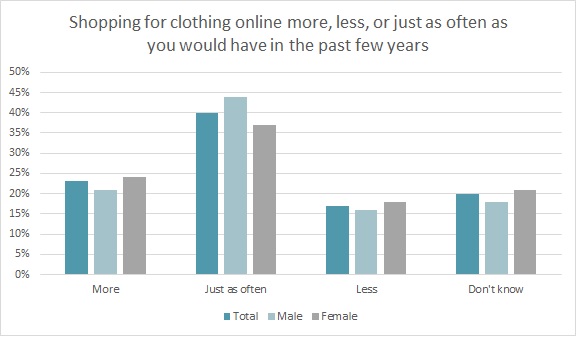 So it should be no surprise that male shoppers are shopping in chain stores as often or more than women (66 percent versus 62 percent), according to Monitor™ research. The trend also holds for specialty stores (49 percent of men versus 47 percent of women).
However, the Monitor™ found women shopped as much or more than men at mass merchants (77 percent versus 64 percent) and off-price stores (62 percent versus 57 percent).
Shea credits increased apparel choices as well as an evolution in shopping practices for the changes in men's behavior.
"They're not just replenishment shopping," Shea said. "They're buying new and different. There's just so much more variety available for men. And the newness and excitement is driving men to shop more often. The other trend that we believe is happening is, it used to be the woman would shop for the man in the replenishment way because she knew his size. When he wore out his blue button-down shirt, she'd be buying him another. Now the man is shopping for himself."
At the recent Liberty Fairs in New York, Cockpit USA's Jacky Clyman, executive vice president, said today's male shoppers are more inclined to buy clothes that go beyond mere practical purchases.
"Especially in the States, I think there's a better feeling about going out and buying things that are more than just a suit to go to work or a pair of jeans to work in the yard," Clyman stated. "I think there are more men that are truly interested in fashion."
Cockpit USA is known for its military-inspired outerwear, which includes cotton/nylon, cotton canvas, and Bedford corduroy. Rudy Gonzales, brand developer, added that social media is helping to drive an interest in fashion from the younger consumer.
"As our demographic changes, we get a lot of people coming in from social media — your Instagrammers, your influencers, and your regular shoppers," he said. "And even though we have returning customers, the younger the influencers get, the more I see it is male-driven."
Bridge & Burn, the Portland, OR-based men's and women's sportswear brand was also at Liberty. Ash Hester, sales manager, said men might be taking a more elevated approach to dressing themselves.
"Over time, I think it went from a real suit look to an extreme casual kind of element — and now there's more of an opportunity to have a voice in how they look," Hester said. Bridge & Burn offers "modern heritage" sportswear, utilizing a lot of earth tones in natural fibers that include denim, flannel, and waxed canvas for outerwear.  "We're seeing more brands cater to the men's market. And I've noticed more men's boutiques opening up in comparison to women's."
Bridge & Burn has an online store, two flagship locations, and is sold in 29 states and five international cities.
Besides catering to men both online and in-store, First Insight found that voice command devices can help sell product to men, who tend to be technology-centric. Nearly half of all male respondents (47 percent) report owning a smart speaker like Amazon Echo/Alexa, Google Home or Apple HomePod. This marks a 113 percent increase from last year (22 percent). By comparison, only 36 percent of women reported currently owning a smart speaker.
"We found 70 percent of men use smart speakers to research prices before making a purchase versus only 46 percent of women," Shea said.
The Monitor™ research shows 43 percent of men have used a digital assistant to order products, versus 35 percent of women. Additionally, more men (44 percent) than women (37 percent) use apparel brand and retailer apps on their smartphones or computers to shop for clothes.
"It's clear that as we head into 2019, every retailer needs to shrug off the misperception that shopping is a female-dominated activity," said First Insight's Greg Petro, CEO, "particularly as more men leverage the latest technologies and online tools to find the best prices."