Walking down the any street in America, one will quickly find women who do not conform to the fashion world's traditional sizing model. Across the board, most women are what would be termed overweight. Yet the fashion industry has stubbornly clung to single-digit sizing.
Take the exchange between Stanley Tucci's Nigel and Anne Hathaway's Andy Sachs in "The Devil Wears Prada," wherein Nigel informs Andy that her female colleagues don't eat anything, "Not since 2 became the new 4 and zero became the new 2."[quote]
Andy Sachs: "Well, I'm a 6…"
Nigel: "Which is the new 14."
That "you can't sit with us" vibe hasn't done the industry any favors. January brought a new wave of store closure announcements, which included hundreds of doors from retailers like Chico's, Banana Republic, and Christopher & Banks.
Now consider that market research company Plunkett Research, Ltd., found most women (68 percent) wear size 14 or above. That's because government data from the Centers for Disease Control and Prevention shows two-thirds of U.S. women are overweight (27 percent) or obese (40 percent). But clothes larger than a size 12 are still largely relegated to a small, separate section of a store — if they're carried at all.
So is it any wonder that less than half of all plus women (48 percent) say they "like or love" clothes shopping, which is significantly less than the two-thirds of straight-sized women, according to the Cotton Incorporated Lifestyle Monitor™ Survey. Additionally, women who buy extended sizes spend a troubling 32 percent less on apparel each month compared to their counterparts ($53 versus $79).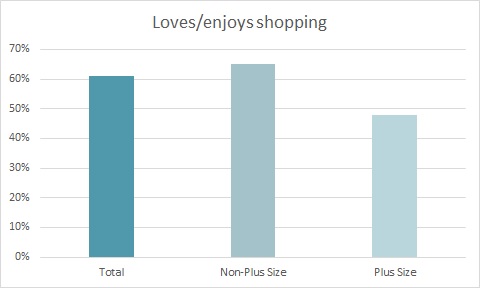 Of the roughly $120 billion U.S. women's apparel market, extended sizes accounted for just $21.4 billion in 2016, according to the NPD Group. But it's not that plus customers simply aren't interested in fashion. Edited, the retail analytics firm found that among the 25 largest multi-brand retailers, which carry more than 15,500 brands, extended sizes make up just 2.3 percent of the assortment.
The plus customer has been acutely underserved. However, things are starting to change. Edited also reported that in 2016, sales in the U.S. plus-size market grew 17 percent from three years before. Statista projects the market to grow to $24 million by 2020. And a separate NPD study showed the percentage of U.S. teens buying extended sizes jumped from 19 percent in 2012 to 34 percent in 2015.
During the last Decoded Future Summit in New York, Emma Grede, who, along with Khloe Kardashian co-founded the size-inclusive brand Good American, said social media has helped change the market.
"I don't want to relieve retailers of any responsibility, but until recently there weren't a lot of options," Grede said. "I think with social media, the audience can no longer be ignored. She's got a voice and she's telling us very deliberately and personally, 'This is what I like; this is what I don't like. And I'm finding it hard to find things.' So we have no choice but to sit up and listen."
Currently, plus-size customers are more likely to shop at mass merchants than their counterparts (34 percent versus 20 percent), followed by chain stores (16 percent versus 19 percent) and online (12 percent versus 9 percent), according to Monitor™ research.
Perhaps looking to capitalize on that, Target expanded its extended sizing last year. But so did Nordstrom, possibly to increase its lead as the U.S.'s favorite fashion retailer in Market Force Information's annual study. Lane Bryant, the plus-sized specialty brand, came in a close second, no doubt aided by a collaboration with luxury designer Prabal Gurung. Another stop for fashion designers offering inclusive sizing: QVC. The shopping channel has a broad range of styles in extended sizes from designers that include Isaac Mizrahi, Dennis Basso, Stan Herman, and NYDJ.
But overall, size inclusiveness is still remarkably limited.
That's why in 2015, Alexandra Waldman and Polina Veksler co-founded Universal Standard, an extended size label based in New York. Waldman also spoke at the Decoded Future Summit, where she said a whole "ecosystem" has prevented the plus category from growing faster.
"The closer you look at it, the more issues you find," she said. "It costs a very different amount to make something in a size 32 than it does in a size 2. And there's a lack of understanding of how to do it. There's a lack of infrastructure, especially if you've never gone up in scale."
For instance, Waldman explained, fabric only comes in a certain width. To make a garment wider, the fabric is turned to fit the bigger pattern. But that leads to waste, and added cost, as excess fabric is cut away and can't be used. Additionally, she said when her company started manufacturing in China, the New York office would get messages from overseas that said, "This size is not possible." The teams needed training to grade each piece so that, for instance, sleeves wouldn't end up dragging on the ground.
"There was just no understanding of how to adjust for a real body that is not tiny," Waldman said. "Besides workers, you need machines that are compatible. Some machines are just not big enough to do a continuous weave of a size 40 sweater.
"I think that because we only ever get to see small women as defining beauty, that's what you think of as beautiful," Waldman continued. "Until fashion learns how to broaden those spectrums and see opportunity in the diversity of body shapes and sizes, there will be brands that balk at actually going there."
Plus-size consumers report they want the same stylish, easily available clothes as their smaller counterparts, yet they have trouble finding it, according to Cotton Incorporated's Extended Sizes Survey. In fact, 70 percent say finding stylish clothing in their size is "a chore."
While many plus customers have learned where to find casual clothing basics, they struggle to find clothes for all occasions, including active apparel (39 percent), work clothes (42 percent), formalwear (48 percent), and swimwear (47 percent), according to the Extended Sizes Survey.
The diverse selection at Universal Standard includes workwear, activewear, casual wear, and denim.
"Brands like ours are showing that it can be done and it can be done well," Waldman said. "The old understanding of plus-size women was, 'They don't care about fashion.' Well, you know what? That's a vicious cycle. You don't give us fashion so we don't represent it, but then you just judge us for it. I walk past the same windows, I've watched the same shows, I look at the same magazines. There's absolutely no reason for you to assume that I somehow have a lesser taste. I've always said that a size 6 woman hasn't always had better taste. She's just had better options."