The pandemic spurred people to go online in droves to work, shop, seek entertainment, connect socially and stay informed about COVID-19 and the rest of the world. And that created a Grand Canyon of data for retailers to mine.[quote]
While that sounds great, more data is only helpful if people know what to do with it. And some data collection recently became harder to harness, owing to privacy changes from Apple and Google. Industry experts say that just means brands have to work harder to collect and optimize data for future growth.
Christian Beckner, vice president of retail technology and cybersecurity for the National Retail Federation (NRF) says that since the pandemic, many in the industry are racing to establish a reliable and resilient data pipeline to both accelerate business and differentiate themselves from competitors.
"Retailers must not only continue to focus on how they leverage and use consumer data to unlock more value from it and fuel better, more personalized marketing and shopping experiences for their consumers," Beckner says, "but also on how they can optimize collection of this data in the first place. There is not a one-size-fits-all approach to this. Companies must consider the impact of this tectonic shift and determine how viable their current data strategy is."
For their part, consumers seem to be of two minds on the data and privacy. On the one hand, two-thirds (66 percent) say they wish apparel brands and retailers knew more about what they like and how they shop, according to the November 2020 Cotton Incorporated Lifestyle MonitorTM Survey. Additionally, most (70 percent) say they would like brands and retailers to give them recommendations based on their past purchase history.
On the other hand, the MonitorTM survey revealed more than three-quarters of consumers (76 percent) say they don't like companies tracking them online. That number held for all age groups, although it was fairly higher for men than women (79 percent versus 74 percent).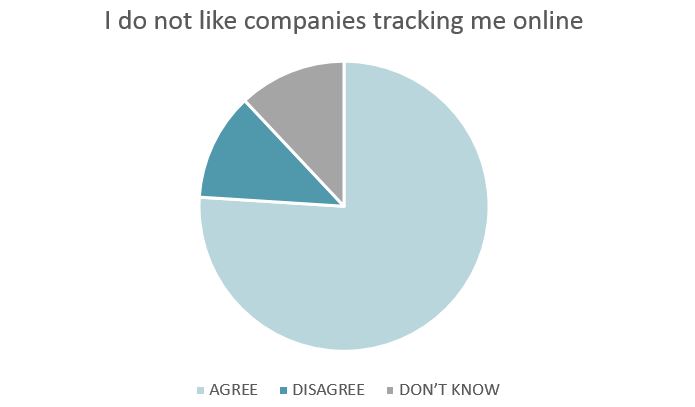 The NRF's Beckner says retailers must understand three key points going forward with data mining:
– They will no longer be able to rely solely on third-party cookies and identifiers for advertisers to target and personalize advertisements.
– The absence of universal tracking across multiple platforms and devices could lead to fragmented data and view of consumers.
– Many retailers will need to evaluate impact and potentially rethink their privacy, data and marketing strategies right away to prepare for the near future and avoid falling behind their competitors.
Consumers are willing to throw a bone to brands they like, though: Half (50 percent) are willing to let companies they trust use some of their personal data, gathered at point of sales, for specific purposes that benefit the company, according to MonitorTM research. But less than half (41 percent) are willing to let brands and retailers use their online browsing and purchase history to deliver personalized ad content and shopping recommendations. It's worth noting that younger consumers under the age of 35 (47 percent) are significantly more willing to share this data than their older counterparts (36 percent).
Going forward, once companies gather what is sure to still be an abundance of data, they need to know what to actually do with those insights. Ipsos' Susan Jensen, insight consultant and curation lead, explained during a recent webinar titled "Turning a Myriad of Data into Actionable Insights" how her company dealt with a client whose "dots needed to be connected."
"This was a client who was aware they had this abundance of data," Jensen said. "They needed a way to sew it all together and make sense of it to help with their brand planning in the coming three years.
"So we took a lot of information from a pool of data that we had, internally as well as externally, that included financial data, marketing, sponsorship data from the client, distribution — we took everything we could get, basically. And then we were able to serve as the red thread and build a story around each of their brands, which helped them understand how all these factors fit together," stated Jensen. "So in this case, some of the questions that we answered were how was the brand currently perceived; what were the most attractive areas for the brand to play; the brand's behavioral, perceptual and financial weaknesses and strengths; as well as the ideal brand positioning and how we could get there."
To gather data without help from Google and Apple, Beckner says retailers can look to areas where consumer data is continuing to expand, such as mobile apps, Internet of Things devices in homes and stores, and social media apps.
While data tracking and the sharing of shopping data might bother some consumers, data in the name of public health seems to be more palatable. Global Web Index (GWI), a London-based consumer insight firm, says nearly 3 out of 4 internet users support government contact tracing apps to curb the spread of COVID-19. Additionally, 30 percent of consumers trust new tech to improve their health. But the firm found there is a step between the public good and the commercial bottom line: the personal benefit.
"Consumers make decisions every day based on costs versus benefits. They'll pay for what they deem to be 'worth it' as long as they know the terms," the company states in its report, "Connecting the Dots 2021." GWI says even the most privacy-conscious shoppers see the personal benefits of data sharing, with 41 percent of global consumers preferring to exchange their data for free services rather than pay for those services to safeguard their data.
"Those who say they feel represented in advertising are also more likely than average to be among the data sharers," GWI states. "This points to the implicit but often unseen, personal benefits of data sharing. The experience will be inherently more customized, and the knock-on effect is likely a strong sense of seeing advertising that reflects you. That type of feeling is what brands strive for."