This autumn, it's expected most children in the U.S. will be going Back-to-Class, not just Back-to-School (BTS). And therein lies the reason why retailers and apparel brands should be planning for a strong BTS season. [quote]
With kids heading back to the classroom, Mastercard SpendingPulse predicts Back-to-School retail sales will grow 5.5 percent compared to 2020. Apparel sales are anticipated to increase a remarkable 78 percent over last year. Of course, many kids went "back-to-school" from their own homes last year, which explains the enormous increase. Still, MasterCard SpendingPulse expects apparel sales will jump an impressive 11 percent from 2019.
"We are going really big, so we bought twice as much inventory as we had last year," said True Religion's Angela Clark, executive vice president of digital during CommerceNext's Spring Summit. "Our spend budget is exponentially bigger than last year. We're branching out into a bunch of channels (like TikTok and Spanish language ads), which we're testing now. We're also watching some other enhancements on our site for Back-to-School like retention and loyalty programs. And we're revamping the site experience, the shopping experience and reintroducing denim as the core of our business."
"There's just that natural behavior where fall is a time to refresh the wardrobe, but people are already doing that now because they're excited to get back out," Clark said. "So even if they're not going back to school, I think they're still going to need to buy a hoodie or sweater or some jeans, just to refresh their wardrobe."
A quarter of Back-to-School shopping parents say their children's favorite apparel item to wear to school is jeans (25 percent), followed by shorts (22 percent, up significantly from 11 percent in 2020), dresses (21 percent, up considerably from 9 percent in 2020), and shirts/tops (19 percent), according to Cotton Incorporated's Lifestyle Monitor™ Survey (BTS 2021). This coming season, shoppers plan to buy on average 7 pairs of socks, 7 shirts, 7 undergarments, 3 pairs of pants (down from 4 in 2020), 3 pairs of jeans, 3 shorts, and 3 activewear items.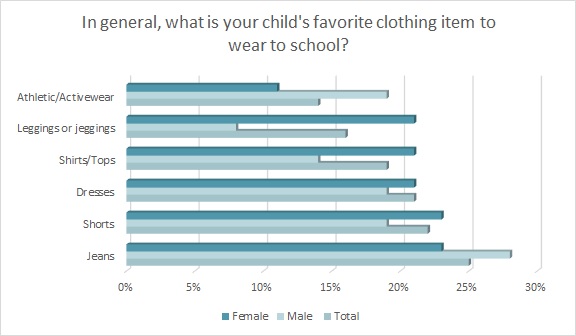 The National Retail Federation also expects Fall 2021 to be positive for apparel. In its annual June survey conducted by Prosper Insights & Analytics, the NRF found that "after a year of casual dress during schooling from home, students and parents are ready to say goodbye to lounge clothes and hello to snazzy new first-day-of-school outfits." Interest in buying apparel has increased significantly since last year: About half (49 percent) of all parents with school-aged children say their kids are most excited to shop for clothes, up from 42 percent last year.
Among consumers with a need to do Back-to-School shopping, fully 89 percent plan to buy clothes, according to the Monitor™ research. Female shoppers (91 percent) and those aged 35-to-70 (93 percent) topped the group of BTS clothes-buying enthusiasts.
According to the Monitor™ data, parents planning to purchase back-to-school clothes for their kids say they are most likely to look for the comfort of clothing (75 percent), quality of clothing (67 percent), durability of clothing (62 percent), function of clothing (33 percent), and trendy styles of clothing (27 percent). Most shoppers say they would be willing to pay more for clothes that have durability enhancement (75 percent), stain resistance (72 percent), fade resistance (66 percent), moisture wicking (59 percent), antiviral properties (56 percent), antimicrobial features (53 percent), UV protection (52 percent), and abrasion resistance (51 percent).
Last month, The NPD Group reported that the first four months of 2021 saw the children's backpack category grow 63 percent over 2020, a sales increase that echoed growth in apparel, sneakers and other BTS categories. Despite this early jump in sales, NPD's Beth Goldstein, accessories and footwear industry analyst, says she still expects strong consumer demand come the regular Back-to-School selling period.
"I don't anticipate that purchases in the spring, particularly for footwear and apparel, will cannibalize much of the traditional season," Goldstein said. "When it comes to retail, the positive outlook is that kids continue to grow, so buying new clothing for school is a given."
The majority of BTS shoppers (85 percent) plan to make their clothing purchases this summer or closer to when school starts, according to Monitor™ research. More than three-quarters (76 percent) plan to spend the same (44 percent) or more (32 percent) on BTS clothes this year compared to last. Shoppers expect to spend about $368 on school clothes, up 8 percent from $340 in 2020 and up 18 percent compared to $312 in 2019.
Back-to-School apparel shoppers plan to buy more than half (56 percent, flat from last year but down significantly from 71 percent in 2019) of their items in-store and 44 percent (flat from last year but up considerably from 29 percent in 2019) online, according to Monitor™ research.
Despite the increase in online shopping, research from Waze Mobile, the GPS app, shows brick-and-mortar stores can grab a strong share of the BTS market through click-and-collect, which has seen an increase of 78 percent since COVID-19 began. Even post-pandemic, 69 percent of shoppers anticipate they'll continue to use this hybrid shopping model at the same levels or higher. Further, Waze finds 42 percent of shoppers say in-store sales or promotions would encourage them to visit a retail location to purchase apparel.
Almost 3 in 5 shoppers (56 percent) plan to buy BTS apparel at mass merchants, followed by Amazon (47 percent), specialty stores (37 percent), off-pricers (34 percent, down significantly from 41 percent in 2020), fast fashion (32 percent), department stores (30 percent), and chains (29 percent, down markedly from 44 percent in 2020), according to the Monitor™ survey.
Mastercard's Steve Sadove, senior advisor and former CEO and chairman of Saks Incorporated, says the broader reopening of schools, blended with the return to office for adults is bringing "an exciting wave of optimism" to retail.
"This Back-to-School season will be defined by choice as online sales remain robust, brick and mortar browsing regains momentum and strong promotions help retailers compete for shoppers' wallets."