»

»

»

Rental Services & Apparel Subscriptions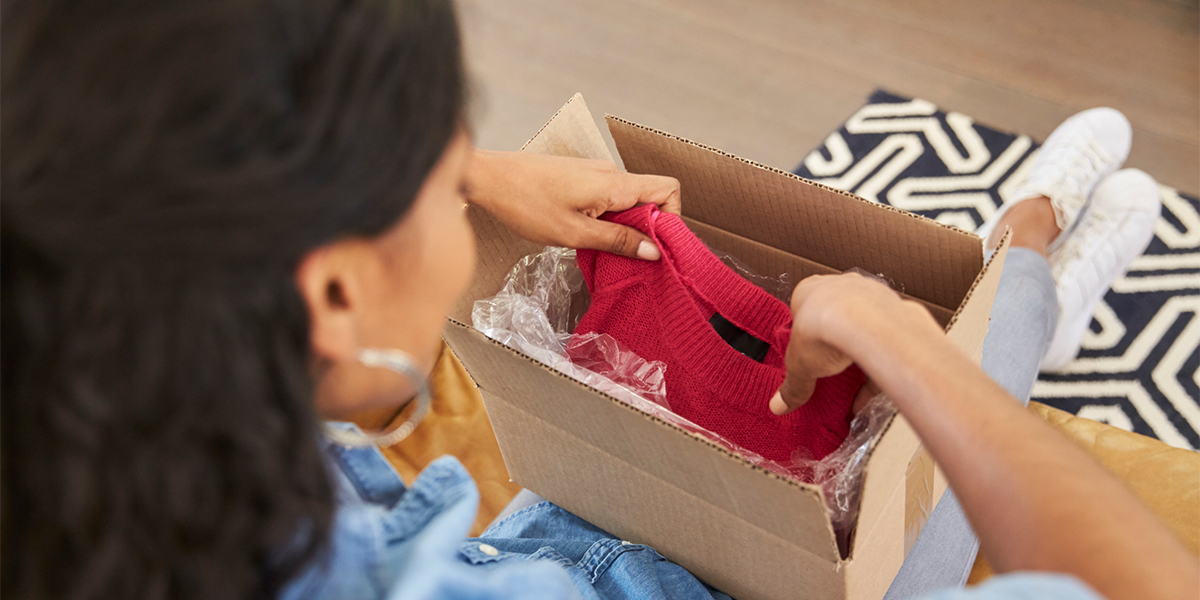 It used to be shoppers shopped and consumers consumed. But these days, what counts as consumption in apparel retailing is getting blurred as more companies implement subscription boxes and rental services in their retail strategies. While some may think it's a novel way to move more apparel, can curated boxes and items that are merely rented rather than sold be good for business? Industry experts say yes.
"Ideally the clothing that's being produced by these services is created from recycled or eco-friendly products...So no matter how long they last, they won't have a negative impact on the environment."

-Avery Faigen,
Retail Analyst,Edited
"You can think of subscription boxes as one big crowd source," says Paula Rosenblum, managing partner of RSR Research, who points out that the items consumers keep can give brands and retailers a sense of what their assortment should really look like. "It's a way of sending out a trial balloon. Now, does that carry through to the store? It depends on how radical the boxes are. In other words, it can help to refine your assortment for a new generation. But it can also help you engage the generation that prefers to shop online rather than in stores. It's not a terribly new concept. Columbia Record Club was out when I was a child — and used to gamble that it was easier for shoppers to keep it than send it back."
Edited's Avery Faigen, retail analyst, points out that established retailers are getting in on the subscription box game, even if it's in a limited way.
"Gap's focus is on baby clothing, while Ann Taylor limits the number of products that can be sent out to only three pieces at a time. So even though these items are being used for subscription boxes, they have a smaller impact on the selection that's being offered in stores."
A 2018 McKinsey & Company study found that subscriptions are an increasingly common way to buy products and services online. Subscriptions from Dollar Shave Club, Blue Apron meal kits, and Stitch Fix led this fast-growing market. McKinsey found that 15 percent of online shoppers have signed up for one or more subscriptions to receive products on a recurring basis, frequently through monthly boxes. Their research also showed e-commerce subscribers tend to be "younger urbanites with money. Compared with the general U.S. population, they are more likely to be 25-to-44 years old, to have incomes from $50,000 to $100,000, and to live in urban environments in the Northeastern United States. These subscriptions particularly appeal to women, who account for 60 percent of them."
Only six percent of U.S. consumers say they have used a clothing subscription service like Trunk Club or Stitch Fix, yet that has tripled from the two percent of consumers who shopped these in 2018, according to the Cotton Incorporated Lifestyle Monitor™ Survey. The figure is higher for those aged 13-to-34 (seven percent) and those earning $50,000+ (nine percent).
While user rates may seem slight, traditional brands and retailers recognize the benefits of the model. In addition to Gap and Ann Taylor, Nordstrom bought Trunk Club. New York & Company started NY&Company Closet. Under Armour offers ArmourBox.
There have been some misses, though. Target folded its Cat & Jack Baby Outfit Box. Old Navy ended its Superbox. And last month, JC Penney stopped the subscription service it started less than two years ago in partnership with Bombfell.
Still, there is no shortage of subscription box services that let users try before they buy, or simply rent an outfit.
Stitch Fix ships five pieces for $20 a month. Users can buy what they love and ship the rest back.
Gwynnie Bee is a subscription service for plus-size fashion. Users can wear the items as many times as they want. Then, they can return them or buy them for less than retail.
Frank and Oak gives its monthly subscribers seven days to decide what to keep and then send the rest back for free.
Short Par delivers monthly boxes of brand name golf apparel for up to 60 percent off retail.
Armoire is a clothing rental service whose stylists send up to 16 looks each month.
Le Tote is another fashion rental service that lets users wear an item as many times as they like. They can return them in a pre-paid envelope or buy it for 50 percent off retail.
Rent the Runway began with single-rental options for formal dresses. It's since added subscriptions that let women rent from four pieces to an unlimited number of items for work, weekend, and formal occasions.
Nearly a quarter of consumers (22 percent) say they would be interested in using clothing rental sites like Rent the Runway, Le Tote, etc., according to Monitor™ research. Additionally, consumers under the age of 35 and households who make more than $50,000 a year are significantly more likely than their counterparts to be interested in clothing rental sites.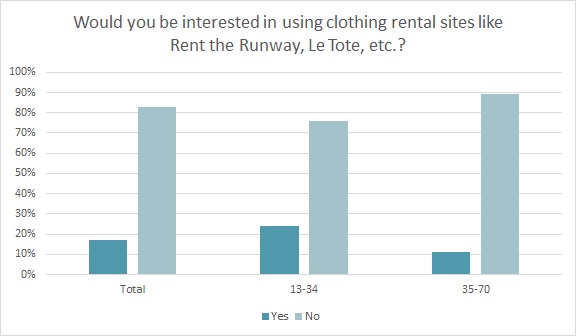 Faigen says that as the fashion industry moves towards more sustainable practices, rental services will continue to grow.
"By recycling clothing from the retailer to the consumer then back to the retailer, production of new garments will decrease," she says. "Therefore, the negative impact on the environment by the fashion industry will simultaneously decrease."
More than two-thirds of all consumers (68 percent) cite the overconsumption of goods as one of their social and environmental concerns, according to the Monitor™ research.
Beyond the consumption aspect, Rosenblum says rental services can benefit retailers who experience high return rates on formalwear.
"I think it will cut down on fraudulent returns," she says. "One of the challenges for retailers that carry formal dresses is people would buy something, wear it once to an event and then they return it."
Rosenblum says unlike many of the fashion items that are "one step above disposable," rental items would have to be better made in order to be shipped multiple times, worn among a number of renters, and dry-cleaned over and over.
In addition to an increase in subscription boxes and rental services, Faigen says consumers are showing an increase in eco-friendly products. The combination, she says, supports the movement for sustainability in the fashion industry.
More than 3-in-5 consumers (63 percent) say they would feel more connected or loyal to a clothing brand that offers clothes made of natural fibers like cotton, wool, etc., according to Monitor™ research. And 45 percent say they'd feel a closer connection to brands that offer sustainable clothing. That figure jumps to 55 percent among Millennials.
"Ideally the clothing that's being produced by these services is created from recycled or eco-friendly products," Faigen says. "So no matter how long they last, they won't have a negative impact on the environment."
Related posts