Today is the 148th birthday of the blue jean — and this centenarian has some compelling stuff going on. We're not just talking about Marques Almeida's Fall '21 show over the world's longest suspended footbridge (which got a lot of positive feedback on Twitter but looked more like a million-dollar dare for the models.) We're talking about how, after COVID took its toll on all levels of the apparel industry, retailers should be deliberately planning their upcoming denim assortment, as jeans are sitting in a fashion sweet spot.[quote]
Levi's Chip Bergh, CEO, says an industry-wide denim resurgence has already begun. He spoke recently at JP Morgan's Virtual 7th Annual Retail Round-Up.
"The denim apparel business, broadly speaking, was impacted pretty hard by the pandemic in the early stages and I think we're seeing a pretty big bounce as we begin to hopefully emerge from [it]," Bergh said. "I think it's driven by three big things. One is this trend toward casualization, which the pandemic clearly accelerated. And now that consumers are getting vaccinated, the restrictions are easing up around the United States and many parts of the world — giving people a chance to go outside, go out for dinner, go to a sporting event, travel again. That creates a wardrobe opportunity. Another big driver are the new fits and silhouettes. Early in the pandemic we launched some looser fits, about a year ago exactly at this time. Those sold through very, very quickly. We're seeing this looser fit really taking hold and that gives consumers another reason to update their wardrobe."
It makes sense that U.S. consumers would gravitate toward new denim as jeans are the clear winner when it comes to "favorite piece of apparel" (23 percent), according to Cotton Incorporated's Global Lifestyle Monitor™ Denim Survey (2020). Jeans are followed by a sweatshirt or hoodie (17 percent), a pair of leggings/jeggings/yoga pants (12 percent), a T-shirt (10 percent), a dress (8 percent), a pair of athletic pants/shorts/capris (6 percent), a pair of sweatpants/joggers (5.8 percent), and a pair of pajamas (3 percent), according to the survey.
On average, U.S. women own 6 pairs of jeans, while men own 5 pairs, according to Cotton Incorporated's Denim Survey (2020). Euromonitor International projects Americans will increase spending on denim by 4 percent, increasing sales to $17 billion by 2024.
According to Cotton Incorporated's Denim Survey (2020), the majority of consumers (55 percent) say they wear denim jeans or shorts at least three times a week, and 22 percent say they wear denim jeans at least five days a week or more. Over the past month, more than a third of consumers (34 percent), the top choice, say that denim jeans are the bottomswear they have worn most often, according to the Denim Survey. This is followed by sweatpants/joggers (23 percent), leggings/jeggings (19 percent), casual pants (13 percent), and active pants (7 percent).
Further, in the recent Rivet magazine roundtable discussion "COVID One Year Later," Melissa Bastos, Cotton Incorporated's director of market research, stated that nearly half of all consumers (49 percent) said they've been wearing their denim the same amount as before the pandemic, while 18 percent say they're wearing it more, according to the Cotton Incorporated Denim Survey.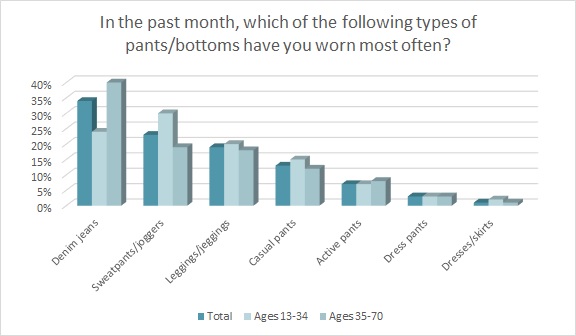 "They had a lot in their closets already, and they consider it to be a product that not only makes them look and feel good, but it's comfortable for them," Bastos said. "Looking forward, we asked consumers to tell us if they continue to work remotely or if they go back and their offices shift to a more casual dress code, are they going to be wearing denim jeans? And about 69 percent said they're going to wear their denim jeans more often or the same amount if they continue to work remotely. And 78 percent say they'll wear it more often or the same amount if their office shifts to a casual dress code. So more than one-third plan to wear more denim in the coming months and years as their dress codes change."
When asked which type of pants/shorts is most comfortable, denim jeans are consumers' top answer at 44 percent, according to Cotton Incorporated's Denim Survey (2020). Denim is the top item consumers reach for when they go out to dinner (30 percent), run errands (29 percent) and socialize with friends (29 percent). It also places first when consumers want to look stylish (27 percent), go on a date (26 percent), work in an office/professional setting (26 percent), want to feel attractive (25 percent), get things done/be productive (24 percent), and work from home (24 percent), according to the survey.
Retailers should also be prepared for shoppers to visit their brick-and-mortar locations to buy their jeans. Sure, online shopping skyrocketed during the pandemic. But 71 percent of consumers did all or most of their shopping in a physical store pre-COVID, and 51 percent plan to do all or most of their apparel shopping in a store post-pandemic, Bastos explained.
"But in terms of denim or jeans, [only] about 16 percent of consumers tell us they're going to shop for most of their denim online," Bastos said. "About two-thirds (66 percent) plan to shop in a physical store because size, being able to try them on and make sure they get the right fit is really important for denim."
The NPD Group's Kristen Classi-Zummo, director of market insights, who also took part in the Rivet roundtable discussion, says the styles going forward will be all about high rises and looser leg openings.
"I swear, someone in the denim industry was behind that whole TikTok straight/skinny jean trend," Classi-Zummo joked. "It really was the best thing that could have happened to the denim industry. And we know trend and innovation drive sales. Now everyday we're seeing headlines like, 'The Death of the Skinny Jean' — more than we have in the past few years. As long as something is still on trend, consumers will wear what they have. But now, consumers are looking at their closets and saying, 'I want to go out to dinner, I want to go back out and all I have are skinny jeans. I need to buy myself something new.' Again, the data is reflecting that. Our most recent March data shows straight leg openings are actually set to surpass skinny. It's all about the looser leg opening, flairs, wide leg opening, even boot-cut — and absolutely high-rise waists."
This news comes as the blue jean celebrates nearly a century-and-a-half of life as a global fashion go-to item. It was on this day in 1873 that Levi Strauss and Jacob Davis obtained a U.S. patent on the process that puts rivets in men's denim work pants or overalls. It was Davis' concept as he tried to think of a way to strengthen the pants at points of strain and make the garments last longer. All these years and iterations later, the denim jean is as strong as ever.