It may seem like graduation caps have barely hit the ground, but back-to-school shopping is right around the corner for millions of families. And as much as reading, writing, and arithmetic are part of the new school year, so are apparel decisions between parents (the ones who pay) and kids (whose styles have to pass muster with hallway critics). Retailers hope they've hit the sweet spot to satisfy everyone involved.[quote]
Getting the mix right is immensely important for merchants and brands. The Back-to-School (BTS) season is second only to the holidays in terms of retail traffic and sales. While its 2018 figures were not released as of this writing, the National Retail Federation (NRF) estimated $83.6 billion would be spent last season, with $29.5 billion spent on children attending elementary through high school, and $54.1 billion spent by college students and their families. That broke down to $700 per each younger student, and $970 each for the college-bound group.
This year, families will spend $277 per person on BTS clothes, up 4 percent from 2017, according to the Cotton Incorporated Lifestyle Monitor™ Survey. Perhaps surprisingly, planned spending by males ($353) is significantly higher than the amount females ($239) plan to spend.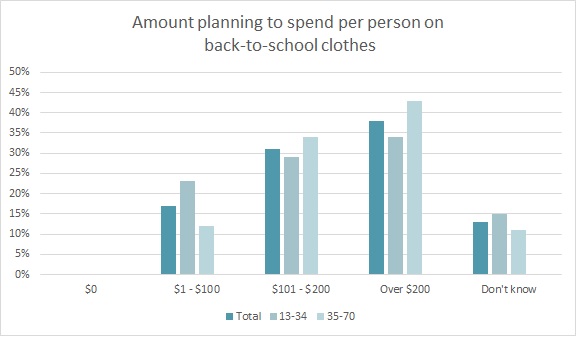 Nearly 20 states are looking to help families out by offering tax-free weekends. The dates vary, but the sales tax "holidays," when taxes are suspended on apparel and other Back-to-School items, fall during prime BTS shopping periods for each state.
The majority of Back-to-School apparel shoppers plan to buy shirts/tops (88 percent), jeans (78 percent), socks (76 percent), pants (73 percent), undergarments (56 percent), shorts (56 percent) and outerwear (51 percent), according to Monitor™ data.
While nearly half of all parents (46 percent) say they make BTS apparel purchase decisions together with their child, mothers (51 percent) are significantly more likely than fathers (33 percent) to do so.
These executive decisions and compromises in the dressing room take place over an extended period. The Monitor™ survey finds that 58 percent of school clothes will be purchased before the first day of school. The remainder will be scooped up within a few weeks (24 percent) or within a month or two (18 percent) of the first day of school. Typically, students want some new clothes to start but, in their desire to fit in, wait on buying the remainder until they see what others are wearing.
This makes back-to-school a long season. September had traditionally been considered the month when students and teachers returned to the classroom. But the calendar differs throughout the country, with some districts starting in late August, and others, like those in Arizona, Hawaii, and parts of Indiana, beginning in late July. Additionally, about 10 percent of public schools nationwide follow a year-round school schedule, according to a study by Niche.com. This means the BTS selling season is actually longer than the holiday selling season, according to Rakuten Marketing's Daniel James, director of content marketing. Retailers have to be on top of their game for this whole period.
"Keep in mind that customers will be patient for the deal that's right for them. Don't get caught trying to wait out back to school shoppers," James advises. "They've budgeted for back to school apparel shopping, but marketers will need to convey the value that these shoppers can take advantage of to help win them over."
One of the season's biggest drivers has become Amazon Prime Day, when Prime members get hundreds of thousands of deals site wide, with new deals starting as often as every five minutes. This year, Prime Day is reportedly scheduled "to start midday July 16 and continue through the following day," according to CNBC. Apparel dominates Amazon's U.S. private-label offering: there are almost 5,000 private-label products across men's, women's and children's clothing and footwear, equivalent to almost three-quarters of all its 6,825 private-label products, according to Coresight Research. Moreover, some 66 of Amazon's 74 private labels offer apparel.
Traditional clothing stores have an advantage over Amazon in that back-to-school shoppers still plan to buy almost three-quarters of their apparel items in store (71 percent), according to Monitor™ research. However, that figure is flat from 2017 and down significantly from 78 percent in 2016.
Whether they're shopping for back-to-school clothes in-store or online, parents say they are most influenced by quality (50 percent), durability (48 percent), what their kids already own and like (46 percent), and school policies (33 percent), according to Monitor™ research. Among those buying BTS clothes for themselves, the majority say they draw clothing inspiration from what they already own and like (52 percent), followed by quality of clothing (43 percent), trendy styles (34 percent), their friends (34 percent), classics styles that will last (31 percent), durability (31 percent), and family members (30 percent).
Interestingly, 33 percent of younger consumers (under the age of 35) say they're influenced by social media sites like Instagram, etc., according to Monitor™ research. In the fashion world, Instagram is mainstream, with 78 percent of brands using influencer marketing campaigns in 2017, according to a survey by Launchmetrics. That may further increase with the release of IGTV, Instagram's new app that will feature hour-long videos. Meanwhile, YouTube remains incredibly popular among Millennials and Gen Z viewers, with 4 of 10 Millennials saying their favorite YouTuber's understand them better than family and friends, according to a Google survey.
That YouTube love is apparent on channels like that of Kalista Elaine, a humorous 19-year-old with nearly 200,000 subscribers. On July 1, she published her "Back to School Clothing Haul 2018 + Giveaway" video, in which she highlighted her favorite picks, which included pieces from Forever 21, Victoria Secret Pink, and American Eagle. Within hours, her site had more than 1,000 comments from fans who weighed in on her choices, as well as shared their favorite places to shop for back-to-school, which included chain and mass market stores.
That reflects the sentiments of Monitor™ respondents, 63 percent of whom (up significantly from 49 percent in 2017) plan to buy clothes at chain stores like JCPenney and Kohl's. That's followed by mass merchants (62 percent, down significantly from 69 percent in 2017), specialty stores (53 percent), and off-price stores (47 percent).
And retailers can take heart. If these younger consumers decide they either no longer like one of their purchases or have found a new must-have, this vocal and constantly connected generation will likely let their parents know, providing yet another back-to-School opportunity.