When shopping for a new shirt, dress, shorts and the like, consumers might be struck by how many cotton products cover the retail floor. At least, it seems that way by looking and touching the garments. However, many stores and brands are offering apparel that mimics cotton although it is actually made from synthetics. But if retailers are struggling to move apparel, makers might want to consider just why it is that consumers prefer the real thing.[quote]
Southern Proper, a preppie style line of apparel, was founded by Emmie Howard, the daughter of a Delta cotton farmer. Virtually everything in the company's line of men's and women's wear — tees, shirts, knits, etc. — is all-cotton. Howard says the reason is pretty straightforward.
"Cotton is a natural fiber that breathes," she said at the recent PROJECT New York menswear show. "It's really been pushed on by synthetics like polyester, but I really like it and we've stayed true to it. To me, the more natural something is, the better quality it is."
Consumers feel the same way. Almost 3 in 4 consumers (73 percent) say better quality garments are made from natural fibers like cotton, according to the Cotton Incorporated Lifestyle Monitor™ Survey. In fact, more than 2 in 3 consumers (68 percent) say clothing made from cotton is better quality than clothing made from manmade fibers such as polyester and rayon.
Cotton substitutes increased five years ago when the price of cotton hit an all-time high. Prices have since lowered substantially since then and stabilized. But that's when many companies began a shift toward fiber substitution. In fact, about 3 in 5 consumers (58 percent) say they have noticed fiber substitutions away from cotton at retail, along with thinner fabrics (50 percent), and reduced clothing durability (47 percent).
The Monitor™ finds the majority of consumers are bothered that brands and retailers would substitute manmade fibers for cotton in their tees (59 percent), underwear (59 percent), jeans (53 percent), and dress shirts (51 percent). Dissatisfaction with fiber substitution may be due to the fact that consumers feel cotton clothing is more suitable to meet their clothing needs. Compared to clothing made from manmade fibers such as polyester and rayon, more than 8 in 10 consumers say cotton clothing is the most comfortable (87 percent), sustainable (85 percent), trustworthy (85 percent), soft (85 percent), authentic (83 percent), and reliable (81 percent).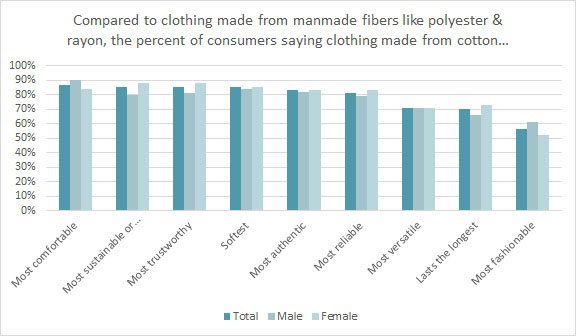 A Washington Post article earlier this year asked, "Why aren't stores selling more clothes?" And a spring headline in Fortune announced, "Kohl's Joins the Retail Bloodbath with Dismal Sales." Obviously, other factors could be at work here. But consider how hard it is to find natural fiber apparel in mainstream stores. Then remember how making fun of '70s polyester was practically a national past time. Today's shoppers are saying they want fabric that's soft and breathable, but isn't clingy, itchy, or odor absorbing — all attributes of cotton material. To be sure, makers are better at disguising synthetics as natural fabrics. But consumers are rejecting it, and stores are going to be left holding the bag.
One female customer who purchased a manmade fiber top at a specialty retailer was not happy with the performance of that top she purchased.
"Top is thin but that is to be expected. What I am unhappy about is that after one wear it has little balls appearing at the bust from a bit of normal wear/friction. I am not sure if it is from the polyester or the rayon but I wish this was all cotton. Would never buy again no matter how low the price. I haven't had the best luck with customer service so I am not just going to chalk it up to experience and throw the thing out."
That shopper's remark was part of Cotton Incorporated's Customer Comment project, which is based on the analysis of more than 625,000 comments from about 40 different retailer websites. The reviews covered nearly 50,000 items, including jeans, knit and woven shirts, dresses, pants, intimates, childrenswear, and home textiles.
Another woman posted her displeasure with jeans containing polyester on a department store's website.
"I have worn [brand] jeans for probably 15 years now exclusively. I just ordered 2 pairs in the size I always take and I noticed the fabric is much thinner and cheaper and the cotton and spandex percentage have gone down while the polyester percentage has gone up. I will now have to go through the process of finding a new brand that fits me because these are no longer the high quality I am used to. I will be returning them."
That customer's reaction is indicative of what most shoppers (65 percent) say: they're willing to pay more for natural fibers, according to the Monitor™ data. But this shouldn't be surprising considering nearly 8 in 10 consumers (79 percent) say they prefer their apparel be made from cotton and cotton blends.
The willingness to pay more to keep cotton from being substituted with synthetic fibers extends to multiple categories, including jeans (62 percent), dress shirts (54 percent), dresses (52 percent), and casual pants (54 percent), according to the Monitor™ research. One of the top items shoppers are willing to pay more to keep all-natural? T-shirts (65 percent).
For years, activewear makers have been steadily substituting cotton in everything from T-shirts to shorts and sweats. But since consumers have such a preference for natural fibers, makers should be aware of tech advances in cotton that wick away moisture — through TransDRYTM and WICKING WINDOWTM technologies — as well as repel moisture from the outside via STORM COTTON. And Polygiene odor-control treatment is now also available for TransDRYTM technology fabrics. All of these advances were conceived with activewear in mind.
But some consumers just want a regular cotton tee to wear under a sport jacket or with a zip-up hoodie. And that's where a company like Left Coast Tee, a supplier of better men's knitwear that was also showing at PROJECT, comes in. Co-founder Steve Sockolov says his company doesn't work with synthetics.
"People who want fine quality cotton come to us," he said. "We know there are viscose or polyester brands, but we're a pure cotton company. People are concerned about quality. So once they get a sense of the feel, the make and the quality of the workmanship, they appreciate our product."
Save
Save
Save
Save