It's debatable how many people know that Amazon's Prime Day originally took place to celebrate the company's 20th anniversary of becoming an online bookseller back in July, 1995. It hardly matters though, as the annual event has become an international sales extravaganza, with its recent June date involving two days, 20 countries, and more than 2 million deals. Stores might have a love/hate relationship with Prime Day, but industry experts say it creates "halo-effect gains" for the rest of retail. And now that it's over, brands can look at what worked and plan for both Q3 and holiday.[quote]
In a recent webinar hosted by Exclusive Concepts, an online retail marketing agency, Nik Rajpal, vice president of marketing sciences, said Amazon conversion rates are significantly higher than search ads and ads for Google Shopping.
"There is a profitable reason to look into investing as aggressively as possible on Amazon," Rajpal said. His company's clients, which include Neiman Marcus, Leonisa lingerie, and eLuxury home goods, saw 2020 conversion rates that were 366 percent higher than Google Shopping ads and 272 percent higher than pay per click campaigns. "Amazon also said, 'We've got to help our brands market themselves better.' So now, you don't have to keep creating new campaigns. You can just edit campaigns, and it's significantly more flexible and versatile than it was before. Also, the sponsored Brands Store lets you advertise for sub-sections of your brand. And Amazon offers sponsored display ads, as well."
Last year, more than 2 in 5 consumers (43 percent), up significantly from 39 percent in 2019, said they planned to shop for gifts online on Prime Day, according to the Cotton Incorporated 2020 Lifestyle Monitor™ Survey. Households making more than $50,000 were even more likely to shop Prime Day (48 percent).
While Exclusive's data encouraging brands to join Amazon is compelling, an Adobe Analytics survey found 34 percent of consumers prefer to buy from small businesses on days like Prime Day. Amazon, recognizing it has an all-categories killer reputation, assembled more than a million of its Prime Day deals from small and medium-sized businesses. It also stated that throughout the rest of 2021 it will spend more than $100 million "to fuel the success of small businesses selling on Amazon," including promotional activities to encourage customers to shop with them.
"Prime Day is a big day for us every year, and a big day for all sellers on Amazon every year," Chris Bell, chief executive of third-party shop operator Perch, told CNBC. "But obviously, on Prime Day, people are looking in spades. So even if you don't do anything on sale, you usually still get a little bit of a halo effect."
Some analysts have pointed out that Prime Day was more muted this year than in the past. One of the possible reasons cited was the fact that more physical retail stores were closed during last year's COVID shutdown, leading to a 54 percent jump in gross merchandise volume. That's hard to repeat. This year's event in June was also early for anyone looking to buy Back-to-School (BTS) gear. That could be why there's talk of Amazon perhaps holding a second Prime Day sometime in October.
When shopping for BTS clothes, most consumers (56 percent) choose mass merchants like Walmart and Target, according to Monitor™ research. Next, though, they do turn to Amazon (47 percent), followed by specialty stores like Gap and Old Navy (37 percent), off-pricers like TJ Maxx (34 percent), fast fashion (32 percent), department stores (30 percent), chains like Kohl's (29 percent), and sporting goods stores (20 percent).
Whether it's for school clothes, Q3 purchases or holiday items, more than half of all consumers (52 percent) say they plan to do their apparel shopping in-store in the future, according to Cotton Incorporated's Coronavirus Response Consumer Survey (Wave 6, May 19th, 2021).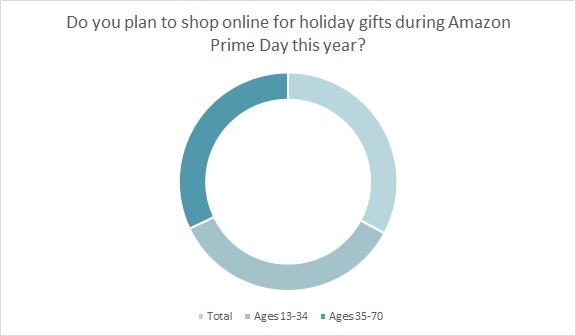 But COVID will continue to have an effect on how consumers shop for clothing in the store. About 37 percent of consumers saying they will do more online clothing shopping in the future, according to the Coronavirus Response Survey (Wave 6). Another 26 percent say they will shop at smaller stores, and 23 percent will continue with curbside pickup or buy online/pickup in-store (BOPIS) options.
Since consumers plan to continue some of the shopping habits they picked up during COVID, opportunity presents itself for brands and retailers, whether they sell on Amazon, their own sites or in physical retail location. Blue Yonder (formerly JDA Software), an American software company and consultancy, says retailers need to ready their locations because consumers are returning to in-store shopping.
"Ensuring front-end and back-end technologies can meet consumer needs from inventory to returns will be crucial," says Jim Hull, senior industry strategies director. "Additionally, back-to-school is on the horizon and consumers are shopping earlier than years past. Retailers should consider adopting AI-powered demand planning solutions to ensure they have the right inventory and assortment during this critical shopping period."
Retailers with physical locations should consider using the Q3 and holiday periods to offer some of the "emergency" tactics they adopted when COVID forced doors to close. The Harvard Business Review (HBR) reports nearly three-quarters of Americans who tried curbside pickup, buy online/pickup in-store (BOPIS) or delivery want to keep using it. Consumers appreciate the BOPIS option because they don't have to pay shipping costs and they avoid wasted trips searching for items. Of course, brick and mortar stores benefit from BOPIS because, HBR says, 85 percent of shoppers who use it make other unplanned purchases when they come in for their pickup. In the same way, physical stores can also capitalize on product returns. The International Institute for Management Development (IMD) reports 80 percent of shoppers who return a product end up spending the refund in-store.
Hull says returns continue to be a challenge, but they don't have to be.
"Retailers should consider employing an end-to-end supply chain solution to bolster their returns process and better the experience for both retailers and customers alike," he states. "This, combined with return-conscious pricing, can help minimize returns and maximize profits."