Back in 1873, the airplane had yet to be invented, horses were the most popular mode of transportation, indoor plumbing was a luxury — and denim jeans were born.  While so many other forms of modern living have changed, denim endures — and remains as popular as ever.
The world can thank Levi Strauss and Jacob David for using copper rivets to strengthen the pockets of denim work pants, creating the first blue jeans for the gold miners and pioneers of the late 19th Century.
"Levi's jeans have become an American icon that has been woven and stitched deeply into our world's cultural heritage," says Erica Archambault McCabe, Levi's style expert. [quote]"Time magazine even named the 501 jean 'The Fashion Item of the 20th Century.'"
The average consumer owns seven pairs of jeans, a figure that has been consistent over the past few years, according to the Cotton Incorporated Lifestyle Monitor™ Survey.   The ability to dress jeans up or keep them casual has 76% of consumers saying they "love or enjoy" denim, with most wearing them about four days a week.
Men's and women's denim is a huge business, ringing up nearly $14.3 billion in sales in 2012, according to The NPD Group.  The women's side grew 11% last year to $8.61 billion, while men's saw a decrease of 0.4% to $5.65 billion.  Levi's (27%), Lee (11%), and Wrangler (8%) continue to top the list of consumers' favorite brands, according to the Monitor.
At VF Corp., which generated $10.9 billion last year, Lee, Wrangler, Seven For All Mankind and Rock & Republic are counted among the company's 30 brands.  Lee and Wrangler each count as billion dollar businesses.
"Denim is an integral part of our company and really important as far as revenue," says Scott Baxter, group president of VF's jeanswear and imagewear businesses.  "People really love that piece of apparel in their closet, and we give compelling fits and styles."
VF recently introduced a waterproof jean that will sell under the Wrangler brand.
"It's geared to our western customer who does a lot of work outdoors — cowboys, farmers and ranchers," says Angelo LaGrega, president of VF Jeanswear Americas.  "They love our jeans because they're durable and comfortable, and now they come with waterproofing.  It's a great piece of our business that's innovative. We're delivering better products that make their life better."
To that end, VF performed thousands of body scans on women to understand female fit needs.  For men, VF's new Modern Series by Lee pairs lightweight denim with stretch in a jean that "took the craftsman approach," Baxter says.  "It's been redesigned from the thigh up, and the fit is fantastic."
Fit is very important to 75% of consumers, according to the Monitor, followed by comfort (68%), a flattering look (62%), price (58%), durability (52%), and quality (52%).  And wearers are split down the middle on whether they are more concerned that their jeans look good (50%) or are practical (50%).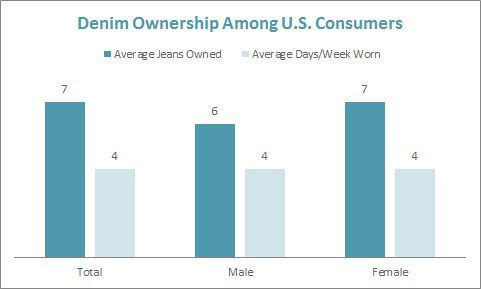 While stars like Gwyneth and Halle have been spotted in drop crotch denim, the majority of consumers say they are likely to go traditional with relaxed fit (22%), boot cut (20%) and regular fit (16%).  Another preference: half of all consumers say having the jeans made in the USA would be important to them, followed by the jeans being an American brand (32%), according to the Monitor survey.
Imogene + Willie is one company that prides itself on both classic fits and U.S. production.  Compared to industry giants, it is a relatively new company that began just four years ago, designing and manufacturing premium denim in Nashville.
"The only thing that works for us is to listen to our gut and stay true to our philosophy: developing and producing classic, very good fitting, timeless products," says Imogene + Willie's Carrie Eddmenson, co-founder and president.  "Any time that we have wavered from that, in an attempt to react to what the market is providing, we fail.  But we cannot make our classics quick enough — they sell through immediately.  When we make a celadon and turquoise cropped jean…. we have to find room in storage for all of the excess goods that did not sell.  Timeless product wins in the end. Being who we are works."
Tradition works for most consumers, too, who overwhelmingly prefer conventional colors like dark blue (75%), medium blue (64%) and black (55%). However, significantly more consumers say they are likely to buy gray (18% to 23%) and red (5% to 10%) jeans compared to last year, the Monitor finds.
Meanwhile, the granddaddy of all jeanswear is still unfurling new styles and innovation.  Levi's limited edition Ekocycle + Levi's 501 Waste<Less Jean for men blends cotton with "post consumer recycled content" — an average of eight recycled plastic bottles.  Later this summer, it will introduce REVEL, a women's collection that offers patent pending shaping technology for a custom-like fit.  And of the iconic 501, Archambault McCabe says customers can choose from colors like mineral red, chalk blue and ivy green, and enjoy larger pockets to store a smartphone.
"It's the same Levi's 501 as always, like never before.  The future of Levi's is bright and we're looking forward to the next 140 years."