Experts may differ on exactly why the Titanic sank — was it the steel used, the rivets that held it together? But no one questions what pre-empted its sinking: the inability to be nimble enough to change course once lookouts spotted an iceberg in the dark. After last week's disappointing first-quarter numbers from several major department stores, it would be easy to make an analogy between the ill-fated ship and traditional retailing. However, it's important to keep in mind that even though the Titanic went down, shipping did not die. And in retail, where some may be slow to change course, others are navigating through the proverbial ice by incorporating technology in ever newer ways.[quote]
H&M's digital fashion house Ivyrevel is working with Google on a "Coded Couture" app that will make dresses based on user location, weather, activities, and daily routine. Adidas ran a pop-up shop in Berlin called Knit For You, where wool sweaters were machine-knitted in-store within a few hours, based on the customer's scanned body measurements and personal design preferences. And TopShop has created the Top Pitch contest, to find tech companies that can truly meld fashion and wearable technology that consumers actually desire.
"Hats off to these three retailers for coming up with three attempts that are really different. Good for them," says Candace Corlett, president at WSL Strategic Retail. "We see in our recent research that shoppers are quickly embracing special services like personalization, which is exactly what these three services offer. Others, like StitchFix, get such quick adoption because they're bundling outfits together and sending them directly to the customer. With these department stores, there's a lot of walking, searching and time involved. I want to see Macy's survive, but I stand at the door to the largest store in the world and say no thank you."
Although the majority of consumers like to browse for (50 percent) and research (66 percent) clothing online, the majority prefer the remainder of their apparel shopping journey to take place in stores, according to the Cotton Incorporated Lifestyle Monitor™ Survey. These other parts of the "journey" include asking questions (68 percent), purchasing (75 percent), asking post-purchase questions (52 percent), and repurchasing (54 percent).
But Corlett says the knowledge that shoppers still prefer to buy clothes in-store has allowed retailers to stay their course for too long, which could have very detrimental effects on their business.
"Millennials, moms, and urban shoppers are all saying they want things faster, personalized, and they want to click and collect it," Corlett says. "H&M's app that let me get a dress that suits me where I live — that's personalized. It's not about being a preferred customer."
WSL's Shoppers' Guide to Restructure Retail found that technology, when employed correctly, is solving problems like "the quick trip that's not quick" and long checkout lines. "So go with technology," Corlett says. "Not listening to the shopper has led to declining sales and missed margins."
Last week, JC Penney, Macy's, Kohl's, and Nordstrom all reported first-quarter decreases in comp store sales.
But Adidas' Knit for You shop serve an example of how future shopping experiences can look, providing consumers with an individual product and experience, says Mandy Nieber, spokesperson. The shop was set up primarily to test the concept of in-store customization for consumers, or — as the company refers to them — creators. The Knit for You initiative originated in Adidas' StoreFactory research project.
"The focus of the research project StoreFactory primarily was on the intelligent connection of the different steps in the production process – from individual assessment, to design to in-store production," Nieber says.
Customized apparel is of great interest to today's consumer. In fact, 7 in 10 say they would be more loyal to brands that gave them the ability to customize their clothing purchases, according to Monitor™ research. Consumers 13-to-55 (74 percent) are significantly more likely than older shoppers (59 percent) to offer their loyalty for customizable clothing.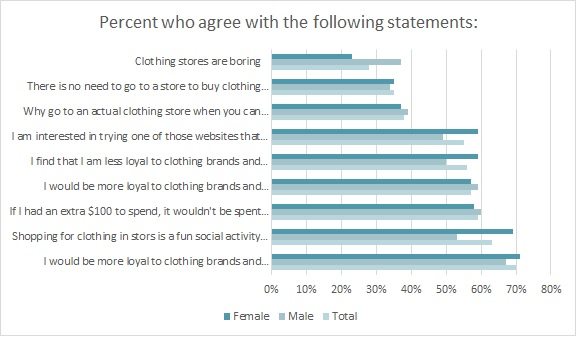 Corlett says the apparel retailing industry shouldn't expect one single technology to appeal to the majority of shoppers. "That's Titanical thinking," she says. "Growth will come from satisfying many fringe groups."
She also says the industry shouldn't fear technology will take away everyone's jobs.
"Instead of having employees at checkout, you can offer self-checkout or no checkout, as Amazon introduced," she says. "Stores can put those employees on the floor to gather items for click-and-collect. Or they can serve as a personal shopper who puts outfits together for me so I can go try on fragrances. Let me use my time in your store the way I want to. When I see a TV on the wall near the checkout, it's obvious there are long lines. It's not smart."
Stores need to figure out how to employ tech that works for them while consumers are still coming in. Currently, the Monitor™ finds 63 percent say shopping for clothes in stores is a fun social activity. However, 56 percent say they're less loyal to clothing brands and retailers than they were a few years ago. And 35 percent say there is "no need" to go to a store anymore because, "it is easier to buy online."
For its part, Adidas is looking to evolve right along with its target customer.
"Creators today live in a constantly changing world," Nieber says. "This shapes their behavior and expectations. They demand newness and immediacy without compromise. Our goal is to provide our consumers with the best brand experience they can get, no matter where and when they choose to shop."